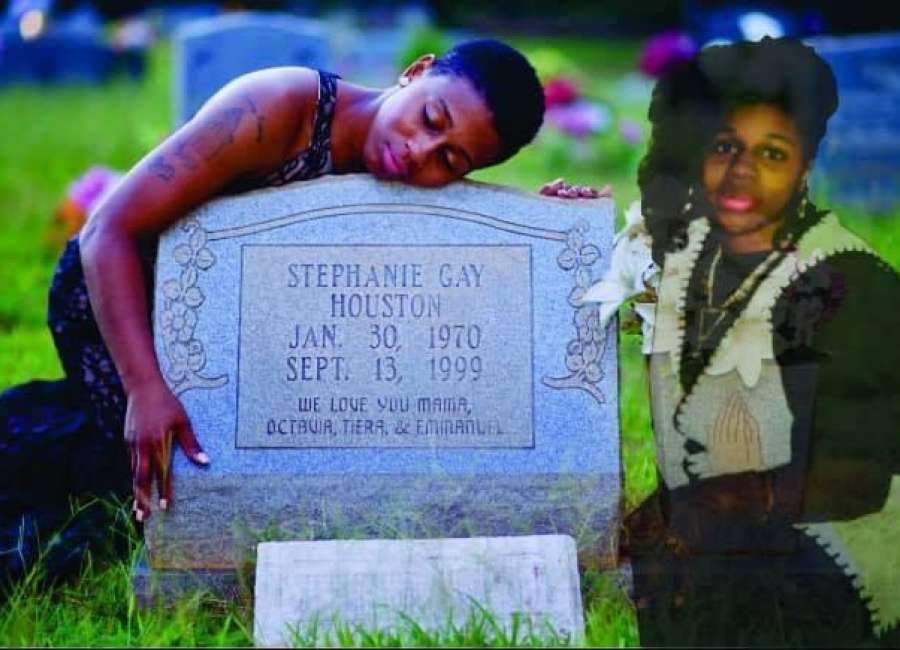 Coweta native Octavia Geter is using her own testimony of losing her mother 19 years ago to help spread awareness about domestic violence.
Geter's mother, Stephanie Marie Houston, was 29 when she was gunned down by her boyfriend of only nine months on Sept. 13, 1999 on Main Street in Forest Park.
The tragedy happened one day before Geter's 13th birthday.
But now, Geter said she is ready to share her story and help others who have lost their mother to domestic violence. Geter has started a nonprofit, Motherless Child Inc., in honor of her mother.
Geter said her sister was 10 years old and her brother was only 8 years old when their mother was killed.
Geter still remembers the events of that day, saying many questions are still left unanswered.
"We stayed at a family member's house that weekend, and we were headed home to get ready for school," Geter said.
Geter said Shun Lamar Williams, 30, was waiting in the parking lot of their residence.
"He was  sitting there in the car and we rode past him and he started chasing us and shooting at the car," Geter said. "I still remember my mom's last words. She said, "Get down. He is going to kill us all."
Geter said Williams ran the car off the road. He then grabbed her mother by her hair and dragged her out of the vehicle.
"She was saying, 'No, no, no,' and he shot her three times," Geter said.
Geter said her brother was trying to help his mother while her other sister ran to get help.
"I was left face-to-face with him," Geter said.
Geter remembered Williams saying, "You know I love your mom, but we had to die together."
Williams then shot himself.
"I was in a state of shock. I could not move. I was like a deer caught in headlights," Geter said.
According to a Newnan Times-Herald story, a warrant for aggravated assault had been filed the Friday before the shooting by Houston in Clayton County. Houston told police she feared for her life, but the police were unsuccessful in arresting Williams that weekend.
Williams was pronounced dead on the scene, and Houston was transported to Southern Regional Hospital, where she was later pronounced dead.
Williams left letters behind explaining his actions. Geter said she has never read the letters, but will read them soon.
Geter said since the anniversary of her mother's death is so close to her birthday, she rarely celebrates, but she decided to change that this year. She had a photo shoot at her mother's gravesite with a local photographer, Shannon Woods.
"I wanted to celebrate the good memories and celebrate my mom's on my 32nd birthday," Geter said. "It's just not a happy time."
As far as her nonprofit, Geter said the she has had the idea for about three years, but wanted to make sure she was strong enough to help others.
"I didn't have the strength, and I wasn't strong enough to voice it out," she said. "It's by the grace of God and my family that we made it and never turned to drugs or alcohol. We  were blessed to have a supportive family that provided counseling and different types of therapies, and a lot of people don't have that. Seek counseling, because if you don't, the grieving will really cause other problems."
Geter said many family members may not be aware of abuse or know what signs to look for, saying the incidents surrounding her mother's death were very shocking. She said helping solves those discrepancies is part of the organization's mission.
"Nobody wants to lose their mom. Nobody wants to see their mom go," Geter said. "Losing her from a senseless act from another person that was premeditated is on a different level. It's hard. You have to have faith over fear and understand that you have to keep living.  You have to just do what you can to keep your mind going.
"Go through the the grieving process. I'm still grieving. Losing your parent to domestic violence is excruciating. I can't say it will be OK, but it will get better over time," she said.
Currently, the nonprofit is hosting a Purse for Purpose and collecting donations for purses to give to women in domestic violence shelters during the Christmas season.
Geter also has a cleaning business, and offers weekend closet cleaning on Saturdays and Sundays by appointment only. The service is free if unwanted items are donated to the nonprofit.
The nonprofit will also sponsor two high school seniors for prom in 2019. The organization will provide attire, transportation, meal, pictures and makeup. Seniors must write a two-page essay describing the challenges faced because of the loss of their mother and how they are overcoming those challenges. The deadline for entry is Jan. 1.
Geter said she chose the prom initiative because of how she felt when she went to prom without her mom.
She is planning more events for the future.
"This is a milestone, and I remember saying, 'Dang, I wish my mom was here,'" she said. "That's when I really, really started missing, her. When I started reaching milestones."
Geter said her fondest memory of her mom is the sound of her laughter.
"She was filled with joy," she said. "She spoiled us. A week before she died, she told me she wanted all of her kids to get a college degree. And all three of us have a college degrees."
Geter urges anyone in a domestic violence situation to seek help - and not to hide it.
"Reach out to different resources," she said. "It could save your life, and that is my goal."
According to The National Coalition Against Domestic Violence (NCADV), on average, nearly 20 people per minute are physically abused by an intimate partner in the United States. That's more than 10 million women and men each year.
Statistics show that 1 in 3 women and 1 in 4 men will be victims of some form of physical violence by an intimate partner within their lifetime.
The NCADV statistics show that 1 in 7 women and 1 in 18 men have been stalked by an intimate partner during their lifetime to the point that they felt very fearful or believed that they or someone close to them would be harmed or killed.
On a typical day, there are more than 20,000 phone calls placed to domestic violence hotlines nationwide.
For more information on Motherless Child Inc events and updates, email motherlesschildinc@yahoo.com or visit its Facebook page https://www.facebook.com/motherlesschildinc/