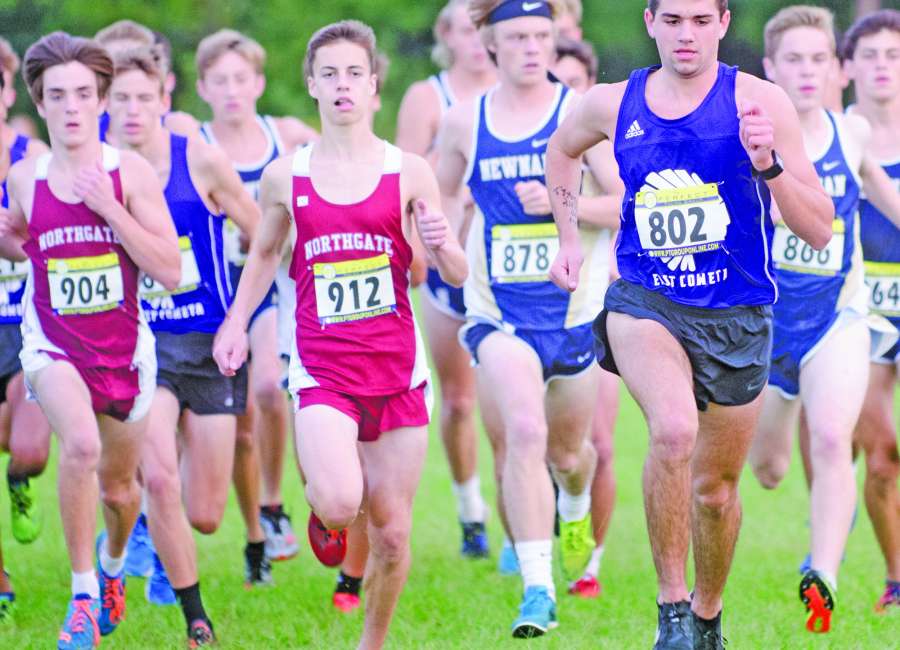 By CHRIS GOLTERMANN
CowetaScore.com
The "shuffle" was again in full form for Newnan's boys cross-country team at this year's Coweta Cup Championships.
But in repeating as boys champions for the second consecutive year, the Cougars got a chance to take home an additional trophy on Saturday at Lee Middle School thanks to their other set of teammates.
Newnan's girls provided an example of the importance of the fifth and final scorer's value in cross country, using Natalie Brauchler's mark to provide the slimmest of differences in team scoring with a one-point victory over East Coweta.
The meet produced repeat individual varsity champions for host ECHS in junior Kyle Harkabus — his third straight while currently holding the state's fourth fastest time in 2018 — and sophomore Shannon Ferry, who also remained a perfect 2-for-2 in her second straight Cup crown.
Newnan, however, was able to equally double up on its team titles with two scores under 40 points.
The Cougars improved on last year's 39 from a tight 1-point finish with Northgate, this time leaving no doubts with a 26 that had all five of their scorers producing top-10 finishes led by Bo Palmer for the second-straight year.
Palmer, Beck James and Jace Jessup all medaled with second, third and fourth-place efforts, while separated by just two seconds. East Coweta senior Braden Ray also reached the podium with a top-five effort for the second straight year among three top-10 performances from the second-place Indians with Harkabus and younger brother Logan Ray.
Newnan's girls, however, weren't sure of its outcome until final standings were announced, erupting in a frenzied celebration after hearing the news of a one-point win over defending champion East Coweta, led again by Ferry.
Ferry crossed the line in 20:14 after jumping right in front at the opening straightaway. The Lady Indians sophomore was 47 seconds ahead of the field, with Northgate sophomore Mia Griswold placing runner-up at 21:01 in her first-ever varsity Coweta Cup run.
Grace Smith and Sydney Hall finished third and fourth, respectively, in 21:08 and 21:10 to lead the Lady Cougars to a score of 36, one fewer than the second-place Lady Indians, who also received a top-5 effort from freshman medalist Megan Carr (21:10).
Brauchler, however, was the difference maker for the Lady Cougars in 12th place at 22:01, finishing five seconds ahead of East Coweta's No. 5 scorer to help Newnan's girls earn the one-point victory. Seniors Rachel Woods (21:30) and Alyssa Brauchler (21:33) also scored in eighth and ninth place overall.
With three weeks to go in the season, local lineups aren't ready to peak just yet despite a continuation of season-best times between the three schools.
"We're really looking forward to the next two races," said Newnan coach Austin Enriquez , who is in his first year at the school with wife Emily assisting. "It really started this summer. From day one, day in and day out, they're the ones doing the work."
The meet allowed county schools to take a step back from the grind of the regular season schedule and take a 3-lap course that spanned laterally between Lee and Willis Road Elementary where East Coweta trained during the summer due to ongoing construction at the high school.
Harkabus was out front from the opening turn down the hill towards Willis Road, taking moments here and there to check his watch for a pace that was more of a breeze than previous challenges among the state's top runners.
He crossed in 16:04 with 45 seconds to spare against the closest finisher. With a season-best of 15.15 from a week prior at the Asics/Alexander Invitational, Harkabus will now go back to work toward peaking at both the upcoming Area 2-7A and Class 7A state meets while currently the top-ranked runner in the state's largest classification.
Among teams, however, all three boys teams should be among the front-runners for respective region meets. Newnan and East Coweta had average scoring times on Saturday that were just under 17 minutes are among 12 schools in Area 2-7A that will be competing Oct. 24 at Allatoona Creek Park. Along with Campbell, Pebblebrook, Westlake and Wheeler, the region includes Hillgrove, Kennesaw Mountain, Marietta, McEachern, North Cobb and North Paulding.
Palmer improved on last week's effort at the Asics Invitational by five seconds while crossing second overall in 16:49. It was almost a minute faster than his season-opener at Starr's Mill on Sept. 1.
Newnan's individual scorers, however, have alternated over the season despite remaining within the same range. The top-five Cougar finishers at the Coweta Cup were separated by only 20 seconds.
James was side-by-side with Palmer at the finish line as the pair were separated by just 14 hundredths of a second. Jessup was right on the duo's tail on the final straightaway, crossing fourth in 16:51. Will Thomas (17:00) and Caeden Greer (17:09) quickly closed out the scoring in eighth and ninth-place, respectively.
"We call it the shuffle," Enriquez said of the alternating scoring efforts this year. "We're gearing up. We haven't backed off training at all."
Behind Harkabus, East Coweta's effort was paced by the Ray brothers. In his final Coweta Cup run, Braeden placed fifth in 16:53, while young sibling Logan was 10th in 17:15.
Scorers for the Indians also included Jacob Smith and Kade Johnson in 13th and 14th, respectively, in 17:21 and 17:22.
Northgate, who will be challenged by Alexander in Region 5-6A, had its boys team post an average scoring time of 17:11. The Vikings were led by Davis McIntire and William Stephens in sixth and seventh, respectively, while just missing the podium after posting times of 16:56 and 16:57.
Ahmed Thomas (11th, 17:15) and Sam Wessells (12th, 17:19) also followed each other across the finish line for Northgate's boys. Senior Michael Nelson (15th, 17:25) also added an effort among the top 15 to close out the scoring.
Among girls teams, East Coweta senior Holly Hind placed seventh in 21:28 having scored in the Coweta Cup in all four varsity seasons. The Lady Indians had five of the top 13 runners to cross including freshman Jordan Dunn (21:45) and sophomore Morgan Carr (22:06).
Northgate's girls had three top-10 placers led by Griswold. Junior Sarah Brummett was sixth overall in 21:14, while sophomore Claire Wathen was 10th in 21:44.
Scorers for the Lady Vikings also included sophomore Hanna Wessells (17th, 22:19) and junior Dalia Gibson (18th, 22:24).
In JV races, East Coweta swept team trophies. The Lady Indians had the top-four finishers led by Melissa Antrim's mark of 24:41, one second faster than Mary Ellen Goltermann. The Indians had four of the top-10 placers, led by Matthew Moore in fourth.
Northgate teammates Chase Moore (18:27) and Nate Troemel (18:30) placed first and second individually.