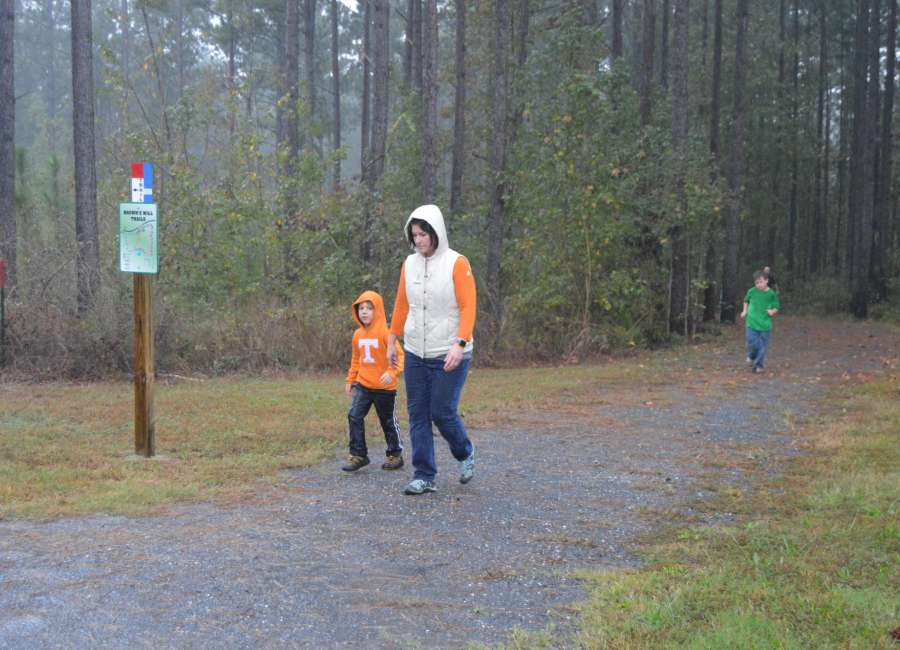 Runners and walkers now have a new place to exercise, enjoy nature and learn about Georgia's history.

The Brown's Mill Battlefield Association held a ribbon cutting ceremony Saturday for two new walking trails at Brown's Mill Battlefield Park.
The organization also unveiled signage and dedicated one trail to Sylvanus Gardner Allen, who was one of the original members of the Brown's Mill Battlefield Association and grandfather to current member Elizabeth Beers.
Some of the Allen family, including Beers, were on hand for the grand opening and trail dedication.
Visitors can choose two different routes; one trail is just over 2 miles long, the other is about 1.3 miles long, said Dan Spivey, vice president of the Brown's Mill Battlefield Association.
He also helped create the walking trails, a project he started in May.
"Both trails are well-marked and have maps on them along the way," Spivey said. "They're in really good condition for running and walking.
"But the trails are for everyone, not just runners. Families can come out here and enjoy them too," he said. "When I was working out here, some people ventured out onto the trails. I met locals as well as people from Columbus, Decatur and even Florida."
The trails are designed for cross country running, and there are enough to hold a 5K or 10K run.
Carolyn Turner is the president of the Brown's Mill Battlefield Association. She said she hopes people take advantage of everything the park has to offer.
"I want to encourage people to use the trails and become aware that the park is here and learn the history behind it," Turner said.
The Battle of Brown's Mill was fought on July 30, 1864, during the Civil War.
According to history.com, Union soldiers attempting to sever communication and supply lines in south-central Georgia were defeated at Brown's Mill by Confederate forces.  
The defeat caused General William T. Sherman to lay siege to Atlanta.
Decades later, what once was a battlefield is now a historic public park.  
Spivey said the new trail network at Brown's Mill Battlefield is an ongoing project. He plans on adding two or three more trails to the park.
Turner said construction of the trails was made possible by two fair grants from the Newnan Kiwanis Club and volunteers.
The Brown's Mill Battlefield site is located at 155 Millard Farmer Road, Newnan. Hours are 8:30 a.m. to dusk Monday through Saturday and 1:30 p.m. to dusk on Sundays.