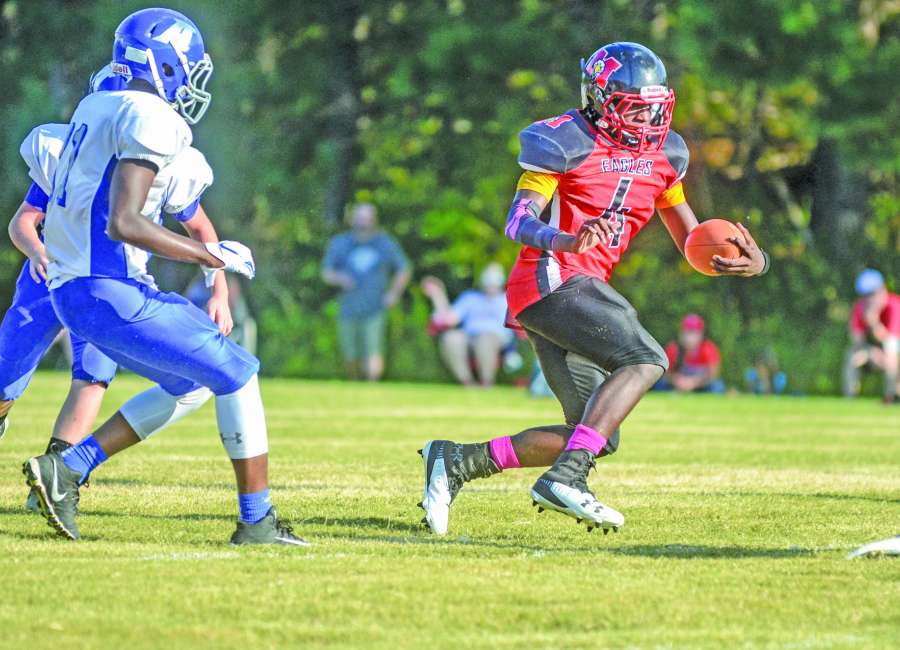 By CHRIS GOLTERMANN
CowetaScore.com
The first round of the Coweta County Middle School Athletic League football playoffs brought both a statement and a shocker to what was already expected to be an exciting final three weeks of the 2018 season.
Defending champion Madras held its own at home against a determined Arnall team, holding off the underdog Knights 49-21 in a shootout led by another impressive effort from eighth-grade quarterback James Paige.
Paige threw for 161 yards and four touchdowns while also rushing for 137 and a score as Madras pulled away from a tight 14-13 lead in the second quarter.
But while Tuesday's matchup of respective No. 4 and No. 5 playoff seeds followed a prior victory by the Eagles over Arnall during the regular season, the postseason provided opportunities for others to avenge a loss.
Sixth-seeded Lee came through with its first win at just the right time while knocking off No. 3 Smokey Road in a thrilling 12-6 overtime victory.
On the road, the Wolves picked up an interception from Colt Cortez to stop the host Wildcats to start overtime, then scored the game winner on a pass from Bryce Allwine to Brady Tillman to pull off the upset.
Allwine opened the game with a touchdown throw to Cortez as teams traded touchdowns in the second quarter. Smokey Road responded from an early 6-0 deficit with a touchdown run in the final three seconds before halftime in a defensive battle.
The win sends Lee into Wednesday's semifinals against No. 2 seed Evans, which won a tiebreaking coin-flip with No. 3 Smokey Road and No. 4 Madras after all three schools finished the regular season with identical 3-2 records.
Madras, meanwhile, advanced to face undefeated East Coweta in a showdown of the top-two scoring teams in the CCMSAL this season.
The Eagles used their explosiveness behind Paige to pull away from an Arnall lineup with its sight set on avenging a 33-7 loss to Madras during the regular season.
Led by standout quarterback Kaleb Harris, the Knights stayed within range early. A 95-yard touchdown pass to Connor McElroy while backed up in its own end pulled Arnall back to within a 14-13 deficit with 4:57 left in the first half.
Madras, however, scored on its next three possessions, starting with touchdown passes from Paige to Tyon Williams and Ryan Cobb to close the second quarter.
Williams proved difficult to defend, hauling in scoring throws of 25 and 6 yards in the first quarter. Paige then found his top target wide open on an 18-yard strike that closed out a quick five-play march that immediately countered Arnall's second touchdown.
Paige was looking Williams' way again after Madras forced a punt in a 20-13 advantage with 18 seconds left until halftime. A pass from Arnall's 42 ricocheted off Williams fingers and found its way into the hands of teammate Ryan Cobb, allowing the Eagles to go into halftime with a two score lead after the third of five PATs from Nick Troemel.
Nolan Huey's fumble recovery for Madras off Evans' opening possession of the third quarter set up Paige's 48-yard touchdown run down the left sidelines after the Knights had wrapped up the Eagles' standout for a sack on the previous play.
Arnall had two touchdowns wiped off the scoreboard on penalties including a 80-yard run by McElroy that was called back on an illegal block. It pushed the Knights backwards before an errant snap wound up in the end zone for a safety that upped Madras' lead to 35-13 heading into the fourth quarter.
Arnall, however, got a turnover back when defensive back Malachi Dugger hauled in an interception off a tipped pass with the Eagles parked back inside the red zone.
On the ensuing drive, Arnall cashed in when Jamarcus Cleveland took a pitch from Harris and found a seam up the middle on an 85-yard run that closed Madras' lead to 35-21 with 6:41 to play.
The Eagles, however, needed four plays to put the points back on their half of the scoreboard after recovering an onside kick attempt inside Arnall territory. After three alternating runs between Paige and Clayton Cowart, who finished with 113 yards rushing in the victory, Paige hit James Dubose in stride with a perfect throw from 24 yards out.
Harris was as much a threat to Madras' defense from his quarterback position for Arnall, at times finding ways to elude multiple rushers to extend plays. With his team trailing 42-21 late, he managed to keep one alive long enough to find a wide open receiver in Jeremiah render for a 66-yard scoring throw that was also called back on an ineligible receiver downfield on the extended play.
After holding on downs, Madras backup quarterback P.K. Brown led a final scoring drive consisting entirely of runs from the Arnall 16 before scoring from eight yards out with six seconds to play.
Joshua Boyd led the Eagles' defense with five tackles, while William McFarlane added a sack in the victory.