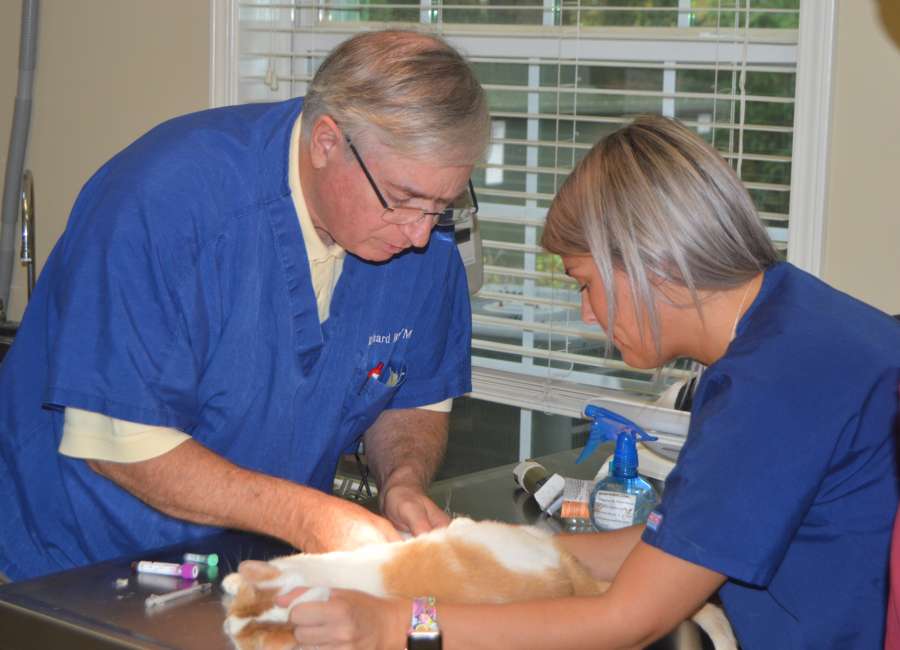 Dr. Richard Berta says he never met a four-legged friend he didn't like.

Although, the same couldn't always be said about him.
"Hog farmers always like to castrate their animals in the fall," Berta said. "But I can tell you, 500-pound hogs don't want anything to do with you. When you have to 'rope and throw' and restrain them it can get hard when there's only a wire fence and tin roof around you."
Nevertheless, he remained true to the mantra he learned from the Tuskegee Institute School of Veterinary Medicine in 1975 – to show "respect for all of God's animals."
It is a motto he continues to stand by, even as his career winds down.
After 43 years in the veterinary medicine business, Berta is hanging up his stethoscope and going into "semi-retirement."
He will continue working one day each week at the Moreland Animal Hospital.  
"If I'm working full time, I'll have between 14-20 cases per day and by the time I get home, I'm exhausted," Berta said. "In my younger years, I could work 20 hours per day, and still be able to get up and go four hours later to start a new day."
His career started in 1975 at the Woodside Equine Clinic in Ashland, Va.
According to Berta, he started at the bottom of the totem pole and worked his way up.
"I was the newest veterinarian, so I mainly took care of the ponies and mules," he remembered with a laugh. "But it was a great place to grow and learn."
He and his coworkers were the on-call veterinarians for several prestigious horse shows. But things didn't always go as planned, he said.
"We got a call and I remember they announced us on the live speaker when we arrived at the fairgrounds. I kind of felt special. Then a little girl and her friends walk up with a horse and the second I put my stethoscope on the animal, it collapsed with a cramp. All these little girls scream at the same time, 'What did you do, kill him?' I had to calm them down and reassure them he wasn't dead," Berta said with a laugh.
In 1977, Berta and his wife Susie had a son on the way and decided to move back to Georgia to be closer to their families.
At that time, the majority of Coweta County was still rural and packed with dairy farms.
The same year, he started his own large animal veterinary practice in Newnan. He said he mainly dealt with farm animals, including horses, bulls, cows, pigs, goats and sheep.
The Berta's house was home base for his practice. He had one ambulatory truck and remained on-call 24 hours per day, seven days each week – including holidays.
While the practice could be overwhelming at times, Berta said he enjoyed getting to know his clients and customers.
"They would invite me into their homes to meet their family," he remembered with a smile on his face. "Sometimes, I would be invited to stay and have dinner with them. That was always a wonderful thing. Dinner was usually during the mid-afternoons and it was a big deal for farm folks. Those invitations made me feel good and special."
Berta said every farm was different – as was every situation. In the early years, he shared some of those experiences with his young sons.
"Successful labor and deliveries were always a good thing. One day my son Scott was with me when I did a c-section on a heifer. He had never seen a live birth before. So I handed him a towel and helped him get the baby standing on all four legs," he said.
In 1982, after his second son was born, Berta moved his practice out of his home and opened a clinic on Pine Road.
Eventually, Berta and his clientele outgrew that building. In 1990, Dogwood Veterinary Hospital was built on Hospital Road. The practice became a certified small-animal hospital. Eight years later, it was where Berta would spend the majority of his time after retiring from large-animal veterinary medicine.
"It got tough. We had a lot of horse business at the clinic on Pine Road, but my partner and I would also travel into seven other counties, including Meriwether, Fayette, Spaulding, Carroll, Troup, Fulton and Heard. It wasn't unusual to have emergencies at all hours of the night – especially after 4 p.m. when people would be returning home."
He said he's had several career highs in his life. He was the first veterinarian to use an equine ultrasound in Coweta County and to use a portable X-ray machine in the field.
Berta also became medically certified and helped reduce the rates of tuberculosis and brucellosis in cattle by doing tests for those diseases while visiting rural farms.
But some of his achievements stick in his mind more than others, including catching "Hogzilla" in the Primrose community.
"Primrose was a farming community and each night this hog that weighed more than 1,200 pounds would come into the area and root up all their gardens," Berta said. "So one man devised a plan and captured him inside a barn. They then called me so they could move the hog somewhere else. So the farmer helped me climb up the barn walls and try to catch 'Hogzilla' using the 'rope and throw.' That hog was so mean. It took several tries, but I finally got him."
Berta neutered the hog, and it was kept for a month or so before being processed. He said he thinks it was made into sausage.
Berta made sure to spend time with other animal-lovers outside the office. He lectured at the Georgia Veterinary Medical Association conventions and helped out at local 4-H clubs, civic groups and pony clubs.
In 2009, Berta sold his interest in Dogwood Veterinary Hospital and became an associate veterinarian at Family Friend Animal Hospital. It's where he said goodbye to friends, coworkers and clients Sept. 28 when he officially "retired."
"I really don't want you to leave," vet technician Kaitlin Frankum told Berta during a surprise visit to Family Friend.
"You could tell he cared about all his patients and clients. He always did his best to make people feel better and would go the extra mile to help people when their pets were sick," said Dr. Matthew Davis, veterinarian and owner of Family Friend Animal Hospital. "He always worked hard and never complained. You could tell he loved his job."
His clients said Berta always went above and beyond to help them and their pets – especially during a crisis.
"I came home from work one day to find a little pile of Dove chocolate wrappers on the floor, an empty candy dish on the coffee table and a cocker spaniel that seemed a little hyper," Leanne Frank remembered. "It freaked me out because I knew that chocolate is a big 'no-no' for dogs. Thankfully, Dr. Berta answered the phone … He stayed calm, told me what to watch out for and made me feel like everything was going to be OK. Did I mention that I was living in Maryland at the time?
"I don't know of anyone with a heart as big as his, or anyone who genuinely loves both the critters and the people who love them in equal measure," Frank added.
"I had many great and sad experiences with Dr. Berta," Terry Wyche said.  "I had sweet foals born with his help … most special was his kindness when he had to euthanize my sweet Welsh corgi, Tex. I even got a sympathy card and a paw footprint from the clinic. He (Dr. Berta) has the best bedside manner with the pets and their people."  
"He and Dr. Matt have taken great care of our Bella over her almost 9 years at Family Friend," said Carol Parsons Self. "He went above and beyond to help her when we had issues and always explained things well. We are sad to hear he is retiring."
Berta said the decision to retire was a bittersweet for him.
"It was always hard talking about ending a pet's life. Each patient and each client were always different and those discussions and procedures were always difficult," he remembered with tears in his eyes. "But then you'd walk into the next room and there would be a new puppy. It was saying goodbye to one life and hello to a new life."
"I'll miss the routine and my clients. I've been doing this for 43 years so I still want to be active and helpful."
Besides working a half day at the Moreland Animal Hospital, Berta said he hoped to volunteer with his grandson's Cub Scout pack and teach the Scouts about all animal species.