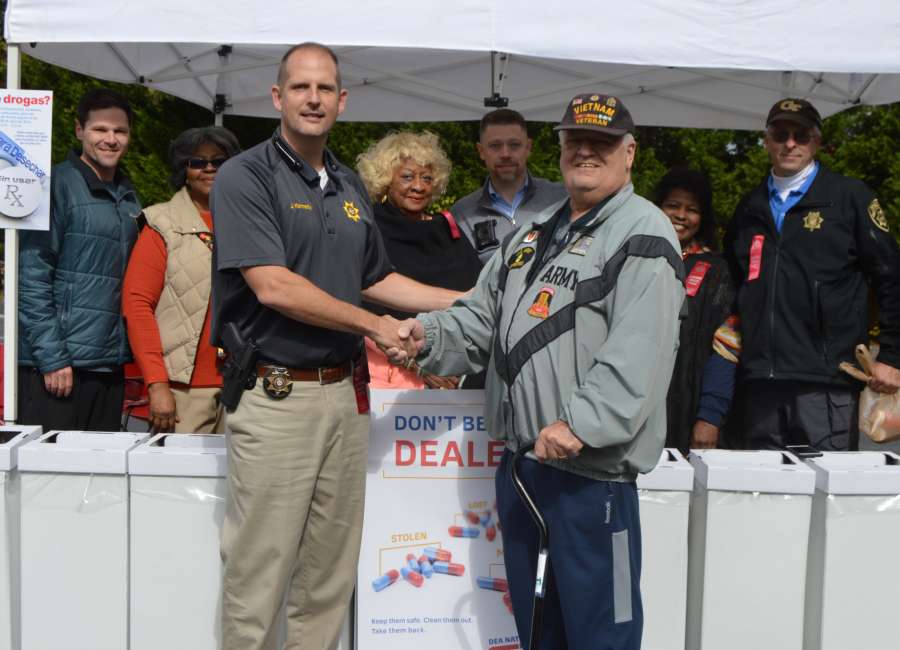 More than 183 lbs. of prescription pills won't be falling into the wrong hands this week.
The number was 183.3 lbs to be exact, according to Lt. Jason Fetner with the Coweta County Sheriff's Office.
Members of the Coweta County Sheriff's Office, the Coweta Substance Abuse Prevention Coalition and Coweta FORCE participated Saturday in the Drug Enforcement Agency's National Drug Take Back Day.
"This event was a success the minute the first person dropped off a bag of old prescription medications," Fetner said.
Fetner stood in the parking lot of the Cornerstone United Methodist Church on Hwy. 154 Saturday and took bags of prescription pills from people as they drove up.
Residents could drive up to a tent and hand over expired or unused prescription medications – no questions asked.
"We didn't turn anything away," Fetner said.
"I didn't know what to do with them (medications), and I saw an article about this event, so I dropped them off here," said Newnan resident Chuck Abbott.
According to Dr. Beverly McCray, program coordinator with the Coweta Substance Abuse Prevention Coalition, Coweta County ranks sixth in Georgia for opioid abuse and misuse.
That statistic was discovered during a recent study commissioned by the Department of Behavioral Health and Developmental Disabilities.
One reason for the countywide crisis includes people not locking up prescription medications inside their home, McCray said.
"We need to increase the community's awareness about these issues. If people don't lock up the prescription pills, teens can gain access to them, they could be stolen from the house. Some people, all it takes is one pill and they're hooked," McCray explained. "That also includes our elderly population, after they've had surgeries or injuries. They can easily become addicted to pain medications. Or they keep what's left over and pass it on to family members without thinking about it."
Hank Arnold, director of the Coweta Friends of Recovery for Community Empowerment, or Coweta FORCE, knows about prescription pill abuse.
He's a 9-year recovering addict and said it's everyone's responsibility to help take prescription pills off the streets.
"We have to do this all together as a community," Arnold added.  
Fetner agreed.
"We all need to address a tangible concern in our community. When we work together among different organizations and coalitions, we build bridges to a better community," he said.
Only one hour into the event, Fetner said they'd collected three times what they initially anticipated.
Prescription Drug Take Back Day lasted four hours. CCSO investigators were amazed by the turnout and by the amount of drugs handed over.
After the event, the prescription pills were taken back to the Coweta County Sheriff's office where they were weighed and destroyed per DEA standards, according to Fetner.  
There was a large quantity of prescription medications, including opioids, collected on Saturday, he added.
CCSO plans on holding another Prescription Drug Take Back Day in the near future, Fetner said.
"This is a tangible impact on why we need to keep doing this," Fetner said as he gestured towards several boxes filled with unused medications.
The Coweta County Sheriff's Office also has a 24-hour prescription drug drop box outside their bonding lobby off Greison Trail.