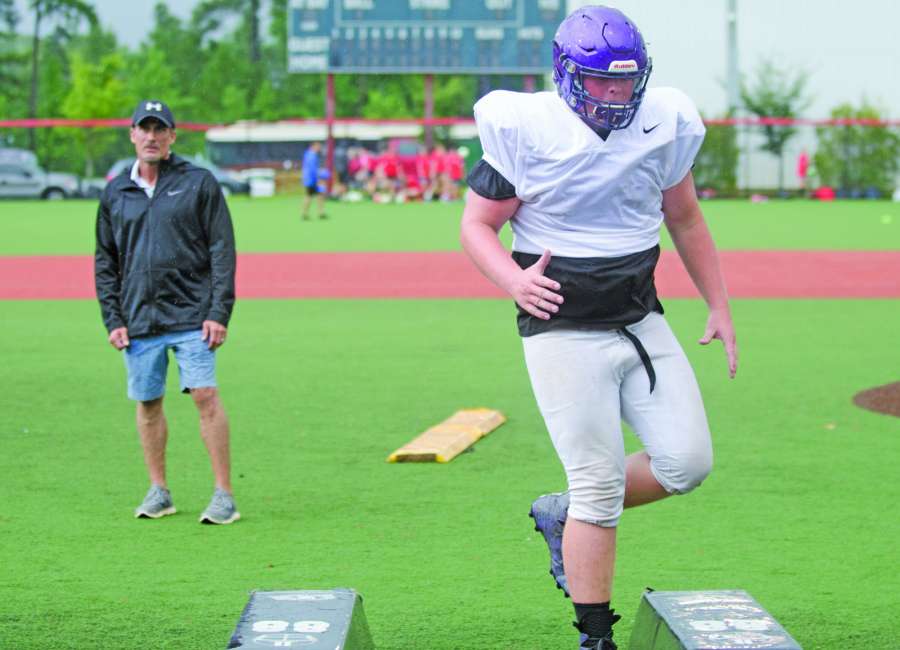 Chris Goltermann
Cowetascore
Trinity head football coach Kenny Dallas has said on multiple occasions that there is a pecking order to groups within a team when it comes to their value toward to maintaining success during a season.
Offensive line is at the very top.
But the Lions' reasons for concern regarding a unit that already has battled injuries from week one, took a much deeper concern off the field during their bye week.
Junior Tanner Diget was critically injured on a rainy Tuesday when his truck went off the road, through a fence and hit a tree. Parts of the fence penetrated the windshield and struck the 6-foot-5, 300-pound tackle with a force that caused major damage to his nose and mouth, destroying his jaw bone.
Tanner has already gone through several reconstructive surgeries including a 12-hour procedure this week. Even at times of sedation, he has asked about his Lions teammates and Friday's game against Holy Innocents.
Wesleyan, Trinity's final region opponent to close the regular season, most recently sent its jersey of Tanner's No. 78 signed by team members as a get-well message.
Communicating through a white board and marker while laying prone on his back, Tanner's messages to family included one on Thursday that read "Let me go to football."
One of his first after emerging from sedation following the crash was "I told you they where (sic) my brothers," in reference to Trinity's credo of "Preparation and Brotherhood" last season.
While that won't be possible at the moment in what expects to be a long road ahead through recovery, Trinity's football staff has already been asking Tanner what he'd like to run for the first play of Friday's Region 5-A game against Holy Innocents as he remains with the Lions in spirit.
"It's been a crazy year," said Dallas, whose been faced with getting Trinity refocused on its final home game of the regular season with playoff implications still in their control following consecutive victories over Strong Rock and Landmark Christian. "We've got a lot of work that we're trying to do. I'm just one of those guys who believe that offensive line is the glue. I tell our guys, it's the most important group we have. They ride on an air-conditioned mini-bus [by themselves]. I try to take care of them."
Prior to the bye week, Trinity had struggled to put together its projected starting front line due to injuries, playing four freshmen in its preseason scrimmage.
"We have not had one week with the same offensive line," Dallas said.
It's put the Lions offense — which averaged 45.3 points a year in a trip to last year's GISA Class AAA finals — behind the pace at times to open this fall in a year where Trinity has also used four quarterbacks starting with Zach Seymour in the season opener.
Seymour also has emerged healthy after struggling through a shoulder injury and had his most productive game since the Lions' 2018 debut last week in a win over Landmark that evened Trinity's region record at 2-2 overall.
Senior Zach Jones registered his fourth 100-yard rushing performance, gaining 148 yards on 12 carries with two touchdowns to put himself just 56 away from eclipsing 1,000 this season. Seymour added 96 in what has remained a ground-oriented ball-control offense.
Holy Innocents (3-4, 1-3) has a chance to stay in the playoff hunt or risk falling further out of reach while just one game behind Trinity and Strong Rock, which are tied for third in the Region 5-A standings.
The Golden Bears are coming off a 59-48 shootout win against Strong Rock that kept the team in contention.
Holy Innocents had 445 yards of total offense, all of which on the ground, in what could be a quick-moving game on Friday.
The team, however, hasn't been shy in using three-receiver sets on film, something Trinity's scout team showcased during Wednesday's practice while giving the Lions as good a look to the high praise of Dallas.
"Our second most important group is our scout team," he told his players."That may be the best look we've got from our scout team all season. Now we get to fix that on a Wednesday and not on a Friday."