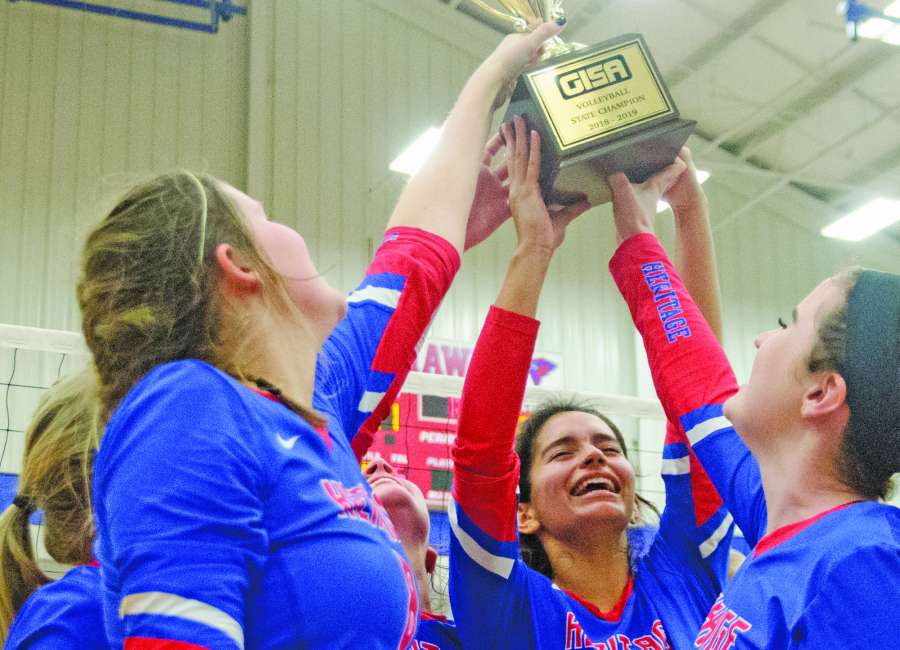 By Chris Goltermanm
Cowetascore
Heritage School's second straight GISA state volleyball championship didn't carry quite the dramatics as the first. But sequels are often difficult to top.
That didn't stop the drive of the Lady Hawks, who won 12 consecutive sets over four matches and two days of this year's annual tournament capped off by a 3-0 sweep of Region 2 champion Valwood.
The emotions from a 25-10, 25-16, 25-21 victory, however, were as genuine as nearly one year to the day earlier when Heritage rallied from a 0-2 deficit to defeat Oak Mountain.
This time, however, head coach James McCall was on the other side of the court as a winner along with the Lady Hawks, who went unbeaten against GISA opponents in 2018.
There was as much a fresh feel this fall, as much with the addition of McCall as well as a schedule dotted with key matches against GHSA opponents among the likes of McIntosh, Pace Academy and Brookwood, not to mention welcomed county clashes with East Coweta and former GISA rival Trinity Christian.
It proved its purpose against a one-loss Valwood team that pulled off a stunner by avenging its lone defeat against Oak Mountain, a team almost everyone in blue and red uniforms expected to see.
Despite not having seen Valwood, led by 6-1 standout senior and Georgia Tech commit Erin Moss, Heritage never flinched, playing with the confidence it might have been lacking on its climb to the top of the GISA last fall.
Motivation may have come easy, however, from a coach who had been so close to the state trophy a year ago, only to be denied.
"He pushed us because he was in that situation last year," said sophomore setter Kadence Jennings. "I think that definitely motivated us. He prepared us so well. With Erin, he said she's gonna get a few kills, she's gonna hammer the ball, but that's only one point. That kind of gave us a lot of confidence."
mphasis over the tournament was to break it down to 12 needed sets wins to achieve the goal.
"The mindset was 12 sets. Let's get it over with, let's get it done and let's win this title," Jennings said.
After sweeping both Holy Spirit and Gatewood on Friday, Heritage breezed past Region 1 champion Notre Dame to open Saturday's semifinals, winning the last two sets 25-13, 25-6.
"It's a great group of kids. I'm fortunate," said McCall, of a year that also included an undefeated middle school team in addition to a promising JV squad. "They understand what we're trying to accomplish."
Friday's momentum immediately carried into a well-played first game of the championship, though Valwood led by as many as three points in the opening minutes.
With Moss moving to the back line in the rotation, Heritage took advantage while breaking open an 8-8 tie on a 10-0 run with its standout sophomore Taylor Johnson serving.
"I told everyone on the court they can't get a run on us. We have to get a quick sideout," Johnson said.
A balanced offensive effort in game one had multiple kills from outside hitters Genevieve Richards and Cate Yancey along with contributions in the middle by Olivia Ayers and Peyton Knight.
Heritage didn't have a service reception error until game 3, allowing the Lady Hawks to take command of a second set that began with three straight Valwood points. The Lady Valiants never managed a four-point lead, however, as Heritage chipped away to tie it at 10, 11 and 14 among a pair of lead changes before grabbing it for good on kills by Richards, Ayers and Yancey.
A non-league schedule provided as much of a boost to Heritage avoiding potential complacency in a 28-5 season. All five losses were to GHSA schools.
"We took it more point by point than set by set," Yancey said. "We didn't know what it felt like last [year] so we didn't know what to expect. It was an incredible experience for us to get to play those schools."
Valwood had its best chance to get back into the match in game three, again opening with three unanswered points, but only managing to get the lead to four just once before Heritage came back among eight ties.
A combined block by Yancey and Knight on a kill attempt by Moss signaled the end with a 23-20 lead by the Lady Hawks, who didn't need a comeback this time around.
"I thought it wouldn't be such a big moment because we weren't down two sets," said outside hitter Genevieve Richards. "But I still cried my eyes out."