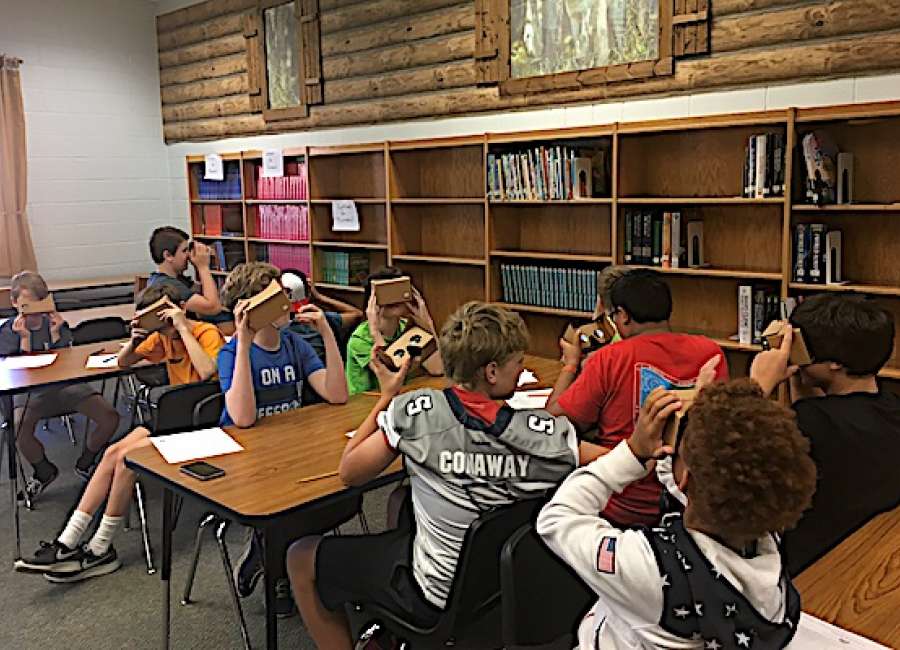 Lee Middle School students have found a way to tour Mars, museums and Asia without ever leaving the classroom.
When Jennifer Doonan – a seventh-grade English Language Arts and STEAM educator at Lee – wrote her 2017 Coweta-Fayette EMC Bright Ideas Grant, she said she envisioned virtual reality field trips as a way to equalize educational opportunities for students and open a world of exploration and learning that might be unavailable to some.
Dr. Donald White, science content specialist for Coweta County Schools, helped secure mobile devices for virtual reality goggles used by Lee students with grant funds. He also provides valuable feedback on lesson plans such as "Mission Mars," where students explore literature and space in a collaborative STEAM lesson.
Google Expeditions help students travel around the world and bring to life the middle school curriculum in a way that reading and studying alone can't accomplish, Lee Middle School Principal Cindy Bennett said, and the experience engages learners on a new level.
With Google Expeditions, students who never leave Coweta County or the state of Georgia are able to experience the world as it relates to their academic content areas of study. 
A virtual reality field trip is exploration that incorporates technology and encourages students to think about the academic content and connect to the world beyond the classroom walls, Bennett said. 
With Google Expeditions, students are guided by a teacher or facilitator who narrates the immersive experience for students, pointing out areas of interest within the particular expedition. For example, as students visited Southwest Asia, areas such as the Arabian Peninsula and the Red Sea were narrated points of interest within the Google Expeditions for students to explore and observe.
Bennett said the students' excitement can be heard throughout the media center as they travel to new corners of the world, and the high level of student engagement is a testament to the success of Google Expeditions at Lee. 
"Where can we go next?" asked one student, making it clear that virtual reality field trips are becoming a cornerstone for 21st century learners, Bennett said.