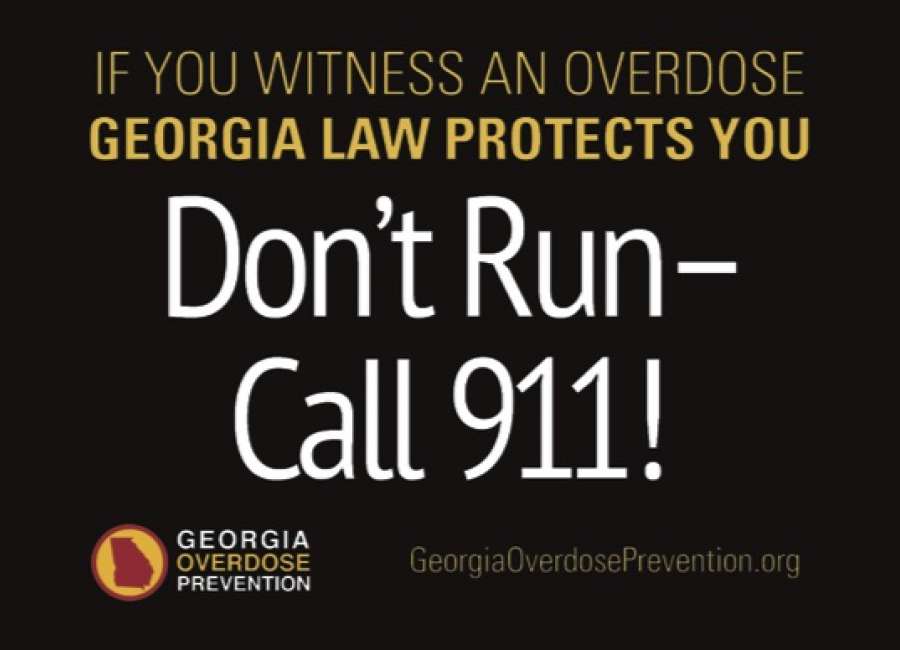 Opioid overdoses are often deadly – but they don't have to be.
Overdoses of opioids ranging from pain medication to heroin to synthetic, highly potent analogues of fentanyl now kill more Americans than car crashes or guns.
But overdoses can be easily reversed if caught in time. A dose of naloxone, better known by the brand name Narcan, can bring a people out of overdoses and save lives.
And Georgia law protects those who witness overdoses or seek help for those having overdoses from prosecution for possession of drugs or alcohol related to seeking medical help, and also offers immunity for those having the overdose.
The members of Georgia Overdose Prevention are on a mission to prevent overdoses by distributing free naloxone kits and educating people about the 911 Medical Amnesty Law.
Members of Georgia Overdose Prevention were on hand at last week's town hall meeting on the opioid crisis, teaching people how to use naloxone and giving out stickers and postcards about the amnesty law.
"The first step is really to let people know that the law protects you. We've got to break this stigma," said David Laws. The law also provides protection from liability to those who administer naloxone in good faith.
Laws became involved in the effort after the 2013 overdose death of his teenage daughter, Laura.
Volunteers with the organization go to various events and give training sessions on how to administer naloxone.
Friends or loved ones of opioid users or former opioid users who are now in recovery can also contact the organization to receive a naloxone kit.
Each kit contains two doses of naloxone, and the one commonly given out by the group is the Evzio auto-injector, which talks people through the steps of administering the naloxone.
The injection is given in the outer thigh, and can be given through clothing – even through jeans, according to the manufacturer. Each box comes with a "test" injector for practice.
The other common way to give naloxone is in Narcan nasal spray.
Naloxone is available to anyone in Georgia without a prescription as of December 2016.
It can be covered by insurance but for those who don't have insurance coverage, the life-saving medication isn't cheap. Narcan nasal spray retails for approximately $150 for a two-pack at local pharmacies, while the Evzio auto-injector is roughly $4,000 for a two-pack. Naloxone can also be purchased in a vial for injection.
"The likelihood of it being covered by insurance is good," Laws said.
If your pharmacy of choice doesn't carry the medication, it can be ordered.
Studies have shown that Evzio and Narcan remain effective for years after their printed expiration dates, according to Laws.
Over the past few years, as deaths and overdoses of opiates have increased, local law enforcement agencies have begun issuing naloxone kits to officers, who often reach someone having an overdose before emergency medical crews arrive.
Though the 911 Medical Amnesty Law has been in effect for more than four years, many people still don't know about it, Laws said.
Knowledge has improved, but not enough. Laws said when the law first passed and he started talking to groups, about 10 percent of the people in each group knew about the law. Now, it's about 30 percent.
"That's the challenge. People who aren't in that world of harm reduction or recovery or personal experience might not know about it," Laws said.
But the percentage of people who have lost someone to an overdose has gone up, too. Four years ago, if he were speaking to a group and asked who knew someone who suffered an overdose, about 25 percent would raise their hands. Now, it's more like 75 percent.
Though administering naloxone is a crucial first step in saving the life of someone, follow-up medical care is still needed. So after administering the naloxone, call 911. The person will need to be stabilized and could go back into an overdose.
If someone has taken a lot of opioids or gotten ahold of a fentanyl analogue, it could take two – or more – doses of naloxone.
"I've heard of people who have been 'Narcanned' six times in a day," said Laws.
Someone can wake up and seem fine, but then slip back into an overdose.
Naloxone is an "opioid antagonist," which works by attaching to opioid receptors in the brain and displacing the opioid. That means that it can send a heavy user into immediate opioid withdrawal.
For those who aren't suffering an opioid overdose, naloxone does nothing – it causes no harm, according to Georgia Overdose Prevention.
Laws said the kits can be given to those who are struggling with opioid addiction or to friends and loved ones. Recovering opioid users who are now clean can be at a high risk for overdose if they relapse, because they no longer have the tolerance they once had. And there have been cases around the state where fentanyl analogues are mixed into heroin or into counterfeit pain pills.
In 2017, in middle Georgia, there were reports of people overdosing after they took what they thought was a single Percocet. The pills, which looked like real prescription medication, were actually a combination of several synthetic opioids.
Loved ones of opioid users, whether active or in recovery, sometimes don't know how to approach their loved ones about the naloxone kits.
They can tell the person they know they are struggling and they know how hard it is, and that they want to have a kit on hand just in case something happens, Laws said. And "please, if you're going to use, don't use alone and have this kit," he said.
"In the addict's mind, they know that it is not easy. It just might be the best show of love you can give to somebody is to acknowledging – with caring and compassion – and say you know it is hard," he said. "We all know at any moment something can happen."
To get in touch with the organization, visit the @GeorgiaOverdosePrevention page, Georgia 911 Good Samaritan Law, on Facebook, or visit www.georgiaoverdoseprevention.org .
The Facebook page is the best way to get in touch, Laws said. Volunteers will arrange to meet people who need overdose kits, he said.