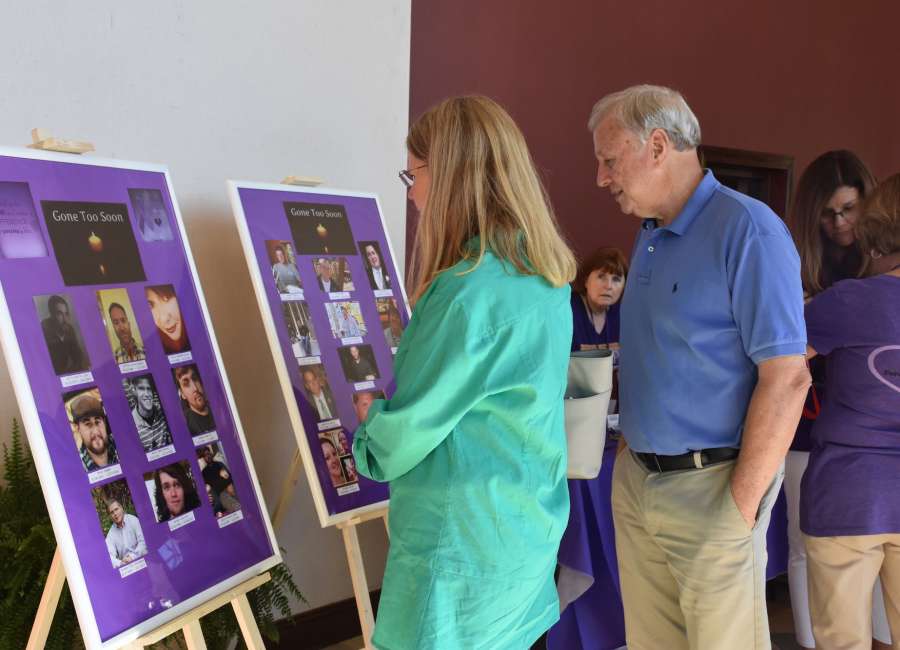 In 2016, more Americans died of drug overdoses than from car crashes and gun violence combined.

The opioid crisis in Coweta and the state was the focus of a town hall meeting held Thursday at the Nixon Centre. It was sponsored by the Coweta Substance Abuse Prevention Coalition.
"Thank you for being here – it means you care," said State Sen. Matt Brass, R-Newnan.
"Really what this is all about is us coming together as a community, as one, and trying to fix a problem," Brass said. "When you're trying to do it by yourself, it's not quite as
easy as it is when you've got a friend behind you."
The stories of some Cowetans who lost their lives to opioid overdoses were shared Thursday night, and names were read aloud during a time of remembrance, as those in the audience who had lost a loved one to overdose were asked to stand. The event was held on the eve of International Overdose Day.
Last year, 1,043 Georgians died of overdoses, said Katie Byrd of the Georgia Attorney General's office.
Attorney General Chris Carr leads a statewide opioid task force, which has been meeting around the state. The group will meet in Columbus in October, and Alabama officials will also be participating.
"I really do think our state is rising to the occasion," said Byrd.
The attorney general's office is working on guidelines for opioid prescriptions, enhancement of treatment and getting prevention messages out into the community.
In addition to prescription pain medicine and heroin, highly potent and dangerous derivatives of fentanyl are on the streets, Byrd said.
"That's something we're going to have to come together to work on," she said.
Preston Miller, field representative for U.S. Sen. Johnny Isakson, spoke about action on the federal level. Isakson has a personal connection to the opioid crisis – his grandson died of a drug overdose in 2016.
Isakson cosponsored the Opioid Crisis Response Act, which is now in committee. One of the things the ligation would do is encourage the development of non-addictive painkillers and speed up the approval pathways of those types of medication, Miller said.
It would also reduce incentives for doctors to prescribe opioids. The bill would strengthen the relationship between the FDA and U.S. Customs and Border Protection to stem the flow of illicit opioids across the border, and it would strengthen the health care workforce to increase access to mental health services in schools and provide substance abuse treatment in underserved areas.
Pat Rudd of Coweta GRASP – Grief Recovery After Substance Passing – spoke about her son, Tyler.
"In 2013 there were 10 overdose deaths in Coweta, and one of them was my son," Rudd told the crowd of about 300.
Tyler was addicted to oxycodone and died of an overdose of methadone.
"Addiction can happen to anyone. It does not discriminate," Rudd said.
After Tyler's death, she learned about GRASP and started the Coweta chapter.
For so many who have lost a loved one to an overdose, "it is not a death to be mourned like others. There is a stigma, a sense of failure," Rudd said. And the addiction seems to negate "every wonderful thing about them," she said. "To many, they are the sum of their addiction."
Often in talking about someone who has a drug addiction, people "reduce a complex human being to a stereotype."
GRASP helps people break through that, Rudd said. And many GRASP members become active in prevention and recovery.
"We don't want to see other families destroyed by this epidemic like ours were," Rudd said.
Addiction is not a choice. It's not about willpower, Rudd said. It is a medical disorder, and a disease.
"Once they start using substances, they can't stop," Rudd said. "Many people don't understand that, they don't realize that they can't stop. They just think the addict should just stop using."
Rudd said her son didn't want to go to the doctor because it was stamped across his chart that he was an addict.
"We need to end this stigma that goes along with addiction so that people are not ashamed to reach out for help," she said. "The only way we can do that is by talking about addiction and what it really is – a disease."
People shouldn't assume their children won't do drugs. Instead, assume they will, Rudd said.
"Be afraid. Be prepared to fight for your loved one's life," she said.
For those who are considering using drugs, "I would like you to remember my son Tyler and all of those that are here that have lost a loved one to substance use," she said. "And consider your loved ones. One person may use but the whole family suffers."
Those who need help or who are grieving, "hold out your hand and let somebody reach out and grab it and pull your life forward," she said. "There is now help in your community. You do not have to do this alone."