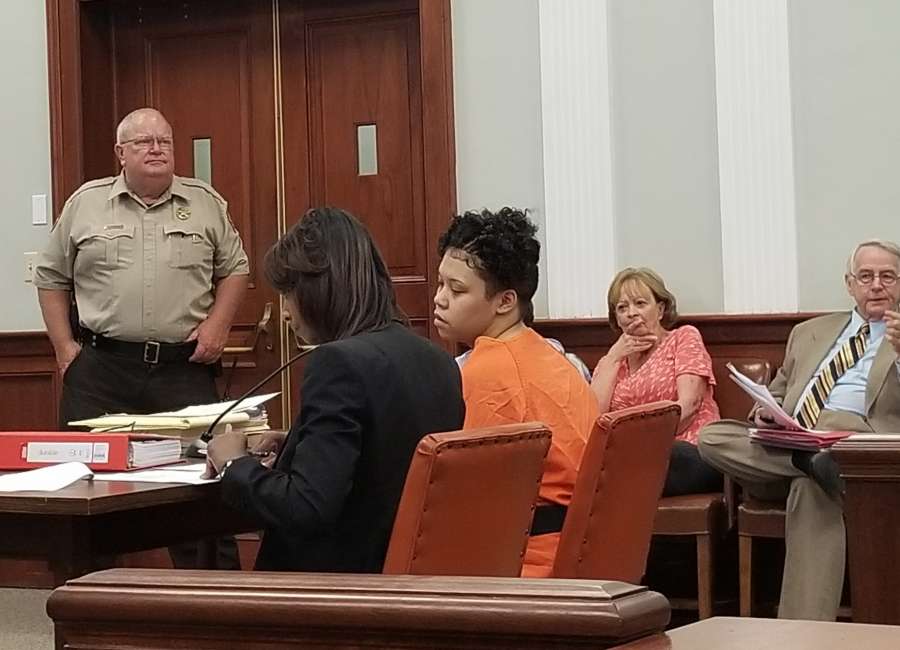 As 19-year-old Mina C. Ellery heard her sentence – a life term with a minimum of 30 years behind bars – the courtroom was somber.
Ellery pleaded guilty Friday morning to her role in the August 2014 murder of 83-year-old grandmother Dorothy "Dot" Dow. 
She entered her plea in the second floor courtroom of the Meriwether County Courthouse in Greenville. When Superior Court Judge Dennis Blackmon called a recess after the sentencing, several lawyers and court officials had tears in their eyes.
There was grief for so many lives changed – none for the better.
Dow's family gave witness impact statements – recalling their growing horror as they began to realize what had happened to the elderly widow, and remembering her kindness and love. 
Ellery expressed remorse, and her stepfather spoke with love about her and told the Dows he has been praying for them.
Philip Dow, one of Dot Dow's sons, addressed Ellery directly. He said he endeavors to forgive her but that she must pay for her crime.
"You should not come out of prison until you die," he said.
"Miss Ellery is actually going to spend more time in prison than she's been on earth," her lawyer, Newnan attorney LaZanea M. Holley, said during the proceedings. "These cases never get easier."
Ellery talked quietly at the defense table with Holley before the proceeding began. Assistant District Attorney Robert Peterkin outlined the crimes for which Ellery was charged. He later reiterated much of the material with some added detail in recounting testimony by Justin Grady and Cortavious Heard, who have already entered guilty pleas in the case.
A fourth person, Angel Harmon, is also charged in Dow's murder.
Crime recounted
According to information shared by Peterkin, on Aug. 2, 2016, Harmon drove Ellery, Heard and Sanquavious Cameron to Dow's home in Lone Oak, a small town in north Meriwether County, a few miles south of Grantville. Harmon and Ellery went to the door and talked with Dow while Cameron entered the house from another entrance and took Dow's purse.
Ellery pleaded guilty to using Dow's debit card to get $1,500 from an ATM at PNC Bank in Hogansville. Heard, two years older than Ellery, was her boyfriend, and Heard reportedly owed Cameron money for drugs.
The Dow family operated a blueberry farm on their property, and Grady was a longtime employee there. He reportedly was among the guests at a celebratory dinner marking the end of the blueberry season at Dow's home a few days before the 2016 crimes.
"He worked for the Dow family for a very long period of time," Peterkin said.
Grady had introduced Heard to the Dows, and Heard briefly worked on the blueberry farm before being let go because of "deceitful practices," according to Peterkin.
Kenneth Dow, another son of Dot Dow who lived with his mother, paid farm workers in cash and was known to keep large sums of money on hand. 
On Aug. 4, 2016, Dot Dow was asleep at home while Kenneth was at a movie. She awoke to discover Ellery, Grady, Harmon and Heard in her home. She was repeatedly asked about Kenneth's whereabouts and about the location of money. Unable to provide an answer, the elderly woman was cursed and beaten until both arms were broken.
Then, lighter fluid was poured down Dow's back, and she was set afire. 
Telephones were taken from the home, and Ellery pleaded guilty to snatching Dow's Life Alert device from her neck.
After her attackers left, Dow used water intended for her CPAP machine to extinguish the fire on her back. Despite her broken arms, she crawled across the floor, found a working phone and called 911.
Family speaks
Dow's family recounted their experiences in learning about the attack.
Philip Dow was at his home about 100 yards from his mother's residence when he got a telephone call in the night. It was a deputy asking him to come to his mother's house.
He stepped outside to see "a sea of blue – blue lights blazing in the field" between the two dwellings. There were several sheriff's cars and an ambulance. He figured his mother had experienced a health crisis.
"I found her laying on the floor in pool of blood. It was a scene you just can't imagine," he said.
Addressing Ellery directly, Philip Dow said, "You beat on my mother with a pistol, and then you set her on fire to die. Most people wouldn't inflict that on a dog, much less a human being. And yet you did."
He also said, "Mina, I have waited for this opportunity for two years now. Now that this time is here, I'm pretty much dumbfounded as to what to say."
Sarah Ogle, Dot Dow's granddaughter, shared similar memories. She was at home and got a call from a cousin in the night. She also figured the nighttime call meant her grandmother either was very ill or had passed away.
Ogle had intended to call her grandmother earlier in the day to tell her that her 4-year-old had gotten her ears pierced without shedding a tear.
"Things got busy that day, and that call never happened. That's one of the things I just have to live with," Ogle said.
When she learned what had happened to her grandmother, "I felt the blood in my body rush down to my feet." She remembered the same feeling when her mother, Joy Dow Sanders, died unexpectedly in 2004.
Ogle rushed to the Grady Memorial Hospital emergency room. When she got into the E.R. area, she immediately noticed the smell of something burning and realized it was her grandmother's skin and hair.
"Sarah, why would someone do this to me?" Dow asked her.
Philip Dow remembered that when his mother's pastor visited at Grady, Dot Dow asked him to pray for the people who had harmed her.
Beth Dow, Philip's wife, recalled Dot Dow's immense pain as hospital staff tried to clean the burn wounds in the days between the attack and her death.
"As a family, we watched her slip away from us," Ogle said. "I wanted her so badly to survive this. I needed her. My kids needed her. My family needed her."
Ogle recounted her grandmother helping to raise her in her early years, Dot Dow's steadfastness at the time of Sanders' death and Dow's faithful care of her husband during his lengthy battle with Alzheimer's.
"Some of my best memories were on the land. Her home and lands were special to me, and you have taken that away from me," Ogle told Ellery.
"I don't think I will ever be able to explain what you have taken from me," Ogle said. "She was there there day I graduated from high school. She was there when I walked down the aisle. … She was the last piece I had left of my own mother."
Ogle told Ellery, "I thought it would be hard to face you, to see you. You have already destroyed me and my life. I asked myself if I will ever be able to get on with my life, and I believe the answer is no."
Beth Dow shared written statements by Dot Dow's brother, Norman Reed, and sister-in-law, Ann Dow Veal.
Reed noted his sister was attacked just four days after her birthday. They were the last two siblings living, and her death in "such a heartless, cruel and violent way" has left "a huge void in my life," he wrote.
Both Reed and Veal, who referred to her husband's sister as her best friend, wrote they hope Ellery never gets out of prison.
Kenneth Dow was often tearful as he spoke.
"I'm here to represent my mother. She lived a very good life," he said.
"When she went to heaven, she didn't take any of Aug. 4 with her," Kenneth Dow affirmed.
"As hard as it is for me to say this is, I want to have forgiveness for you as my mother did," Philip Dow told Ellery. "I do this not for you, but for me."
"The Dow family has shown great bravery to be here today," Blackmon said. "I know those were painful, painful words."
Ellery sentenced
Ellery spoke in a quiet but clear voice as she answered questions from Blackmon and Peterkin. 
She pleaded guilty to seven counts, out of more than 25 in the original indictments. She was sentenced to life in prison for malice murder. Because she was under 18 when the crime occurred, the maximum sentence that could be given was life with the possibility of parole.
Ellery was sentenced to 20 years each for armed robbery, home invasion, aggravated battery and burglary. Blackmon handed down a 10-year sentence for identity fraud and three years for transaction card fraud.
"All these sentences shall run concurrent into one big life sentence," Blackmon ruled.
Peterkin outlined the rules for parole if Ellery should ever leave prison. She will have to allow searches of her home, vehicle and papers while on parole and will have to willingly give blood, urine and saliva tests for drugs and alcohol, as well as a DNA sample.
She cannot use alcohol or drugs or be around people who use. Peterkin said Ellery is also forbidden to have any kind of contact with Dow's family.
"You're going to be on probation for the rest of your life," Peterkin told Ellery.
Ellery, who wore an orange jumpsuit in court, became tearful during the statements by Dow's family. 
She spoke briefly, from a written statement that was entered into the case's evidence.
"I first and foremost want to be able to express my sadness to you all. I want you to hear my apology," Ellery said. "I truly truly regret everything that has happened."
Ellery said she prays for forgiveness and prays that the Holy Spirit will comfort the Dows. "No family should have to go through what you are going through," she said.
"She did allow herself to be around a crowd that was up to no good," defense attorney Holley said. Holley said that Ellery had "cooperated fully with the ongoing investigation" and had offered to take a polygraph exam "to give some clarity to some of the things that happened that night." 
Ellery put her head on the table and wept during some of the testimony from her stepfather, Joseph Louis Johnson.
Johnson and Holley both referred to the shooting death of Ellery's brother several months before the attack on Dow. Holley said Ellery was talking to her brother on the phone near the moment he was shot.
"I did not come to make any excuses for my daughter. I came to let my daughter know I love her," Johnson said.
"To the Dow family, our family believes in the Lord Jesus Christ. Mina was taught in the right way, and she knows right. She also realizes there are repercussions," he said.
"We understand what it is to lose a loved one abruptly and to lose a loved one in such a fashion as you lost yours," he said.
In June, Cameron pleaded guilty to burglary of the Dow residence and was sentenced to 15 years to serve seven years in prison. He was also ordered to pay restitution of $1,500.
In December of 2017 Grady and Heard pleaded guilty to malice murder, theft, home invasion and aggravated assault. The two men also agreed to testify against Harmon, who has not yet been tried. Grady and Heard have not been sentenced.
Kenneth Dow spoke of the hurt of the two families – his own and Ellery's. "Jesus and God is the only way. Jesus hung on a cross and suffered. Sometimes we have to to do that, too. May God be with us all."