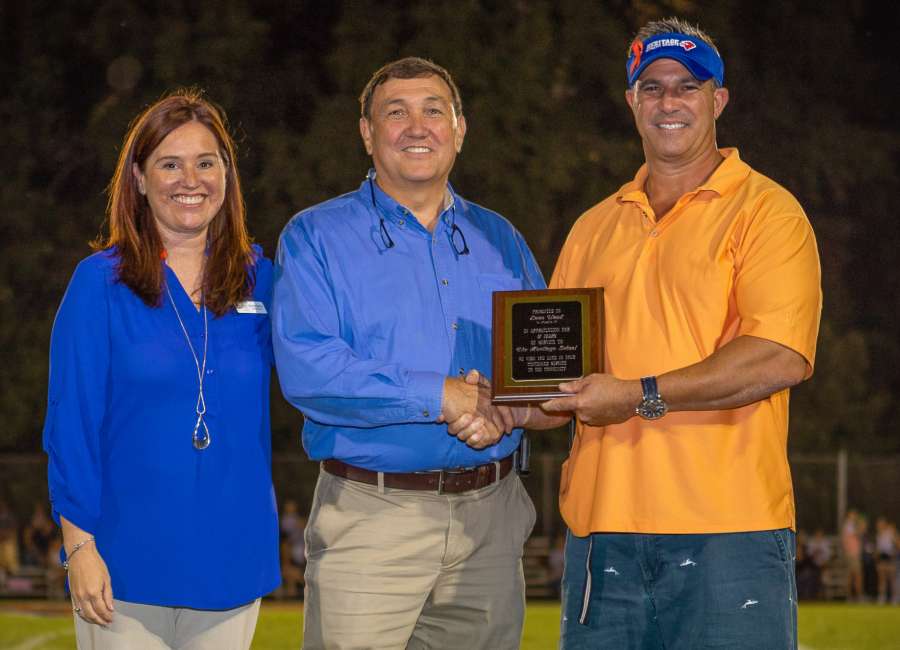 For more than 30 years, Lt. Col. Lenn Wood has been a fixture at the Heritage School as a security officer for a number of athletic events.
Last Friday, the veteran of the Coweta County Sheriff's Office was honored at halftime for his service.
Heritage School Headmaster Kristen Skelly said Wood's continuous presence at various football and basketball games over the years has created a lifetime of friendships between students and administrators.
"Many of the athletes he watched play in athletic competitions now have children at the school," Skelly said. "These students remember him and find joy in introducing their children to him."
Wood remembers the first basketball games in The Sanders Center where there were no bleachers and only chairs scattered around the outside walls for spectators.
Volleyball games soon followed, and football was added in 2006. Wood, a potential candidate for sheriff, said he felt it was time to pass the torch.
Major Mark Fenninger will now take Wood's place at sporting events at the school.
"It was really nice to be honored," Wood said. "After 31 years, I felt like it was time."
"The Heritage School will greatly miss Lenn but wishes him the best in his next adventure as he runs for sheriff," Skelly said. "He has a lifetime pass to all athletic events at The Heritage School."