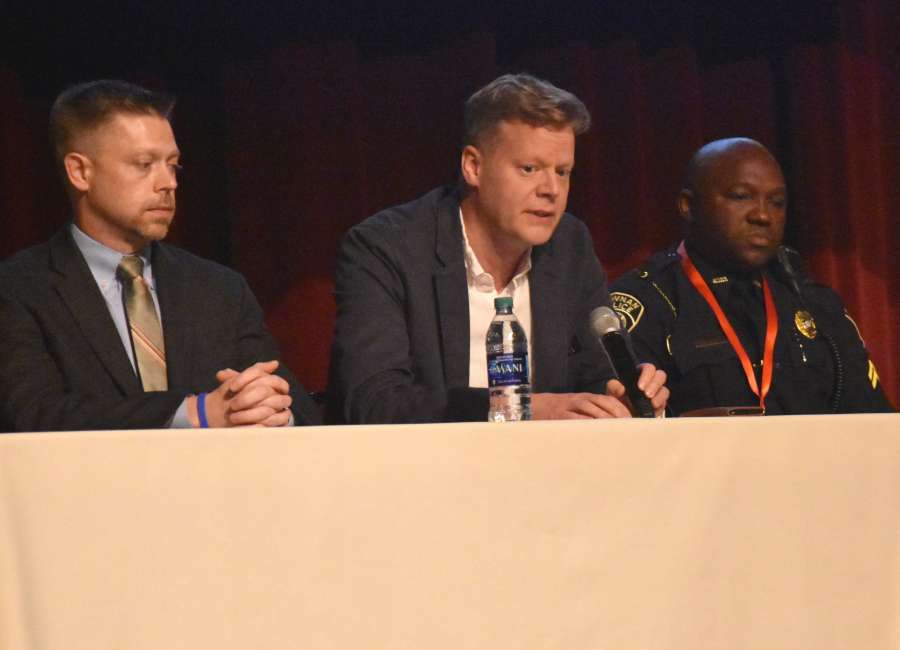 Surveys have shown that the vast majority of young people who abuse prescription drugs got those drugs from family or friends – usually from their medicine cabinets.

That's why "lock up your meds" is a key strategy of the Coweta Substance Abuse Prevention Coalition.
"Where do you think kids are getting it?" said John Winters, who heads up the data and analysis team for CSAP.
The results of a survey of Coweta high schoolers show the top two ways teens get the drugs "are you," Winters said. Teens either get them from a friend or relative in various ways, or buy them from a friend or relative. The third way was buying them from a drug dealer.
The organization, which is working to combat Coweta's opioid crisis, held a town hall meeting Thursday at the Nixon Centre.
Locking medication up – in a lockbox, a locking cabinet or even your car – is one way to keep it out of unauthorized hands. Lockboxes were given away to several attendees at the town hall meeting.
Another key is properly disposing of medication and not holding onto it for years.
"If you used a medication in 2004, you don't need it in 2018 – just dispose of it," said Dr. Nia Sipp, addiction psychiatrist at Talbot Recovery in College Park.
Sipp was one of the participants in a panel discussion that wrapped up the town hall meeting.
Sipp said she thinks lock boxes are one of the best things parents can use. She's talked to children – 8- to 12-year-olds – who have "skittle parties." They take whatever medication they can find, put it in a bottle of Sprite, shake it up, and "they all drink it," she said.
There are several ways to properly dispose of medication. There are medication drop boxes, including one at the Coweta County Sheriff's Office. Some pharmacies offer a powder that can be mixed with water and medication so they can be safely discarded in the trash. The Drug Enforcement Administration also has drug take-back events.
At the sheriff's office drop box, "we've seen everything from vitamins to cocaine to needles and prescription medication," said Lt. Jason Fetner.
One seemingly ideal way to get rid of unneeded medication – flushing it down the toilet – isn't recommended. Flushing has been found to contaminate water.
Parents should also be aware of what their children are doing.
"Be a CIA agent – they're your child, they're not your friend," Sipp said. "Be snoopy."
Parents should check out their children's social media accounts, their phones and their rooms, Sipp said.
"Know what your kids are up to," She said. "Know where they are. If you don't, somebody else will."
"None of your children have any expectation of privacy in their bedrooms and personal effects whatsoever," Fetner said.
Fetner said he's talked to a lot of parents and "they don't feel empowered to do that at all."
He said most, if not all, kids are going to experiment with alcohol and drugs.
"I did, and I'm pretty sure most of y'all did also," Fetner said to the crowd. "You should be having conversations with them about it. If you don't, the kids at school are going to."
If parents can't talk to their children about these kinds of sensitive topics, "then you're not in control. You can't bury your head in the sand. You have to address those issues because it is going to come up," Fetner said. "Search your kids' rooms and tell your friends who aren't here to search their kids' rooms."
The drug problem in the country has both a supply side and a demand side. Traditionally, law enforcement has focused on limiting the supply, said Kenya Herring of the Coweta County District Attorney's Office.
The DA's office is vigorously working to stop the trafficking and suppliers of dangerous drugs, she said.
"I want you to be assured we are using all of our vigor and all of our energy to go after those people," Herring said.
But focusing on the supply side can be "like playing whack-a-mole," she said. "My experience is that tackling any problem is not best done from the supply side. It's best done from the demand side."
Herring said her office is not here to lock up users.
"We often refer people to treatment programs," she said. Sometimes, an arrest is the wake-up call someone needs, she said. And "we understand the difference between re-offending and relapsing."
But stopping the crisis "is going to require us really getting to the cause and addressing the demand," Herring said.
Judge Joe Wyant, who oversees Coweta's accountability courts and juvenile court, said he thinks there needs to be a change in culture.
"We are a nation of pill-poppers. We like the easy fix," Wyant said. "If we want better sex, we take a pill. If we want to lose weight, we take a pill. If we want to not feel as bad about ourselves, we take a pill. If we don't change our culture, we're not going to stop it."