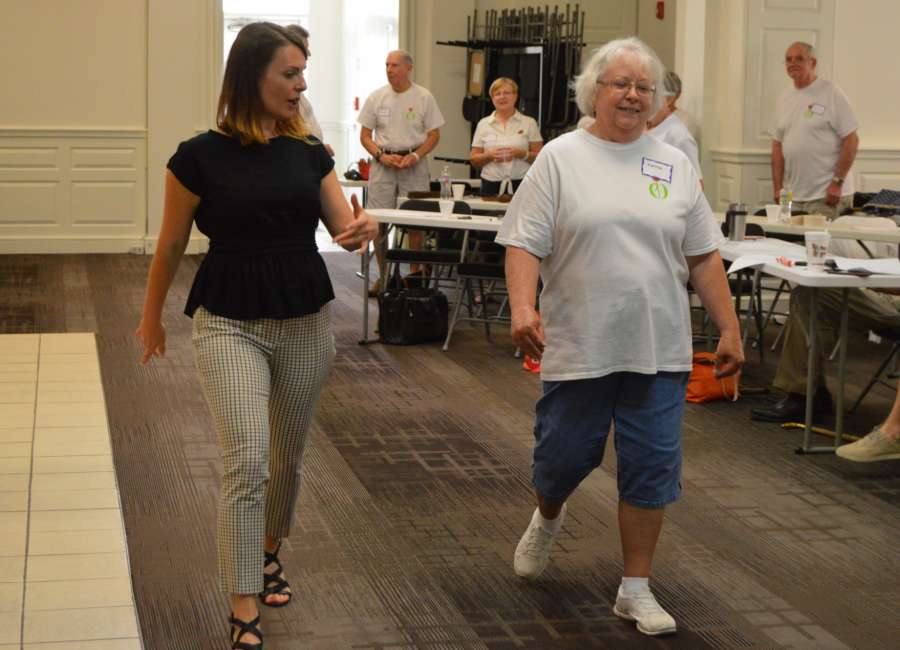 Tremors in her thumb and finger first caught Jane Smith's attention in 2013.
The then-71-year-old Bremen woman mainly noticed the twitches and some weakness on the left side of her body.
Smith said her intuition told her to see a doctor. A few days and several tests later, Smith was diagnosed with Parkinson's disease.
"I was kind of prepared for it," she said. "I'm not a pessimist, but I'm a realist. I just felt I knew I had Parkinson's disease."
That was five years ago. Smith said her disease has progressed some.
"Since then, my main problem is rigidity and muscle stiffness. I now walk with a cane," she said. "But other than the cane, people would not know that I have Parkinson's because I don't have tremors or jerky movements … but one of my biggest fears is falling because I also have osteoporosis."
Falling to the ground can be just one outcome for patients with Parkinson's disease.
According to the Parkinson's Foundation website, Parkinson's disease is a neurodegenerative disorder that predominantly affects dopamine-producing neurons in a specific area of the brain.
Symptoms generally develop slowly over years. The disease affects everyone differently, but indicators include tremors, slowness of movements, rigid limbs and balance issues, according to the Parkinson's Foundation.
Lack of coordination, vertigo, loss of muscle tone, plus issues with depth perception are another set of potential problems for patients living with Parkinson's disease, said Dr. Amy Morse, a physical therapist with Neuro Rehab Clinic at the Emory Brain Health Center.
She recently led a seminar called "Preventing Falls" for Parkinson's patients and their caregivers at the First United Methodist Church in Newnan.
Morse held a brief presentation before working with patients one-on-one, showing them ways to exude better posture and exercises to help balance and coordination.
Parkinson's disease affects a person's cognition, or mental abilities used to process information and apply knowledge, according to www.apdaparkinson.org. This includes functions that allow people to estimate distance and depth perception, which is why Parkinson's patients may have trouble walking, turning around, reaching for objects and even walking backwards.
According to Morse, patients should swing their arms while walking, use a longer-than-normal stride and take a more pronounced step when turning around.
She practiced with the patients during the exercise portion of the seminar.
"The key is repetition and doing these exercises over and over again," Morse told the class. "Repeating the exercises will retrain another portion of the brain."
Parkinson's patients lined up as Morse assessed their balance and gait and made corrections when necessary.
"I learned to power up and look ahead more," Smith said. "I'm concentrating on not using my cane as much, going forward with bigger steps and turning around."
"I didn't realize we were supposed to make our arms swing when we walk," said Barbara Langhoff of Sharpsburg. "One symptom in Parkinson's patients is our arms don't swing. But Dr. Morse said you should. It really helps with balance."
Langhoff was 69 years old when diagnosed with Parkinson's disease in 2012.  
Six years later, Langhoff said, despite a tremor in her left hand, the disease has progressed very little throughout her body.  
"One thing I learned right away is how exercise can help people with Parkinson's disease," she said. "I go to the Piedmont Newnan Fitness Center two days a week and the Carnegie Library two days a week for exercise classes. I also ride a recumbent bike every day."
Smith agreed.
"Exercise is key and helps a lot with balance," she said. "I use trekking poles to walk around the track. I can move faster with them. I also do chair yoga too.
"If I'm going to restaurant that I'm not familiar with, I'll go ahead of time just to check it out," Smith continued. "Just to see how easy it is to get in and out of the building and around the restaurant."
Around 60,000 Americans are diagnosed with Parkinson's disease each year, according to www.parkinsonassociation.org .
It is estimated between 7-10 million people worldwide are currently living with the disease. Unfortunately, researchers do not know what causes Parkinson's disease, and there is no cure.
But Smith and Langhoff refuse to let the disorder ruin their lives.

"You're not alone. There's a lot of us out there who have it, and there's support out there," Langhoff said. "Don't sit home and feel sorry for yourself. Be social, and keep your brain active too."
"You learn to live with Parkinson's and alleviate the problems you have," Smith added. "There's a saying I remember everyday, 'Starting today, I need to forget what's gone, appreciate what still remains and look forward to what's coming next.' It reminds me to read positive things and count my blessings every day."
The "Preventing Falls" seminar was hosted by the local Parkinson's support group.
The group meets on the second Tuesday of each month at the First United Methodist Church at 33 Greenville St. in Newnan.
For more information, call 770-253-7400.