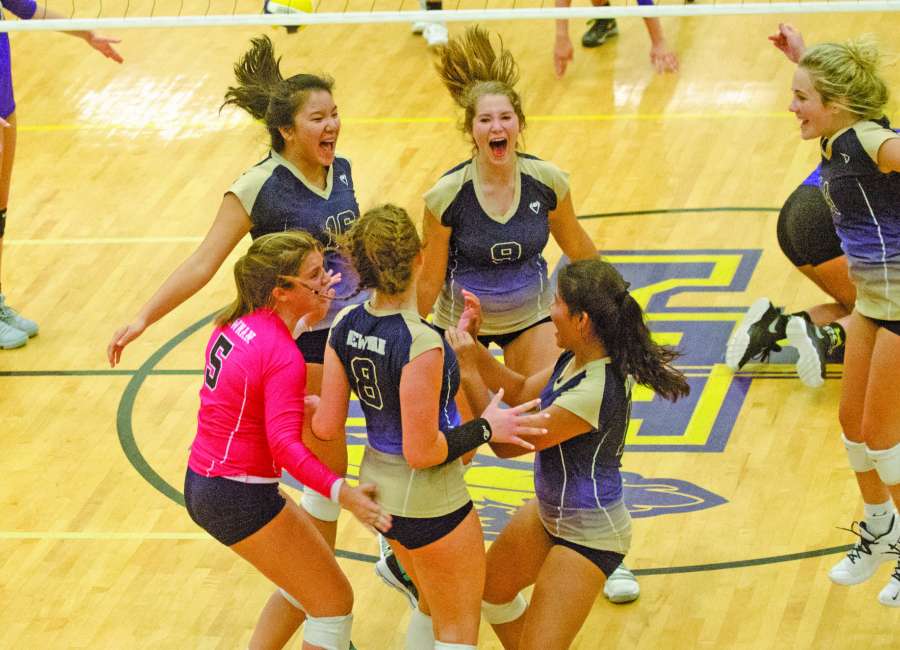 By CHRIS GOLTERMANN
Cowetascore
It wasn't too long ago that Newnan's volleyball program saw the Coweta County Championships as an obstacle, with both East Coweta and Northgate having held a firm hold of bragging rights during much of the last decade.
Things have changed, however.
While Newnan's varsity chances of a three-peat were out of the hands of this year's junior varsity lineup heading into Thursday's championships at ECHS' John Thrower Gym, they provided a potential glimpse of the future after sweeping both Northgate and host East Coweta in Wednesday's tri-match to repeat as JV county champions.
The Lady Cougars were able to power through Northgate in a 25-8, 25-20 victory after needing to buckle down at the finish against a late charging Lady Vikings squad.
Newnan then used the heightened intensity to its advantage in a thriller against host East Coweta, squeaking past the host Lady Indians 27-25 in the opening game before closing out a second sweep with a 25-21 effort.
The JV county title for the Lady Cougars was as much a measure of balance between an offense led by Maylan Eldred and Ruthie Burnette at the hitter positions, a strong service game featuring key runs from Emily Moran, Emmy Johnson and Savannah Collins among others, as well as defensive hustle that had the Lady Cougars sprawling at times to keep rallies alive.
Brooke Todd, meanwhile, was involved in nearly every situation on the floor while as much a nuisance for both opponents.
With the ability to set, serve or simply push balls to open spots on the floor with accuracy, Todd helped keep Newnan ahead through the majority of both matches for coaches Ayla Brewer and David Raschen.
With her back turned to the net from the back row, Todd connected on a bump that found the floor and produced a 22-18 lead late in the second game with the Lady Indians trying to rally from multiple five-point deficits.
East Coweta continued to charge back on a block from Lily Jones and a kill by Sarah Crouse. But Todd again came up with a key kill before Newnan closed out the sweep.
In the opening game, both Eldred and Burnette came up with kills for Newnan including a cross-court shot by Eldred for the game-winner after Burnette came through with an ace.
It ended a fierce battle that included 12 ties and six lead changes before arriving at Newnan's 27-25 decision.
The two rivals were separated by only a point until the Lady Indians pushed ahead 15-12 off a pair of kills from Josie Buckalew on opposite ends of an ace from Jones.
The lead stayed at 19-16 after a service ace from Buckalew before Newnan began to make its move.
The Lady Cougars tied the match on a kill from Eldred and went up 21-19 off a feed from Todd to Burnette before East Coweta came back one more time to force game point on Kaleigh Dunn's well-placed shot that found a hole in Newnan's back line.
Burnett's ace regained the lead for good, however, with Eldred closing it out on her winning point for the 1-0 game lead in the match.
Northgate also found leads short-lived against Newnan despite best efforts.
A 16-0 run served by Moran from the Lady Cougars in their opening game of the tri-match against Northgate provided a strong start.
But the Lady Vikings used an early five-point run that included a pair of aces from Northgate's Brittany Williams-Covey to grab its first and only lead of the match.
Newnan's Burnette stopped the run on a series that began with a dig and ended with a kill before Johnson served up a 6-0 run that included five aces, four of which came consecutively to pull ahead for good.
East Coweta and Newnan varsity squads will also honor the memory of head coach Amber McClure at Thursday's tri-match after combining for a T-shirt fundraiser.
McClure, who led the Lady Indians to the GHSA Final Four in 2014 and was set to return to the county as Newnan's head coach this fall passed away in July from melanoma in her brain at just 38 years old.