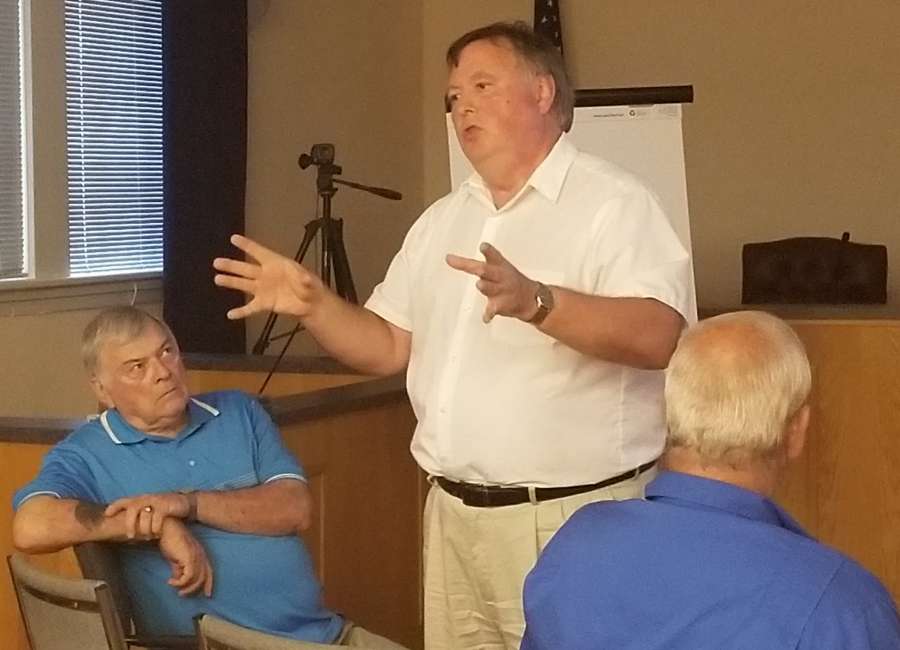 City officials in Grantville are looking at the possibility of installing a city-wide fiber internet system.

About 40 people attended a meeting in the city council chambers at the Glanton Municipal Complex on Lagrange Street Thursday evening to hear a presentation by Michael Brayen, senior director of community broadband for Nokia. Brayen outlined the process that could give the city a fiber network.
"The idea of this presentation is that we would connect everybody with fiber, but for everything there is a cost," City Manager Al Grieshaber said. He said there must be a determination of how much customer interest there is "because there is a cost involved." 
The crowd was mostly supportive of the project, though there were questions about the possibility of the project failing. 
Mayor Doug Jewell and council members Mark King and Alan Wacaser attended the meeting. Among those asking questions were Marion "Sarge" Cieslik, who is running against Jewell, and council candidate Sandra Luttrell.
If the city decides to move forward, the first step will be a marketing survey. Information would likely be sent in city water bills. Telephone calls and other methods might also be used to contact residents.
If at least 40 percent of the 1,140 households agree to take the new service, then engineering could start. Brayen recommended using local construction crews for as much of the work as possible.
City Manager Al Grieshaber said he has already talked with a representative of the U.S. Department of Agriculture about a loan to get the project started. The city would probably have to borrow about $2 million to get the system in place.
"There won't be a single customer on this system for the first seven months. It will be seven months of work to put the network in place," Brayen said. 
Brayen said it would then take 18 months to two years to have the complete system up and running.
Costs for customers on the Grantville system would probably be about $60 – $49.99 for service and $9.95 for a router, which would be updated as technology changes.
Income from customers would alleviate the debt over time – possibly as much as 20-30 years. Brayen said the system would likely not make a profit for about two years, but he said money could eventually come back to the town for upgrading and maintaining the system or for other projects.
Grantville already sells more utilities than any other municipality in Coweta County. Grantville sells water, sewer, electric and natural gas service. Grieshaber said, if the city moves forward, an internet utility would also be created.
"We run it just like a utility. We run it. We sell it to you. We pay our bill," Grieshaber said.
The current proposal is for high-speed internet only. Video and voice services could be added. "That is dependant on what you want," Brayen said.
"That service would be available once the cable is out there," Grieshaber added.
Cieslik asked about using the internet system "as a profit center" – selling the service to people in other unserved or underserved areas and was told that was a possibility. The key always would be evaluating the interest from customers and the cost of installation.
Moreland and Luthersville were specifically mentioned as places that a Grantville internet system might serve.
Brayen helped install the system in Chattanooga, and he said that system now pays the city $40 million a year. The money has been used to build a technology center and to attract a Volkswagen plant.
"If you start to build it out and bring in more people, it's a casino," Brayen said. "It brings money in."
Some local governments have experienced financial problems after taking on internet projects. Dunnellon, Fla., was unable to meet financial responsibilities for $7.3 million in bonds secured in 2010 to install an internet system.
Brayen said he has worked with some 30 cities, the closest being Dalton and Chattanooga. He urged Grantville officials to talk with leaders in Dalton about their system, which has been in place 12-13 years.
"I'm sure they'd be more than happy to talk with your team," Brayen said. "Every single city we've done is cash-flow positive."
Brayen said Grantville's system should begin generating a profit 2.6 years after the system is installed. Profits coming back to the city could total some $5 million over 20 years, he said.
He talked about a Kansas town that built ballfields with money from its internet system. Bristol, Tenn., gives some of its profits to charities and invests the rest in making the network better and faster.
What is done with the money from the internet system would be "entirely up to you and your city council," Brayen said.
Impact Network Group would likely do the marketing-feasibility study in Grantville. Terry Drury of Impact was at the meeting and said Brayen's proposal took a conservative approach.
The national average for signup in towns doing an internet project is 54 percent. He also pointed to growth in Coweta County and the region. He said the population in and around Grantville is likely to grow considerably in the next few decades – a factor not addressed in Brayen's projections.
"This is for the residents of Grantville to decide if this is the way they want Grantville to go," Grieshaber said.
Brayen said with additional investment, the project might be done a bit faster, but it would be difficult to put the system in place in less than 18 months. "You probably need two construction seasons," he said.
He also talked about the difference in costs for overhead fiber versus underground. Overhead would cost $20,000-$30,000 per mile with underground in the $30,000-$55,000 range.
"The trickiest and hardest part of this is the financing. You can't make that decision too fast," Brayen said. "If you go down this road and borrow this money, you've got to be right." 
"My thing is to get broadband to everybody," said Drury, who is working with 17 Georgia counties. In many of them, residents only have access to dial-up internet.
He and Brayen talked about the increasing use of technology in all areas of life. 
"Towns that don't do this (get internet), and counties – they're going to dry up and blow away," Drury said.
"We can help you put this thing together," Brayen said. "That's the goal."