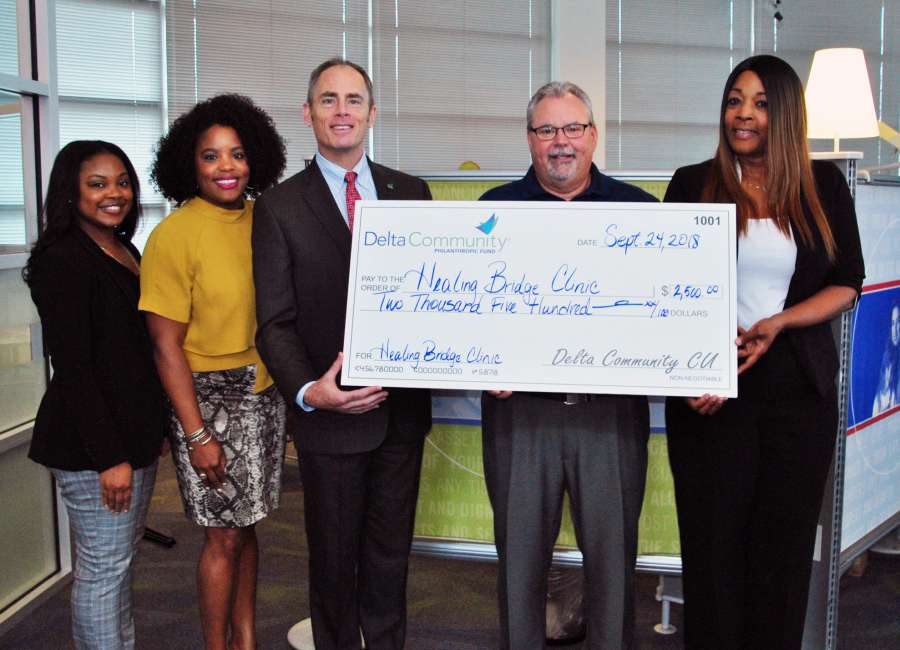 Delta Community awards $7,500 in grants
Two final grants from the 2018 Delta Community Philanthropic Fund have been awarded.
Delta Community CEO Hank Halter and Mt. Zion Branch Manager Tonya Ramsey presented a total of $7,500 Monday to two charities that provide health and human services in Coweta, Clayton, Fayette, Fulton, and other Georgia counties.
Healing Bridge Clinic in Peachtree City received a $2,500 grant. The nonprofit offers weekly clinics where doctors, nurses and other medical volunteers treat patients, and also helps people connect with legal professionals who provide information about tenants' rights.
House of Dawn in Jonesboro received a $5,000 donation to fund its Parent Economic Stability initiative. In addition to safe, stable housing, House of Dawn offers educational help, life-skills training and other resources to homeless teenagers who are pregnant or who already have children. The facility is open to teens throughout the Southeast.
The grants were the last of 22 awarded throughout metro Atlanta from the 2018 Delta Community Philanthropic Fund. Now in its fifth year, the fund invests in charities whose purpose is to help families manage household finances, or to improve the physical and financial well-being of young people.
Delta Community Credit has two branches in Coweta County on Highway 34 and on Glenda Trace.
* * *
Hungry Howie's donates to animal shelter
Hungry Howie's Flavored Crust Pizza in the Coweta Crossings Shopping Center in Newnan recently donated 10 percent of all sales on their opening day to Coweta County Animal Shelter.
The check, for $465.85, was presented Thursday, Sept. 6th and will be used to supplement food purchases at the shelter.
* * *
Local business connections and  opportunities
Oct. 2
Ribbon Cutting - Lawson & Beck, 12 noon to 12:30 p.m. 1201 Lower Fayetteville Road, Suite C, Newnan.
Oct. 3
1 Million Cups Atlanta-South, 8:30-10 a.m. 15 Perry Street, Newnan's Workspace, 15 Perry St., Newnan.
Business Women's Network: Women of Wisdom Conference, 10 a.m. to 2 p.m. Newnan Centre, 1515 Lower Fayetteville Road, Newnan.
Oct. 5
Six Figure Success Club - South Atlanta Meetup, 9:30-11:30 a.m. The Newnan-Coweta Chamber, 23 Bullsboro Drive, Newnan.
Oct. 6
Newnan Trek Grand Opening, 10 a.m. - 2 p.m.  9 W. Broad St., Newnan
For more information on these activities, visit www.newnancowetachamber.org
Items for consideration as business briefs should be emailed to business@newnan.com, faxed to 770-253-2538, or mailed to Business Briefs, The Newnan Times-Herald, P.O. Box 1052, Newnan, GA 30264. Email submissions are preferred.