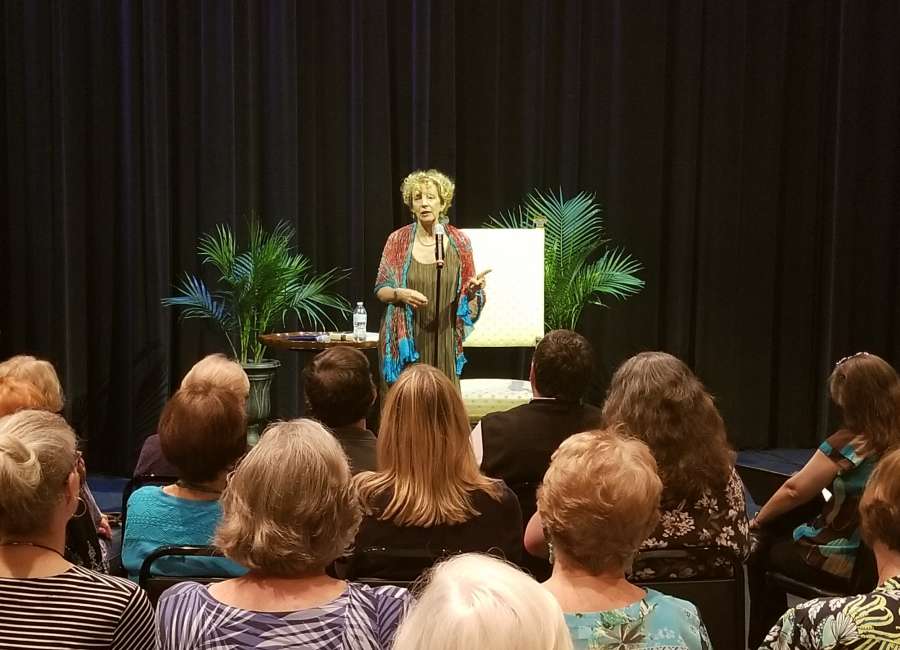 When Cathe Nixon introduced Jamie Bernstein to the audience at the Nixon Centre on Tuesday, she asked how people thought Bernstein's last name should be pronounced.

Someone correctly suggested the last syllable should be pronounced "stine." Nixon, who directs the local arts center, said she was remembering the correct pronunciation because of "Steinway," the premiere piano brand.
"Or Einstein," Bernstein piped up in response, eliciting laughter from the group of about 75 gathered on the stage at the center.
Bernstein spent just under an hour remembering growing up in a home that included her father, famed musician Leonard Bernstein, and his talented actress wife, Felicia Montealegre. She also read two selections from her new book, "Famous Father Girl."
"We were surrounded by artistic people, because my parents were surrounded by this artistic community in New York City," she remembered. 
Leading lights in music, film, the arts and literature came to dinner, played charades and sang songs around the piano.
"Because Daddy was Daddy, we had the opportunity to meet famous folks," she said. That included heads of state, popes and – most exciting for her as a young girl – the Beatles.
Lauren Bacall lived in the same building as the Bernsteins for a time. Photographer Richard Avedon was "a very close friend of the family, like an uncle," and composer Aaron Copland visited from time to time.
Bernstein particularly was drawn to film and theater director Mike Nichols.  
"I loved Mike Nichols," she said, "He was a magical guy."
Bernstein did not realize as a child what a unique environment she was experiencing.
"When you're a kid, your family is just your family," she reflected.
"I couldn't wait to be a grownup because it seemed like all grown-ups did was have fun," she said. 
That concept was leavened a bit on Nov. 22, 1963 when – following the assassination of John F. Kennedy – she saw the normally ebullient crowd drinking and crying as they watched the unfolding tragedy on television.
While both her parents were talented, creative people, her mother provided much of the stability for daily life in the household.
"She was an amazing person," Bernstein said. "You would have to be to be married to Leonard Bernstein. That was a lot to take on. My mother was larger than life. She had this zany, naughty sense of humor." 
Felicia Montealegre grew up in Chile and came to New York as a young woman. Though she officially came to America to study piano, she instead went to drama school.
Bernstein reflected on her mother as a 22-year-old immigrant living by herself in a basement apartment in Greenwich Village with her dog, Nebbish. Montealegre reportedly met Leonard Bernstein at a party where she sat at his feet and fed him shrimp – one by one.
They were engaged, then broke it off, and later eloped. Leonard Bernstein was bisexual, and Bernstein speculated that his sexuality may have caused the temporary delay of their marriage.
"It was incredibly courageous, especially for my mother," she said.
Since her father's death, she and her siblings – Alexander and Nina – found a letter Montealegre wrote shortly before their marriage. In the letter she directly addressed his sexual conflict but also referred to their desire to marry and have a family.
"The house was always full of people. That was as much because of my mother as because of my dad," Bernstein said. "She provided the stability that we all needed as a family. He really needed that steadying sensibility that my mother brought to the situation."
After her mother's death from cancer at 56, Leonard Bernstein "lost his rudder in a way," their daughter said.
Leonard Bernstein was energetic and always wanted to teach. His children learned to choose their questions carefully unless they were prepared for a long, learned answer.
"My mother called him a man with a motor," Bernstein said. "It was very hard to live with him because he was larger than life and exhausting."
Bernstein met with an agent about three years ago to talk about writing "Famous Father Girl." The agent told her the book should be a success – particularly if it could be ready for publication this year, the 100th anniversary of Leonard Bernstein's birth.
"It was like he shot me out of a cannon. I literally went home from that meeting and started writing that very afternoon," she said. "Once I started, I was galvanized."
She put together outlines and delved into journals she had kept – starting with a red leather-bound diary with a key given to her by her Aunt Shirley when she was 10.
"After college, I really started keeping a journal assiduously," she said. 
It was a practice she maintained until her marriage about 10 years later. She said the early journals tended to focus on her boyfriends, but she began to find nuggets of family stories. 
"I had to read them all," Bernstein said. "I did actually find what I was looking for. It was a little needle In a haystack."
Bernstein said the journals were particularly important because when she asked her siblings, they "couldn't remember anything."
Bernstein started out aiming for a career as a musician. A few years later, she found her niche as a concert narrator.
"I began talking about music. It turned out to be a pretty good compromise," she said.
 As she traveled the world, Bernstein worked on the book in airplanes and hotel rooms and on trains.
"It was like I was in a trance. I was cooking it all the time," Bernstein said, comparing writing a book to being pregnant.
Copies of "Famous Father Girl" were provided to attendees at Tuesday's program by Patrons of the Nixon Centre, and Bernstein autographed them.
As their father's centennial approached, the Bernstein siblings reached out to theater groups, concert companies, opera companies – almost any group with a potential interest in her father's music.
"The response was insane — way more than anything we could have anticipated," she said. "It's the craziest, most wonderful thing."
More than 3,400 Bernstein centennial events have been recorded worldwide so far.
The siblings are extremely close, and she referred to them collectively as "the three-headed monster." Bernstein said she is the "ham" in the family – the one in her generation most likely to be speaking on stage.
"This year – for the centennial – the three-headed monster really had to trifurcate," she said. All three have been speaking and attending events.
"I've just been on the road constantly all these months," she said. "Everybody had to do what they had to do for the centennial."
Bernstein said her father's "Chichester Psalms" and "West Side Story" are being seen as projects for school groups. "Chichester Psalms … is performed a lot by youth choruses. It's got rhythm. It's jazzy. It's good stuff for kids."
She said two films about her father's life are in the works, and she noted Steven Spielberg is looking to remake "West Side Story." 
"Let us all fasten our seatbelts for that one," Bernstein said.
She predicted that 10 years from now, young people will be more aware of Leonard Bernstein's work, genius and impact than they are now.
While her talk was upbeat and filled with humor, Bernstein took time to reflect on what it really means to be Leonard Bernstein's daughter in his centennial year.
"My life is amazing," she told the audience at the Nixon Center. "A lot of the people who made my life amazing are gone, and I miss them."