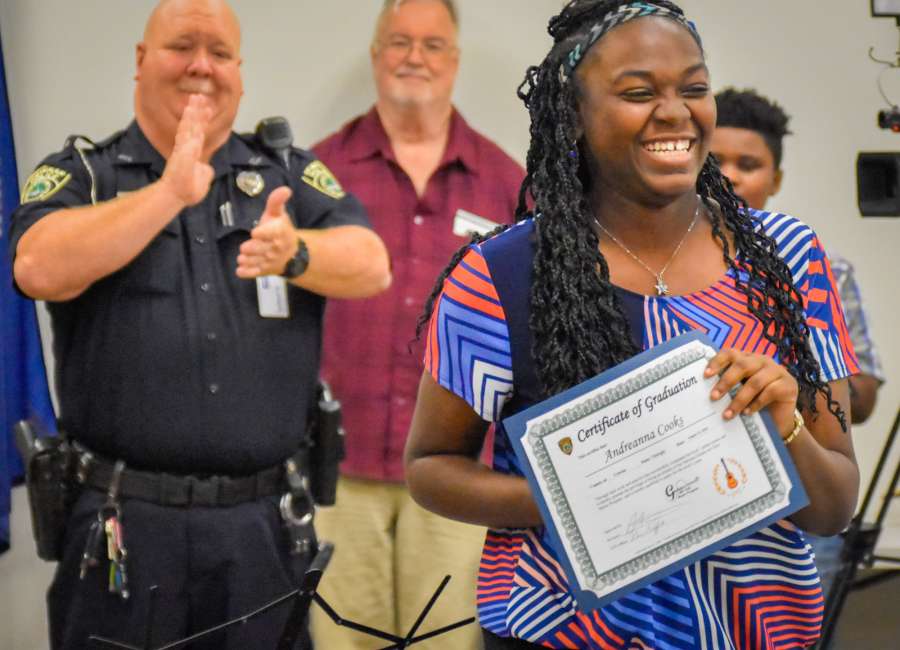 A police training room was filled with a song of peace and hope from eight local kids during their final recital for the Guitars Not Guns program.

For four years now, the Newnan Police Department has kept the mission of hope through music directed towards foster children and at-risk youth.
The Guitars Not Guns program was founded in the San Francisco Bay area 18 years ago by Louise and Ray Nelson, who now reside in Peachtree City.
The Nelsons developed a passion for being foster parents to children, which led them to care for five long-term foster children over the years. Instruments were always found in their home.
Louise said foster and at-risk children are often the "invisible kids" in society, so the program aims to help kids cope with negative emotions through positive reinforcement through teaching through peers and volunteers.
"Music is a coping mechanism – negativity in, positivity out. As you strum and sing, the endorphins begin working," she said. "We're blessed we can give of ourselves to keep them going and becoming productive adults."
The program has come a long way since its inception 18 years ago – now spanning 22 chapters in 14 states. In Georgia, the Newnan Police Department is the only participating precinct.
The event was professionally filmed as a way of showcasing the power of the program to other potential police departments.
"We love to show that police are human beings who love music and even play guitars," Louise said. "It's a wonderful community outreach to affirm their status as caring people. They're the heroes, not the bad guys."
Last spring, Officers Ed Lee and Adam Griffith reached out to the housing authority to see if any local kids would be interested in the summer session. The response was overwhelming, according to Griffith.
"This has been an incredible class," Griffith said. "We had 40 apply, but we could only take 20. But that's the reason we keep this program going strong."
Every Thursday for the last eight weeks, the kids practiced with their instructors at the police department. During that time, 10 would eventually drop out, but the other 10 remained dedicated to the program – even asking to stay for an extra hour of practice to be ready for their performance.
On Wednesday evening, the group of 10 filed into the room, picked up their instruments and began an inspiring rendition of Bob Marley's "Three Little Birds."  
Following their performance, Louise informed the class they have earned the right to keep the guitar and invited them to return for a second 8-week session of more advanced instruction.
Kenyacia Harris' daughter, Brooke, was one of the 10 who performed and graduated. In her opinion, the program is a blessing for kids who are often exposed to the world of violence at such a young age.
"I think it's a great idea for kids to come together and appreciate all those who volunteered their time to help our youth," she said. "It's been a great experience for my daughter, and she'll be here again for the next session."
On behalf of the Newnan Housing Authority, Alfreda Thomas expressed gratitude for the program and its growing popularity in the community.
"We're overwhelmed how Officers Lee and Griffith kept coming to recruit," she said. "We've had so many parents ask when we'll be doing it again, so thank you very much."