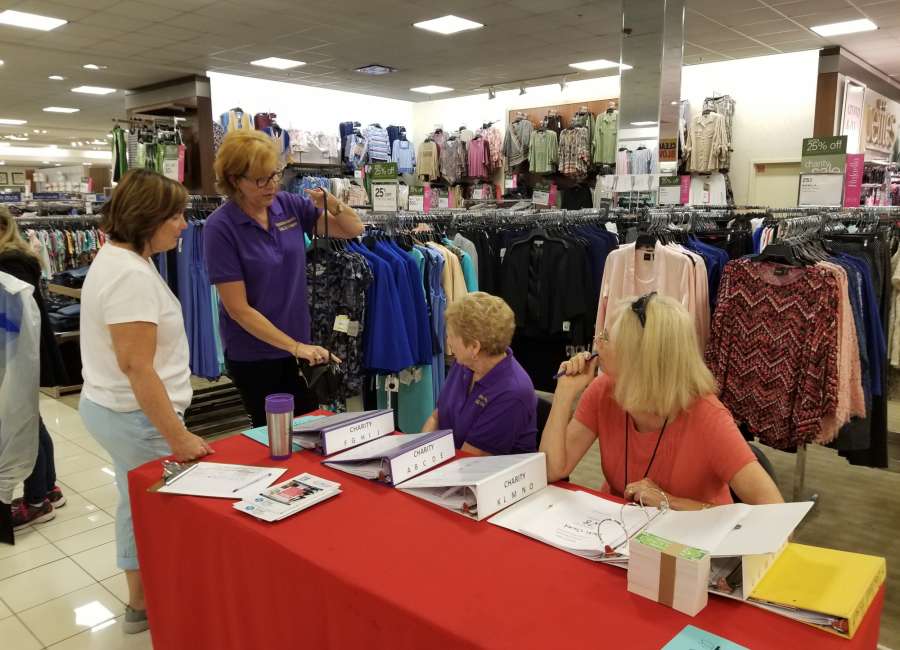 The Belk department store chain has added a third Charity Sale, and local nonprofits were quick to tap into a new opportunity to raise funds.

Belk has held Charity Sale events in the spring and fall for several years, adding a third Charity Sale, which took place this past Saturday from 6-10 a.m. 
Local churches and charities signed up with Belk and got tickets which they sold for the event for $5. Charities got to keep all the ticket money.
Ticket holders bought their tickets to Belk at Ashley Park on Saturday morning. The tickets entitled holders to extra savings, and tickets also could be redeemed for the $5 purchase price.
The first shoppers also were given a gift card at the door to add to their savings.
In addition to selling tickets, volunteers from charities spent the sale hours at the store – greeting customers, selling tickets, helping with reserved sales and signing in other volunteers. A large group from Delta Xi, which has participated in the Ashley Park Charity Sales for several years, manned the volunteer and reserve sale table.
Jacki Parker of the Newnan Pilot Club worked with them. Parker said the Pilot Club raises fund to help people with brain disorders. "We sponsor various programs," she said.
Yolanda Mendoza-Miller sold tickets at one of the doors. She represented Friends of the Southern Crescent, which offers help to senior citizens. "Sometimes they need transportation or they need grocery money," she said.
Several members of the Disabled American Veterans helped out on Charity Sale Day. Other groups represented included the Moreland Cultural Arts Alliance and Amazing Grace Evangelical International Ministries, a Clayton County ministry with outreach to youth.
At least two area churches – New Hope Missionary Baptist Church and Allen-Lee Memorial United Methodist Church – also sent volunteers.