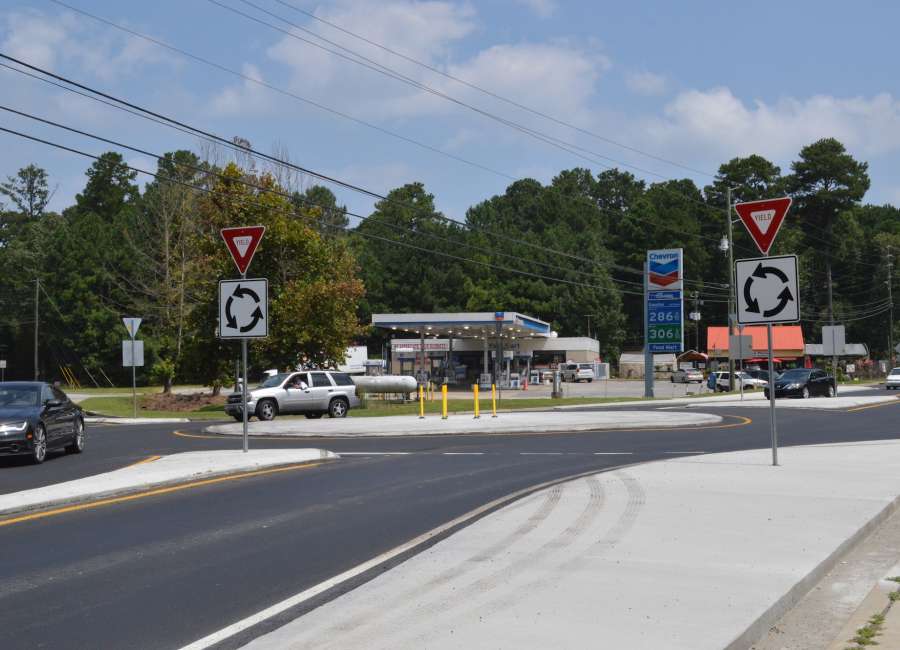 Work on two miniature roundabouts on U.S. Highway 29 wrapped up Friday – a mere three weeks after the project started.
Crews from Piedmont Paving Inc. were finishing up final paving of the second roundabout, at the intersection of Hwy. 29 and Greentop Road, Friday, and were painting temporary stripes on the roadway.
Permanent pavement marking will take a few weeks, as thermoplastic striping can only be applied after asphalt has cured for several days, according to the contractor.
Work on the project began Aug. 6, and the contractors were given 90 days to complete the job, according to Kimberly Larson, regional spokeswoman for the Georgia Department of Transportation. The project is overseen and funded by GDOT.
The two roundabouts now have central concrete islands and additional concrete curbing. The concrete islands are designed to be "fully mountable" by longer vehicles such as tractor trailers, meaning tires can go up on the edges to allow longer vehicles to make the turn.
Upright plastic pipes are in place in the center of the island to make sure drivers don't think they can drive directly over the concrete.
The roundabouts have caused some consternation for local motorists. Some have complained on social media about the lane closures and backups related to the construction – particularly their timing –  while others have taken issue with the fact that two roundabouts are so close together, and with their small size.
Coweta Public Works Director Tod Handley said Thursday that his office has received complaints about traffic delays, but hasn't gotten any calls about people being confused or getting stuck on the roundabouts.
The miniature roundabouts are a temporary measure until larger ones can be built sometime in the future.
They're something 3rd District County Commissioner Bob Blackburn is happy to see.
"They came into being because of numerous requests to GDOT," Blackburn said.
The county had wanted a traffic light at Hwy. 29 and Hal Jones Road, but was told that traffic volumes didn't qualify for a traffic light.
"Then we started looking at the speeds in that area, which were way excessive. And nothing seemed to work," Blackburn said. There were concentrated patrols and "law enforcement did everything they could."
But that didn't slow motorists down. "It was just a matter of time before something tragic happened," Blackburn said.
He and county staff went to GDOT and asked what the state agency was willing to do at the intersection. The answer was a roundabout at Hal Jones.
But there were also excessive speeds at Greentop, so it was determined a roundabout was needed there as well, according to Blackburn.
With excessive speed and the lack of sight distance, trying to turn left out of Hal Jones Road or the Country Junction parking lot could be nerve-wracking and dangerous.
"You take your life in your hands trying to take a left out of there," Blackburn said.
Blackburn is happy to take the flak from those who are unhappy with the new traffic pattern.
"I'll hang my hat on it," he said. "If they want to get mad, get mad at me."
He's been going through the intersection each day and observing. "I've seen giant trucks go through there, logging trucks, and have seen no difficulty whatsoever," he said. "It is an absolutely fabulous roundabout system.
"People aren't going to like me or like it for the first week, and then they're going to love it from there on," Blackburn said.
The roundabout will make it easier for those turning off of Hal Jones or Greentop, but more importantly for Blackburn, it will make things safer.
"Lives will be saved," he said. "It's going to slow everybody down, and nobody is going to get injured."
Blackburn expressed his thanks to county staff, particularly Associate Administrator Eddie Whitlock and to GDOT for all their work making the project a reality.
"They work so hard for Coweta, and it's very much appreciated," he said.
Roundabouts are also less expensive than a traffic light would have been, Blackburn said. "These are very easy on the taxpayers," he said.
Blackburn said he doesn't know the timeline for the future, larger roundabouts. "We'll take anything we can get at this point, just to save a life," he said.
"When all is said and done, everybody will be very happy and much safer."