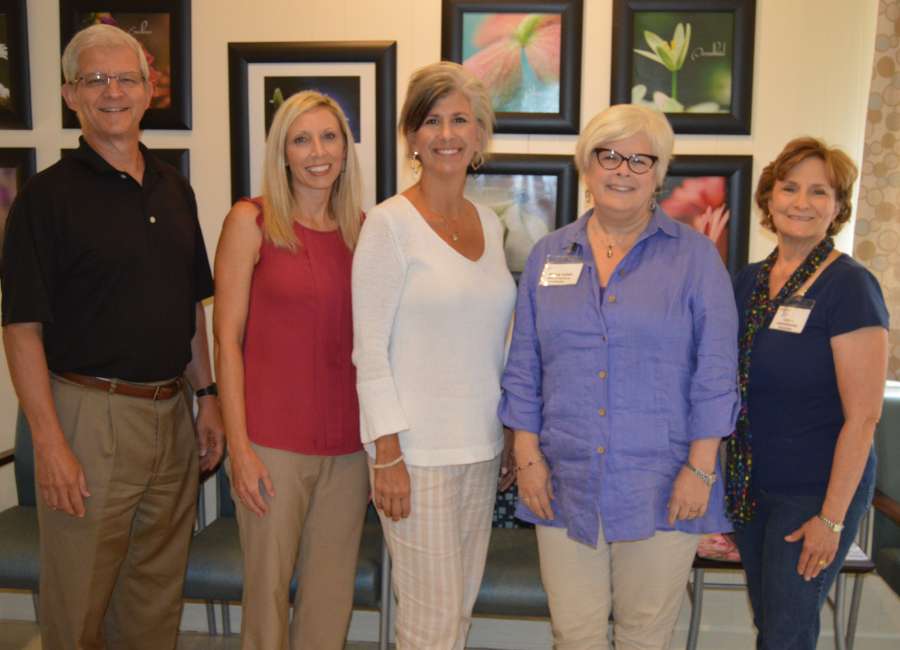 At the beginning of 2017, Viola Trader Warren of Newnan could not stop coughing and was in desperate need of medical care.
Unfortunately, she had just been laid off from her job and the medical insurance with her former company had run out.
Short on cash at the time, Warren could not afford to see a doctor.
She was driving around the city with a friend when God intervened, Warren said.
"My friend spotted the Coweta Samaritan Clinic and said, 'Try them. Maybe they can at least give you some cough syrup,'" Warren remembered. "The clinic took me in and gave me the best treatment. Better than anything I had in the 39 years of having medical insurance. They were a hidden jewel for medical care in the community and a godsend to me."
Dr. Kay Crosby, founder of the Coweta Samaritan Clinic, helped Warren feel better and set her up for several annual physicals such as a gynecology appointment and annual mammogram.
Warren said she even received an eye exam and was given new glasses.
"Everyone is so polite and so professional," she said. They make you feel loved and seem to really care for you and what you're going through. It was really a blessing."
The Coweta Samaritan Clinic, located at 137 Jackson St., helps uninsured adults over the age of 19 years old whose household income is at or below 200 percent of the Federal Poverty Level, according to Lou Graner, executive director of the clinic.
Warren is just one of 1,400 people that have been helped by the clinic since it opened its doors on Oct. 5, 2011.
"We started seeing patients one day a week and all three of our practitioners were volunteers," Graner said. "Now we're seeing patients Monday through Thursday from 9 a.m. to 4 p.m. We've added some part-time paid staff, including a physician assistant and a nurse practitioner."
The clinic is the brainchild of Crosby.
According to Graner, after 20 years of service, Crosby left her internal medical practice in November 2009 to provide high quality health care for the uninsured in Coweta County.
Since Oct. 5, 2011, the Coweta Samaritan Clinic has recorded more than 18,000 patient visits.
Patients do not pay a dime for their medical care, Graner said. Volunteers run the clinic, and physicians provide their services for free.
This has allowed the Coweta Samaritan Clinic to offer specialty health care, including cardiology, dermatology, endocrinology and gynecology. Piedmont Newnan, Cancer Treatment Centers of America and American Health Imaging provide facilities, equipment, diagnostic and surgical procedures without charge.
Three nights a month, the clinic holds restorative dental services in the West Georgia Technical College dental lab and the Central Educational Center, Graner said.
"We are blessed. We have more than 50 specialists who will see our patients on our referral," Graner said. "Someone will see our patients free of charge."
Graner said he hopes the community partnership will continue for many years to come.
"Most of our patients have one or two chronic diseases. We want to be the top medical home for our patients," he said. "We want to add at least 10 new patients per month. As we continue to grow, our budget has more than doubled.
The clinic's cash budget this year was just under $750,000, he added.
Every dime comes from charitable donations from the community, grants and fundraising events, Graner said.  
Fortunately, the clinic's two biggest fundraisers will happen within the next few months.
The 2018 College Football Kickoff Breakfast will take place on Saturday, Aug. 18, at the Newnan First United Methodist Church Parish Hall.
The eighth annual Bluegrass and Barbecue event will happen Sept. 30 at The Venue at Murphy Lane.
Graner said both events can net about $110,000 total for the clinic.
But the free medical center really couldn't operate without their volunteers, he added.
"So many have contributed their time and generosity to the clinic. There's really something special about Newnan. Dr. Kay (Crosby) took a leap of faith to start the clinic. We thank God for that," Graner said. "We believe this clinic has been divinely orchestrated, and we pride ourselves on our comprehensive care. We are fortunate we could set up shop in this community."
Warren is also thankful for the clinic.
"My cholesterol is down, I'm seeing a nutritionist to help me eat better and I'm also enrolled in an exercise class," she said. "I'm following everything they told me to do. It's just awesome."
The Coweta Samaritan Clinic also offered Warren a seat on their board of directors and helped Warren find a new career.  
"I picked up a card at the front desk that offered to help me finish my GED. Now, I'm studying to go to culinary school," she said. "I'm going to take the position on the board of directors and give back a way I can. God is good, all because of one clinic."