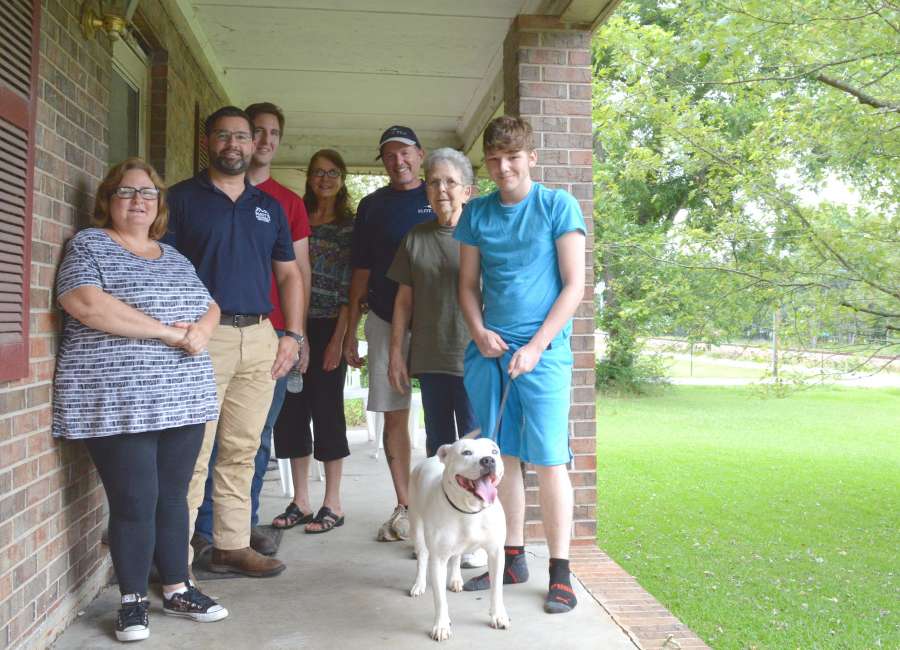 When Buck Martin, a new Court Appointed Special Advocate, got his first assignment, he got to work.
Martin was assigned to 16-year-old Colton Brownlee, who lives with his grandmother in Turin.
"He did a lot of things, a lot of amazing things," Jennifer Hungerford, volunteer coordinator for Coweta CASA, said of Martin. "Colton stepped up and got his GED. Buck helped him get into West Georgia Tech – he's 16 and taking college classes."
He's also working a part-time job at a local restaurant, Hungerford said.
Brownlee has lived with his grandmother, Kathy Adcock, for four years in the Turin home where she has lived for 35 years. The home was in need of some maintenance work.  Martin and Brownlee's guardian ad litem, Lauren Taylor, knew the problems with the house would become an issue for Brownlee.
Martin called a few organizations that he thought would be able to help, but they were dead ends.
So Martin, Taylor and Hungerford put their heads together.
"We started talking to each other and figuring out what we can do to provide resources to this family," said Hungerford. She called Betsy Imes, a CASA and leader of We Foster, Coweta's faith and community foster care alliance.
"I said hey, Betsy, these are the things that need to happen – so Betsy started calling people."
Imes contacted Karen Turley, who heads up the Benevolence Ministry at Crossroads Church, Brett Morrill of Elite Tile and Matt Lopez of Matt's Roofing.
Lopez was asked to patch a leak in the roof. But when he inspected the roof, he knew the whole thing was in need of replacement.
"We could have gotten away with the repair, but it would have been a matter of time before something else went wrong," he said. So he reached out to his supplier, Commercial Roofing Specialists, to see if they would sponsor the materials for the entire new roof. They said they were happy to do it. Lopez covered the labor, cleanup and dump fees.
"We were thrilled to be able to help out in that situation," Lopez said.
Newnan Pest Control also came out to provide free services for the family.
"I can't believe how they've come together and so much has gotten done already," said Adcock. "I hate that my house is just falling apart like that… if you don't have money, you don't have money.
"I don't like to ask for help," she said. But things had gotten to the point that when it was offered, she was happy to accept.
Hungerford hopes this success story can inspire other groups and organizations to help out more families in their community who are in need.
That's also the focus of a new initiative of the Georgia Division of Family and Children's Services, called State of Hope. The initiative hopes to encourage local organizations to work together to help parents and families so that children never end up in foster care. Organizations can apply for seed funding and technical support, with one-time grants ranging from $500 to $75,000.
"The point of the new initiative is to encourage community groups to collaborate with one another," said Walter Jones, director of communications and legislative affairs for DFCS. "Their efforts are magnified by working with other groups."
People in the community could think about helping their neighbors, instead of their first thought being to call the authorities, Hungerford said.
In cases of real abuse or neglect, those should be reported to DFCS.
"DFCS wants you to report child abuse and neglect," Hungerford said. "However, if there is a situation where there are just unmet needs – maybe we can work together as a community."