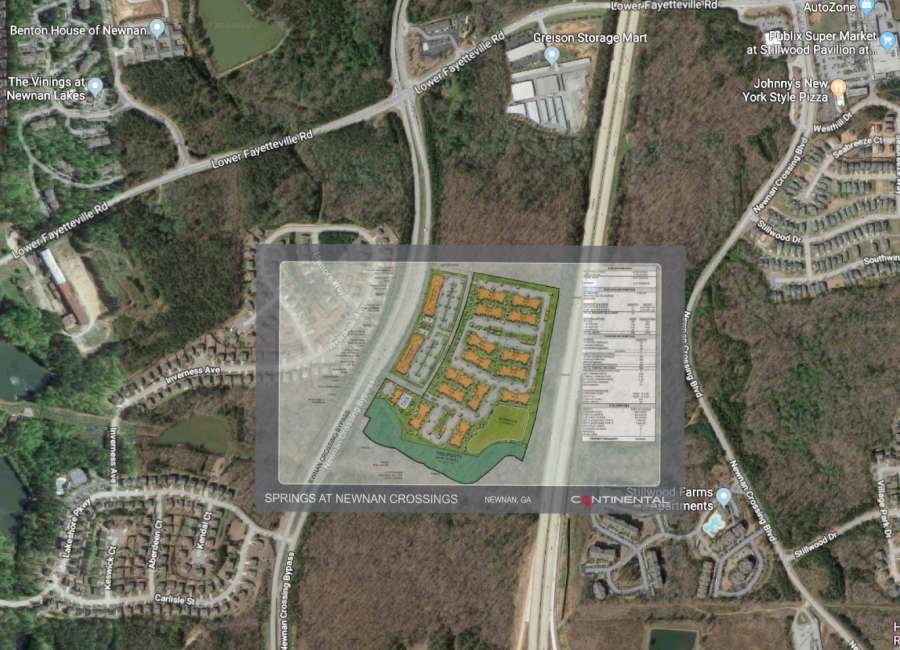 There's no doubt about it – the city of Newnan is growing and shows no signs of slowing down.
To meet the ongoing demand for housing, the city council approved a rezoning request that would allow for the development of a 320-unit rental apartment community off Newnan Crossing Bypass.
Tuesday evening, The Springs At Newnan Crossing was given the green light after the city council voted to change the zoning from Community Shopping Center District (CCS) to Mixed Used Development District (MXD).
The new zoning will allow the developer a greater flexibility to create a concept plan that includes housing, retail and office spaces. The 30-acre site is located between Lower Fayetteville and Poplar Road on Newnan Crossing Bypass, and would back up to Interstate 85.
Gwyn Wheeler is the development director for Continental Properties. She said the company was attracted to Newnan because it's the fifth fastest growing community in Georgia, according to a study done by Bleakley Advisory Group.
As the employment center of Coweta County, Newnan is growing faster than the county and the Atlanta region overall, according to the study. Since rebounding from the recession, the job market has grown by roughly 4 percent annually, and Newnan has added 9,000 jobs since 2010.
Because of an aging apartment stock, Wheeler said the Newnan market currently lacks supply that meets the quality standards of residents who can afford to rent new apartments.
"We've seen low multi-family supply in recent years, and supply isn't keeping up with demand," Wheeler said.
As a result, Wheeler said there is an opportunity for additional smaller housing units, such as multi-family apartments, to better meet the needs of the populace.
As Coweta has grown, it has added more renters. Households aged 45 to 64 are the largest growth segment, followed by households aged 25 to 34. Both age segments are expected to drive demand at the proposed community, according to Wheeler.
The development would contain a variety of options from studio to three-bedroom apartments, ranging from 550 to 1,400 square feet in size and priced between $900 and $1,400 a month, with a weighted average rent of $1.29 per square foot, Wheeler said.
The Coweta market can successfully support up to 150 new market-rate apartment units in one year, according to the study.
And because there are no new market-rate apartment units planned to deliver in 2018 or early 2019, the subject site would draw from nearly two years of pent-up demand when it begins to deliver units later in 2019.
According to Planning and Zoning Director Tracy Dunnavant, the city has approved 960 new multi-family units since 2013, including 500 that are already completed at The Trees of Newnan.
Dunnavant said 460 units are ready to be permitted – including 300 at the proposed Residences of Newnan Crossing Boulevard East and 160 at Jefferson Grove Apartments on Jefferson Street.
"With Poplar Road coming in, Ashley Park being built up and more development on Newnan Crossing Boulevard East, we'll need apartments in the future and this is an appropriate site for them to go," she said.
No one in attendance at the meeting spoke out against the rezoning.
Mayor Keith Brady, along with city council members Rhodes Shell, Cynthia Jenkins and Ray DuBose voted for the rezoning, while George Alexander and Dustin Koritko voted against it.  
Although council approved the zoning, Brady said if the developer was unable to fulfill their closing, another multi-family builder would not be allowed to take the project without agreeing to the specifications agreed upon by the council.
"We're not just rezoning so people can build anything on it," Brady said. "That's why we adopted the new MDX zoning last fall so we could look at these things and see if it's right for the city."