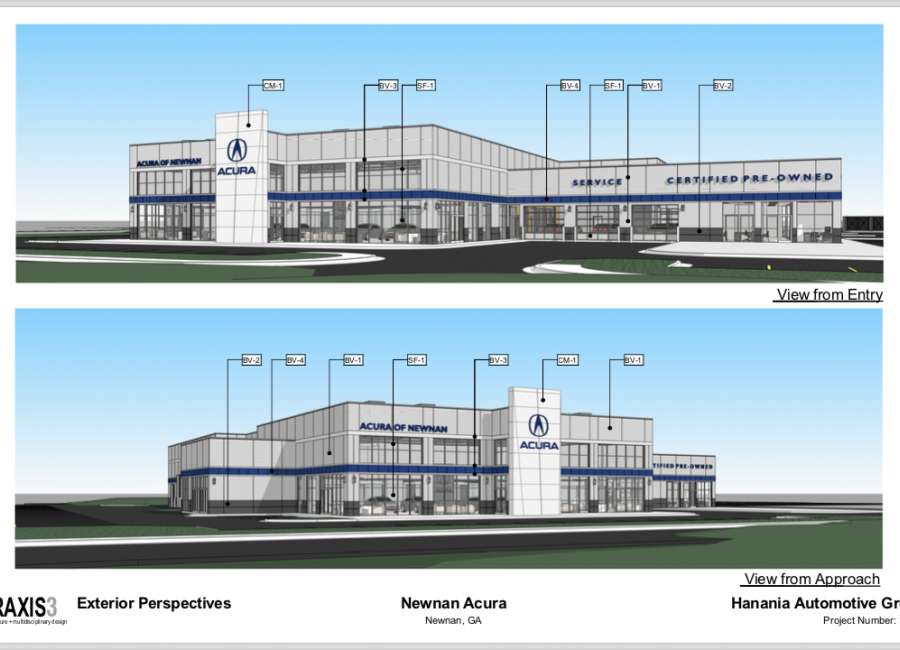 The Eastgate Shopping Center area could soon see a resurgence of economic possibilities, thanks to a proposed car dealership.
On Aug. 14, the Newnan Planning and Zoning Commission approved a certificate of appropriateness for Acura of Newnan at 201 Bullsboro Drive.
The proposed dealership will sit on an 8.23-acre tract of land between Matador Way and Torero Trail on Hwy. 34, according to documents submitted to the planning commission.
Atlanta veteran auto dealer Bill Stout purchased the dealership franchise in June 2017 from Sons Acura in Morrow, Ga. With the help of his partner Jack Hanania, the duo petitioned to move the dealership to Newnan.
Stout spent over 30 years at Ed Voyles Acura before his purchase of Chattanooga Acura in December 2015 and Sons Acura two years later. He said the move will be a positive move for both the business and Newnan.
"I think people will recognize me from my 30-year tenure at Ed Voyles," Stout said. "But my first job in the auto business was at Baranco Acura, which Sons later bought. So in a way, we've come full circle."
With a number of homes already in place only a few hundred yards away off Torero Trail and Matador Way, living in such close proximity to a dealership might sound like an unlikely match. However, no zoning changes were required for the dealership and Stout said he's committed to being a good neighbor.
Stout said things like light and noise pollution from harsh lighting and overhead paging systems are "old-school" and said he's committed to bringing a state-of-the-art dealership to Newnan.
"We're very excited about being being a part of this community," Stout said. "We want to be good stewards, and I believe citizens will like our customer-centric approach. We sincerely want our neighbors to be our customers, too."
A formal start date hasn't been announced. The group is still in the process of interviewing general contractors. Once a contractor is selected, Stout believes a firm date to begin construction will be announced.
The group has also purchased an adjacent 2.463-acre lot, which they plan to expand into a second franchise, Stout said.
The Hanania Automotive Group now boasts 18 dealerships representing 15 brands in Florida, Tennessee and Alabama.