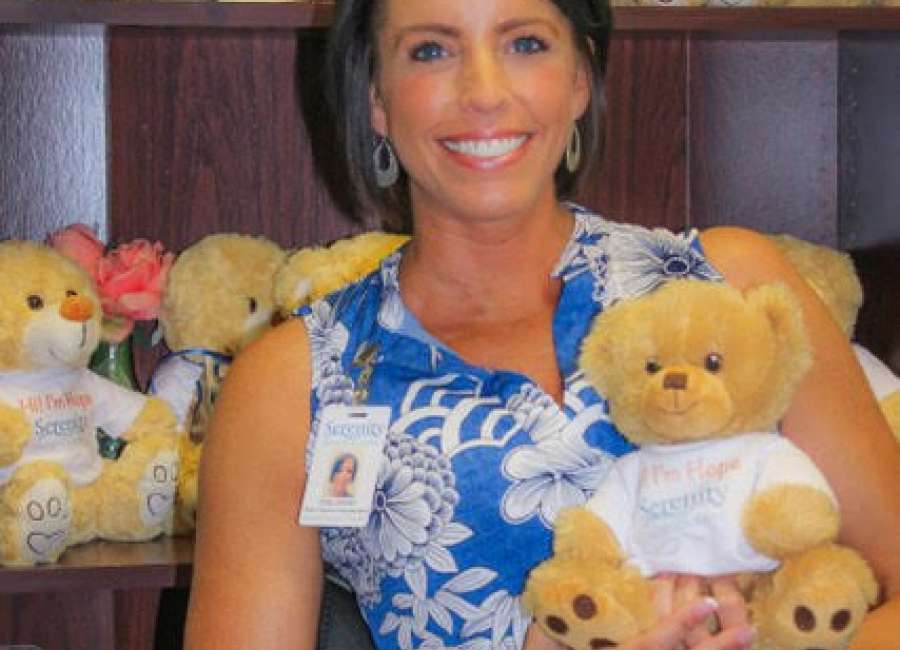 A small, stuffed teddy bear is teaching patients, families and even strangers that hope can be found everywhere, even during the darkest times.
"The Little Hospice Bear Named Hope" is the brainchild of Erica Graham, public relations and marketing coordinator at Serenity Hospice in Peachtree City.
The facility provides end-of-life care for patients and supportive concerns for family and loved ones left behind.
Graham joined Serenity Hospice in January and quickly worked to change the way people think of hospice care.
"When I would talk to families and patients, it seemed the word 'hospice' was a dirty word. People felt that it meant they or their loved ones were giving up on life," Graham said. "I came up with tagline 'Hope, Redefined.'
"Hope can mean different things to different people," she continued. "There are always things one can hope for in life."
Graham said she decided to make "hope" a tangible object and drew on childhood memories for inspiration. She remembered how teddy bears always seemed to comfort her.
In May 2018, "Hope" sprang to life in the form of a small, stuffed bear that was handed out to current patients at Serenity Hospice.
Now, every new patient is given a bear when they arrive at the care facility.
Graham has her own Hope teddy bear that she carries with her everywhere, whether taking a stroll through Peachtree City or to meetings and luncheons at other hospital facilities.
"I wanted to demonstrate that you can find hope in all circumstances," she said.
 Hope the bear has quite a personality, Graham added.
Graham decided to let Hope take little journeys of her own that don't always end well for the teddy bear, like when she spilled an entire jar of jelly beans or when she became stuck in a hospital vending machine.
Graham makes sure to take a picture of Hope's misadventures and posts it to the Serenity Hospice Facebook page.  
While Hope's mishaps are comical, they also contain a deeper message, according to Graham.
"We use the word 'hope' a lot in everyday conversations, but does anyone really think about what it means?" Graham asked. "The simplest things in life can sometimes make the big differences. It's about carrying hope with you wherever you go and whatever stage of life you're in. There's always hope."
Hope has received a positive response from the Serenity Hospice staff, patients and their families, Graham said.
"We gave a bear to an Alzheimer's patient. When she saw it, she lit up and kept hugging her bear," she said. "We had a gentleman who renamed his bear after his nurse because he used to cling to her when he got scared. He did the same thing with the bear.
"Those kind of stories are why we do this," Graham added. "It makes it all worth it to see the patients happy and filled with hope. It brings them a little joy during a tough time."
Beginning Friday, Aug. 3, Graham will make Hope more interactive for patients and the community with a game called, "Find Hope Fridays on Facebook."
Graham will post a picture of Hope the bear on the Serenity Hospice Facebook page on Friday around 5 p.m. The photo will be of Hope in a location, which people have to guess correctly.
The first person to discover where Hope is will win a restaurant gift card, Graham said.
"I have some friends who are pilots," she said. "They're going to take Hope on trips with them. The bigger message being that you can find hope anywhere in the world."
Graham has expanded Hope the bear's mission by creating a blog at www. CARRYING-HOPE.com.
"The blog will be about life and the beautiful, twisted journey that it can be," she said. "It's about the people we meet along the way and letting go of loved ones. It's also about the lessons we were taught and the lessons we learned throughout our lives."