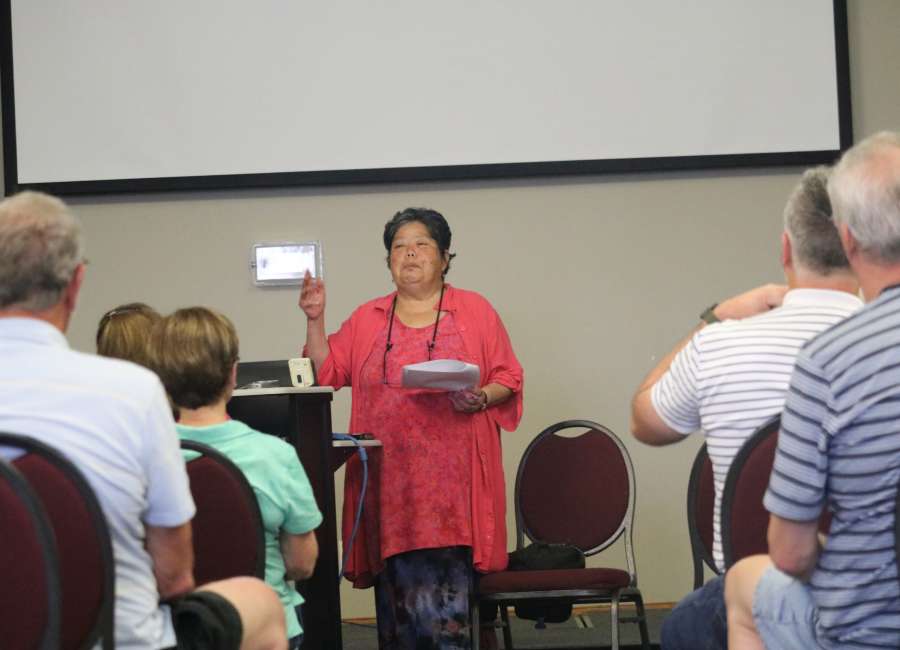 The forcible relocation and internment of Japanese-Americans during World War II was the subject of discussion  at the Carnegie Library on Tuesday.
Author Shizue Seigel posed the question, "Why blame Japanese Americans?"
The third-generation Japanese American writer, who wrote the book "Good Conscience: Supporting Japanese Americans During the Internment" shared touching family photos and photos from her book while explaining how 120,000 Americans of Japanese heritage were incarcerated.
"There was quite a bit of fear and anger because Japan planned this for a long time," said Seigel about the aftermath of the 1941 Pearl Harbour attack in Hawaii. "That was the people over there. That wasn't Japanese Americans living over here."
Seigel said, "People were scared, there's no doubt."
According to Seigel, after Japan's attack on the United States, the government was able to bypass the 14th Amendment for the sake of national security.
Of the incarcerated, two-thirds were second-generation American-born citizens, and almost one third were children. If someone's great-great grandparent was Japanese, that individual could have been sent to an internment camp.
According to the 14th amendment, all persons born in the United States are citizens of the United States, no matter their parent's citizenship.
According to Seigel, Japanese Americans were done an injustice by being uprooted from the homes and sent to internment camps without a day in court.
"Only a few thousand Germans and Italians were interned," said Seigel. "Not an entire population."
The average age of a second-generation Japanese American, at the time of war, was 21.
Seigel suggests that the Native Sons of the Golden West helped push for the mass incarceration to wipe out economic competitors since Japanese Americans produced 40 percent of California's fruits and vegetables at the time.
About 90 percent of Japanese Americans lived on the west coast.
"They could only take what they could carry," said Seigel. "Families were forced to live in horse stalls that stank of manure until permanent camps could be built – which took several months, by the way."
When the building of the camps was done, Japanese Americans were dispersed among 10 camps in California, Arizona, Colorado, Wyoming, Arkansas, Idaho and Utah. Arizona, Arkansas and California each had two camps.
Seigel's parents were sent to separate camps. The two met after internment camps were no more.
The writer described family living space as "no kitchens, no bathrooms and no furniture. Nothing except a potbelly stove and iron cots.
"By the time a year had gone by, the War Relocation Authority realized they had made a mistake," said Seigel. "They didn't want people to develop a 'reservation mentality' like the Native Americans. So they started to encourage people to sign loyalty oaths and leave the camps."
Seigel shared a story about how her grandmother owned half a block in California, that housed a pool hall, a barber shop, a gas station, hotel and a fish market. However, when she was forced to leave, she sold it all for just $2,000.
Although it was a sad time in American history, according to the current ArtRez resident, she explained that in her book she highlights people who helped Japanese Americans with holding land and belongings.
Living Japanese Americans were paid $20,000 in restitution over time.
Seigel explained that after the internment camps were closed, some Japanese Americans stayed in the United States, while a some relocated to Japan.
All-and-all, Seigel highlighted the perseverance of Japanese Americans during World War II and their ability to "make lemonade out of lemons" and to not hold grudges.
"One thing that I learned from my family is that no matter what, don't hold bitterness," said Seigel. "Don't hold anger and figure out some way to process it."