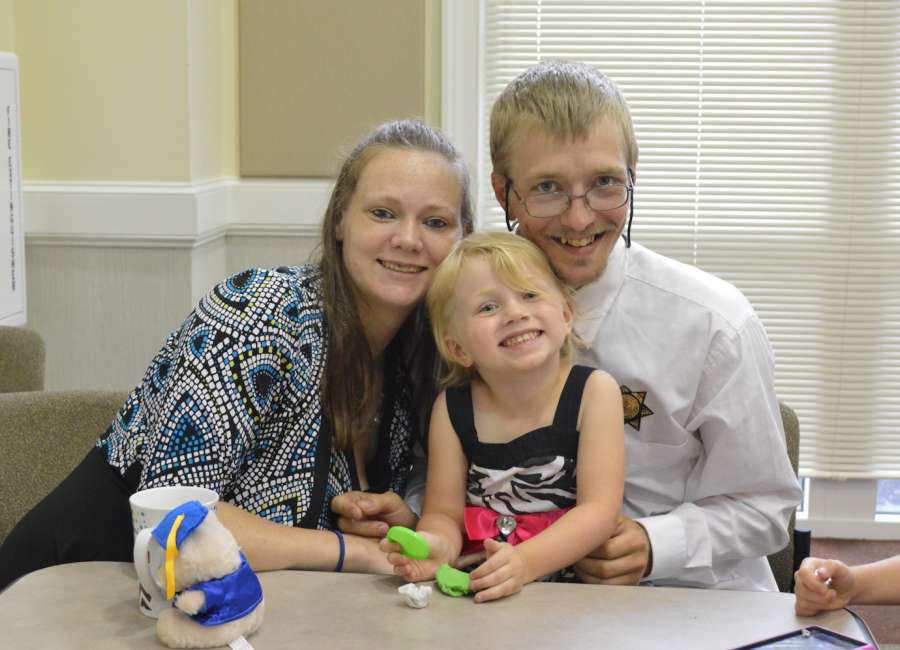 Less than two years ago, DJ and Elizabeth Lee were living in a broken-down van.

They were jobless, addicted to meth, and all five of their children were in foster care. The Division of Family and Children's Services was ready to file for termination of parental rights, and they were about to lose their children – forever.
DJ knew about Coweta Drug Court, and how it could help people beat addiction. So he tried to get into the program. But because he didn't have any drug charges, and the court is for people charged with felonies, he was turned down.
Then he read a story in The Newnan Times-Herald about Family Treatment Court, Coweta's newest "accountability court." The program is designed for parents who have lost custody of their children and who have problems that are preventing them from getting them back.
DJ thought this new program just might be his family's saving grace.
On June 25, DJ and Elizabeth graduated from the 18-month program with all six of their children – including baby Gracie – there to cheer them on. The Lees have a home and are off drugs, and DJ has a job where he has been promoted several times. Just seven months into the program, the family was back together.
"I still have that article. It's laminated," DJ said. "It's what I needed, and it worked."
It was Family Treatment Court's first ever graduation program.
"Thank you for the program," Elizabeth said, as she accepted her graduation certificate in a ceremony held at the Coweta Justice Center.
Though DJ was enthusiastic about the program, his wife was skeptical in the beginning.
"I felt like my kids were gone and I didn't feel like they were coming home and we were just done," she said. "We were living in a van that didn't work in the middle of winter. I didn't have a license, we didn't have our kids, we didn't have our jobs, we didn't have anything."
"When Elizabeth first came, she was adamant she did not want it," said Sheila Storey, the counselor for the program. "Now she is growing into the woman she didn't know she could be."
DJ had some moments of doubt, as well. He recalled getting a call from Accountability Court Manager Jennifer Barnett. "She said if you're not in court by 2, I'm going to kick you out of the program," DJ said. "I was like – I don't have a ride. She found me a ride."
Matt Wilson and Jessica Hunter were the other two graduates honored at the ceremony.
Before joining the program, they were living in Matt's brother's house with their daughter, Madison.
"I was on meth, I was smoking weed and drinking. I wasn't paying rent, I didn't have a job, I didn't have a car, nothing," Matt said. DFCS got involved and they were given an amount of time to straighten up or their daughter would go into foster care.
So they stopped smoking meth and marijuana, but kept drinking. Matt got a job with a temporary service. He was drinking heavily and he and Jessica got into a fight. The cops were called, and Madison was taken away.
"When I got out of jail, they told me about the program," Matt said. "I was all for it. Whatever I could do to get Madison back was worth it."
"I didn't know how hard it was going to be," he said. "I had no idea it was going to be three groups a week and drug tests three or four times a week, counseling, (12 step) meetings, but it all ended up being for the better.
"Because you get in this habit of thinking about the consequences of your actions and thinking about the future – which you have to do instead of just living day-by-day," Matt said. "You're living for the week, for the month, then you learn to set little goals so you feel a sense of accomplishment."
"When you set a little accomplishment and a milestone you can be proud of, it makes the time go by faster.," Matt said. "You feel good about yourself, you start noticing change and it becomes second nature once you get in that routine."
He had a couple of slip-ups. "I think most people do," Matt said. But they keep moving forward.
At first, an 18-month program seemed a bit overwhelming.
"When they said 18 months, my face was white," Jessica said. "You want me to do this for 18 months? But after six months went by, I thought – this isn't that bad. The more I grew, it got better."
Studies have shown with programs like Family Treatment Court, children go back to their families, on average, 100 days sooner, Barnett said.
Hearing that was all it took to get Jessica and Matt ready to work the program.
"Hook, line and sinker," Matt said.
The first three months were the hardest, Jessica said. "You have to be sober for at least three months for it to work, I think."
For the program to work, you also have to be willing to change, Matt said. "You can't just fake it to make it. You've got to totally put in the effort and do what you're told, even if it doesn't make sense at the time."
Storey has been a big part of how well the program works, according to the graduates.
"I credit a lot of success to Sheila for making groups so fun and also being harsh at the same time," Matt said.
The two families have become good friends, and get together at least once a week. They've become friends with other families in the program, as well.
Matt said he knows some of the newer participants from his drug-using days. "It's cool to see them come through the process like we have," he said.
The Family Treatment Court program now has 31 participants, with six more coming in the next few weeks, Barnett said. The vast majority are single parents. With the current staff, the court can handle 50, she said.
"We'd love to take as many families as we can. If we need to hire more staff to exceed the 50, then we'll do that," Barnett said.
Judge Joseph Wyant, Coweta's Juvenile Court judge, is the judge for FTC. He's also the judge for Coweta Drug Court, the first "accountability court."
"I look at this court as my legacy. If I leave tomorrow, this is what I'm most proud of," he said. "It's a marriage of the drug court and the veterans court and the dependency court all in one… and the payoff is so huge. The payoff is that the families are reunited and the kids have their mom and dad again."
He typically tells parents about the program when their children first go into DFCS custody. The program is completely voluntary. The FTC court will review the applicants and determine if they will be accepted into the program.
Almost everybody who applies is accepted, Wyant said. "If they want help, we're going to try to get it to them."
According to Wyant, the graduates have done a fantastic job addressing their addiction issues, budget, structure, having a job, and looking at problems in a different way. One day at DJ's job, there were random drug tests. DJ was one of the only people who passed – and he was promoted to crew chief as a result.
"I'm incredibly proud of all of them," Wyant said.
"It's a great program," said Elizabeth Lee. "I think it brought us a long way. We went from nothing and now we have all the things we need and we're happy."
"It's worth it. All the time and all the stuff to have to do that it is involved… it's all worth it."
For more information about Coweta's Family Treatment Court, call 770-683-0205 or email jbarnett@coweta.ga.us