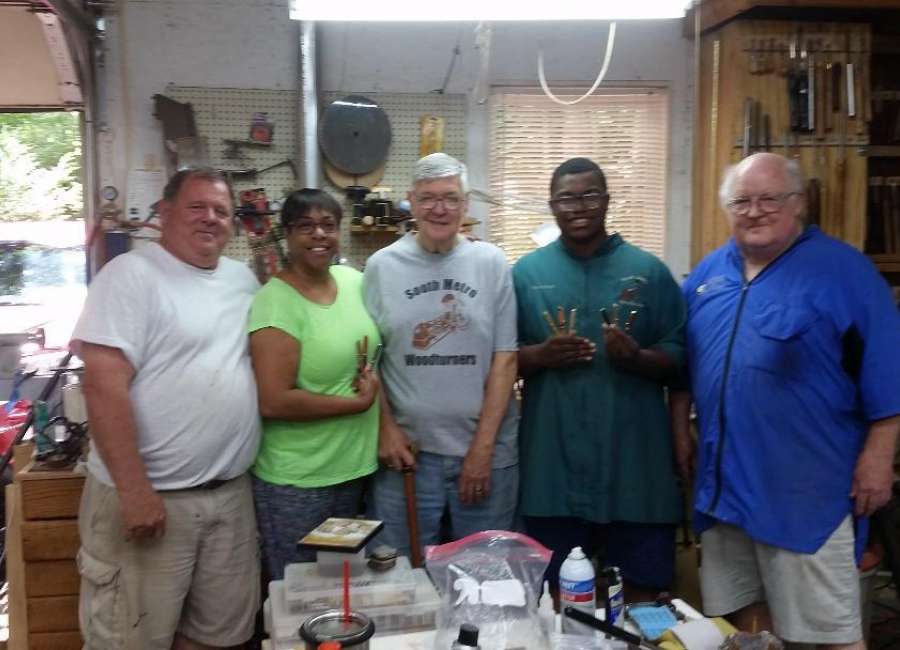 The South Metro Woodturners recently helped high school student Malcolm Stewart raise money for his educational trip to Germany.
Stewart will be a junior in the fall at Riverwood International Charter School. He was selected to go on a trip to Germany this June with a program called Global Youth Ambassador, founded by John Eaves.
Ron Britton of South Metro Woodturners met Stewart at a golf tournament held by the Peachtree City Optimist Club. Stewart expressed an interest in woodturning, and Britton offered to teach him how to make wooden pens.
When Stewart found out he would be going on his trip to Germany, his mother, Sherralyn Moore, helped him make and sell smoothies to raise money.
According to Moore, Stewart also had the idea to contact Britton to see if Stewart could make pens to sell that would help raise more money for his trip.
Britton agreed, and Stewart received 25 orders for pens in less than 24 hours after telling his friends and family that he would be selling them.
Stewart crafted 28 pens, and the South Metro Woodturners donated all the supplies needed to make them. Then, Ray Hannah from Sew Exclusive offered to engrave the pens for free.
"What everyone is showing him and giving him is just amazing," Moore said.
Stewart was able to raise all the money he needed for his trip, and he has been taking German classes at the Goethe-Zentrum German Cultural Center in Atlanta.
In addition to learning German and going on field trips to German companies that have offices in Atlanta, he has also been giving back to the community by volunteering with Habitat for Humanity as part of the training for the trip.
Stewart will travel to the cities of Berlin, Nuremberg and Munich.
"What I am most excited about is to go outside the country and be able to learn about a new kind of culture and people," Stewart said.
When Stewart returns from Germany, he wants to join the South Metro Woodturners and continue learning how to woodwork, according to Moore.