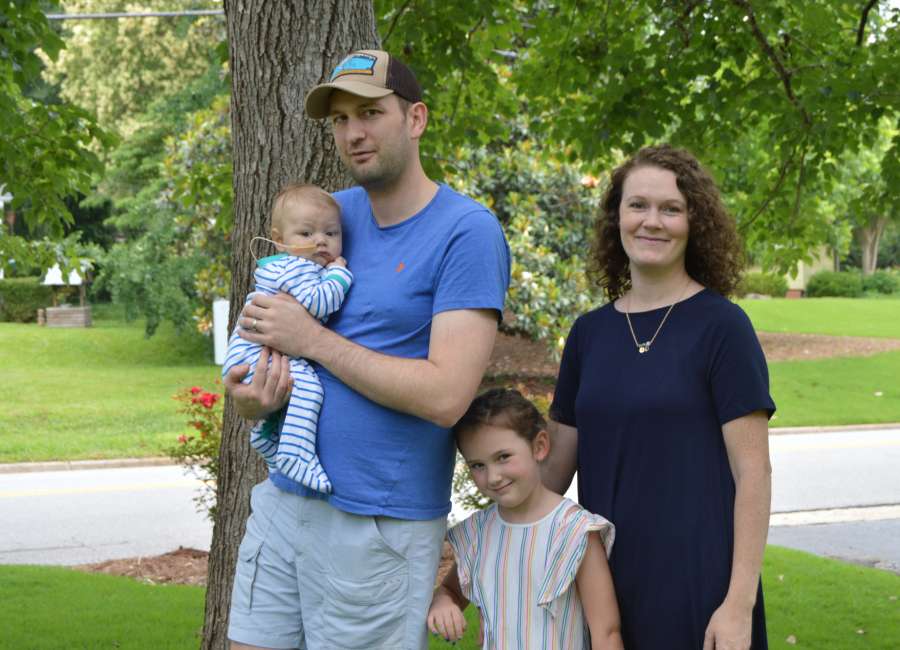 It's all smiles inside the Melville home on Parks Avenue, including for the smallest member of the family, five-month-old Wesley, also known as "Sir Wesley."
The honorary knight lived up to his nickname by surviving a debilitating liver disease and six-hour organ transplant.
Wesley left Children's Healthcare of Atlanta at Egleston Friday afternoon and returned home to his Newnan "castle" with his mom and dad, Jonathan and Elizabeth Melville and his 5-year-old sister Nora.
"It's so great being home all together under one roof. It does this mama's heart good," said Elizabeth. "I look forward to doing 'normal' things together, even the most mundane things, like talking family walks together or going for car rides together."
 "It's almost like he's a different kid," said Jonathan.
Despite having a thin nasogastric (NG) tube near one of his nostrils, Sir Wesley looks like a healthy 5-month-old baby boy, with chubby pink cheeks, normal colored skin, sparkly blue eyes and blonde hair.
It's a far cry from what Wesley looked like just three weeks ago, before the life-saving transplant.
Almost from the day he was born, Wesley had jaundice, causing a deep yellow hue all over his body – including in the whites of his eyes. He also had a swollen belly from backed up fluids within his tiny body.
Wesley was born with a rare disease called biliary atresia, which causes the liver's bile ducts to become inflamed and blocked, according to www.liverfoundation.org .
The organ is unable to properly filter out toxins, so the fluids build up within the body.
If left untreated, biliary atresia can cause cirrhosis and ultimately liver failure.
Doctors told Jonathan and Elizabeth that Wesley would need a liver transplant before his second birthday in order to survive the disease.
After rounds of physical and mental tests, Elizabeth was given the go ahead to donate a portion of her liver to Wesley.
The transplant surgeries took place on May 10.
Jonathan remembered sitting in the waiting room at CHOA and receiving a phone call from a nurse monitoring Wesley's operation.
"She told me doctors removed his old liver. It was gone. That also meant the disease was gone too. It was a celebratory moment," Jonathan said.
"He told me later he announced it to our family and everyone inside the waiting room started clapping," Elizabeth said with a smile.
Elizabeth had her surgery at Emory Hospital. Although the facility is right across the street from CHOA Egleston, she had to wait a few days before seeing Wesley in person.
"My mom took some video of him and let me watch it from my hospital bed. It was such an emotional moment. I burst into tears," she said. "He looked so different and healthy."
Eventually, Elizabeth was released from Emory and spent the following weeks with Wesley at CHOA.
Unfortunately, the 5-month-old had a few complications after the transplant, mainly from scar tissue that built up from earlier procedures, said Jonathan.
Surgeons went back in to clear out the problematic tissue. They also removed a small portion of Wesley's bowel that had become infected by the scar tissue as well.
According to Elizabeth and Jonathan, throughout all those setbacks, Wesley's new liver continued to function perfectly.
Earlier this week, doctors told the family Wesley was ready to go home.
On Friday, the Melville's rang the "celebration of life" bell at the Children's Healthcare of Atlanta before exiting the hospital with Wesley snuggled in their arms.
"We brought our son home cured of biliary atresia," said Elizabeth."He's back to nursing and having 'tummy time' on his incision. Wesley's such a champ."
The family also brought home at least eight different medicines for Wesley. Some of those drugs are temporary, except for the anti-rejection pill called Prograf.
"We kind of traded one set of issues for another. Now we're dealing with anti-rejection medications. But I can deal with that," said Jonathan. "Our son is alive and this is all worth it to me."
For now, the 5-month-old will have to return to CHOA three times a week for regular checkups, said the Melvilles. The number of visits will be reduced in the future.
While Elizabeth and Jonathan are now enjoying every little moment with both their children, they are also eager to begin a new chapter in their life with a healthy and happy baby boy.  
"We want to build memories as a family," said Elizabeth. "This will all soon be a distant memory, though we are looking forward to his 'liver-versary,' which is also close to my birthday," she added. "Next year, it will be a big celebration."