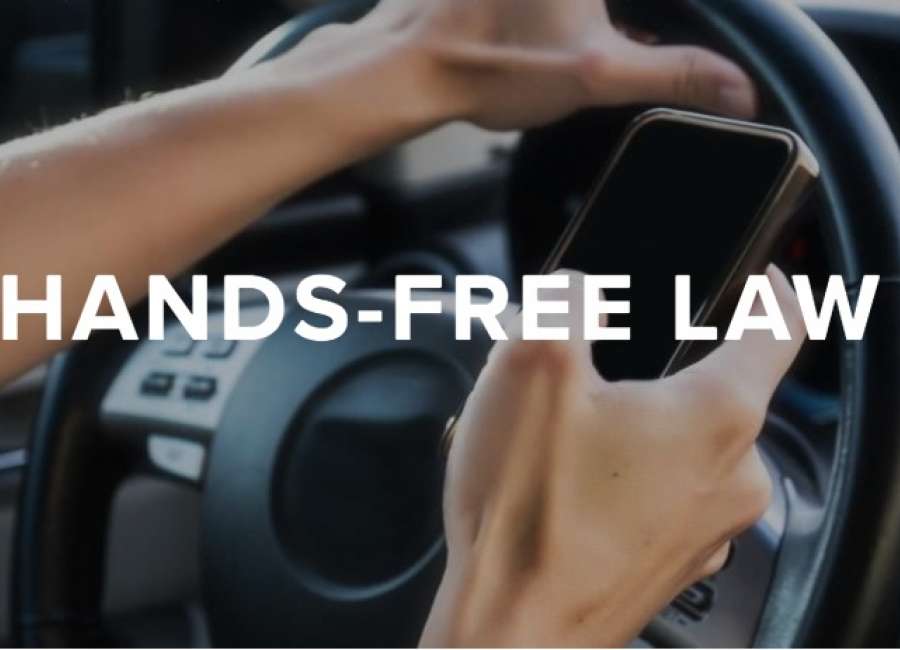 Few – if any – new laws will have the day-to-day impact on Georgians that the Hands Free Georgia law will have when it takes effect July 1.
Under the law, Georgia drivers aren't allowed to hold their phones – or set them in their laps, or support them with their bodies in any way – while driving. Drivers also can't look at their phones unless it's to make a call or to use their GPS. Drivers under age 18 can't use phones at all, but that's been the law for years.
The law applies any time a vehicle is on the road, unless it is legally parked. Sitting at a stop light or in traffic isn't considered legally parked.
You can touch your phone – but not hold it – to make a phone call, but you have to use speaker phone, a headset, Bluetooth, or the like for the conversation. Drivers can use voice commands to create texts or emails, but they cannot type messages on their phones. Drivers cannot look at messages or anything else on their phones unless they're using GPS.
Though you can look at your phone while you're using GPS, the GPS must be programmed before you get on the road, according to Robert Hydrick, communications manager for the Georgia Governor's Office of Highway Safety.
A similar rule applies to streaming music. Streaming music is fine, but the app should be opened or programmed before a driver gets on the road, Hydrick said.
"It's all about not touching your phone while you're driving," Hydrick said. "The only thing you can touch your phone for is to talk on your phone."
There is an exception in the law for reporting emergency situations, and there are exemptions for law enforcement, public safety, and utility workers using phones in the course of their work.
A few months ago, before the bill was signed by Gov. Nathan Deal, a press release was put out by the bill's author that stated using streaming music apps isn't allowed under the law.
"That was an erroneous interpretation early on," Hydrick said.
The Prosecuting Attorneys Council reviewed the situation and determined that there was no restriction on listening to streaming music.
"Drivers can listen while driving. They just cannot touch their phones while they are driving to program them," Hydrick said.
There's an issue with streaming music apps that also have video or changing images on screen. It would be unlawful to use that if the driver is looking at the phone. But that wouldn't be an issue if the phone were in a location that the driver couldn't see it.
"If you are physically not watching a video, you're physically not watching a video," Hydrick said.
Speaking of videos, it's not only illegal to watch them, it's illegal to record them while driving. The law doesn't apply to dash cams that are continually recording.
Drivers can use headphones for communication purposes, but they're not legal for entertainment purposes – and never have been.
Georgia law prohibits drivers from using items that impair hearing or vision, but carves out an exception for earpieces worn for communication purposes.
Drivers can keep an earpiece in so it will be ready to use for a phone call, but they don't have to.
"If you want to ride with it in your ear or pick it up, that is the individual's right," Hydrick said.
He recommends that people only use one earbud so they can hear traffic and any important sounds clearly.
Even though the law doesn't take effect until July 1, Hydrick recommends Georgia drivers start driving hands-free now.
"So when July 1 gets here, it's going to be more of an instinctive thing," he said.
Not being able to hold phones is going to be a big behavioral change for many Georgia drivers. Some younger drivers have been talking on their phones since they started driving, Hydrick said.
Something that state officials have had to emphasize is "there is nothing in the law that says you have to buy anything," Hydrick said.
People who don't have a headset or Bluetooth can use speaker phone. There are various devices that can transmit phone signals to a car radio, including radio transmitters and CDs, for streaming audio and using speakerphone capabilities.
Hydrick also recommends people keep their phones where they can access them easily – just not on their bodies.
"So when you are needing to call somebody or needing to accept a call, you can still keep your eyes and head level," he said.
He also recommends that people keep conversations short, even when they are hands-free.
The Newnan Police Department will start pulling people over for violations on July 1, but won't issue citations until July 15, said Corp. Kyle LaChance. Instead, drivers seen violating the law will get a warning.
"The state is not requiring grace period, but we are going to give a two-week grace period," LaChance said. However, "everybody pretty much knows this law is coming," he said.
The NPD has received legislative updates on the new law from the Georgia Department of Public Safety and the department's training coordinator is setting up classes for all officers on the class, LaChance said.
The department will be putting out digital message signs on major roadways to remind drivers the law is in effect, LaChance said.
For more information on the new law, visit www.headsupgeorgia.com .
Under the Hands Free law that begins July 1

DRIVERS CAN'T
Hold their phones or support the phones with any part of their bodies.
Read any words on their phones, including texts, emails, social media or web pages
Watch or record video, other than GPS.
Touch their phones to program music, audio, or other apps – including GPS, according to the Governor's Office of Highway Safety.
DRIVERS CAN
Make and receive phone calls while using speaker phone, a headset, bluetooth, etc., as long as they are not holding the phones or supporting it with their bodies.
Use voice commands and dictation to compose and send messages.
Listen to streaming music or other audio.