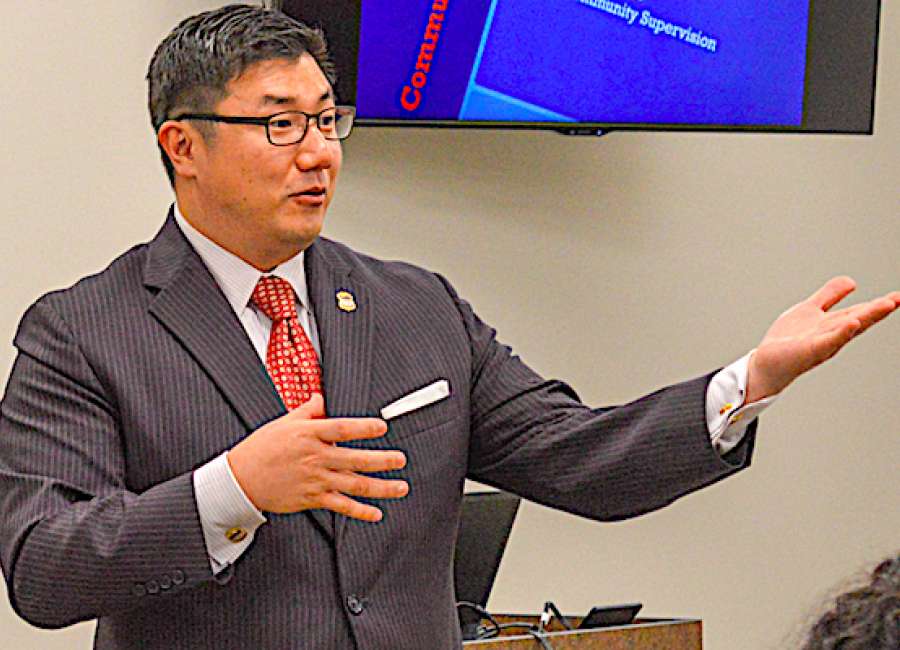 The US Department of Justice is ramping up its Project Safe Neighborhoods program, and US Attorney BJay Pak was in Newnan Tuesday to talk to stakeholders about crime prevention efforts.

Representatives from the Georgia Department of Corrections and the Department of Community Supervision were on hand, as were representatives from various service agencies including Community Action for Improvement, Communities in Schools and the Salvation Army. The meeting was held Thursday at the Newnan Police Department.
"By the time an individual or entity comes up to our attention on the federal level, it's almost too late," Pak told the crowd. Pak said by then, a person has a long history with the justice system.
In looking at the reasons people end up in the federal justice system, justice officials have found "we have to do everything that we can to try to prevent crime," Pak said. "We can't just house and prosecute our way out of problems. That is why Project Safe Neighborhoods is here. That is why we're here."
The program has been around for years and is the department of justice's primary strategy to reduce gun crime and gang violence, said Laurel Boatright, Project Safe Neighborhoods coordinator for the Northern District of Georgia.
The Northern District includes 46 counties, and the office is trying to bring increased federal attention to reduce violent crime across the entire district, and not just concentrate on metro-Atlanta, Boatright said.
The office intends to come to places like Coweta and smaller cities and counties to "partner with people who are already on the ground doing the work – our state and local law enforcement partners," she said. "And actually make something happen, not just talk about it."
A big part of that is working to identify the primary drivers of violent crime.
"In the middle of downtown Atlanta we are not the best suited to identify where those people are or where those places are – that's why we come to partner with people like (Newnan Police) Chief Meadows."
The office is also working to increase community outreach for crime prevention, crime deterrence, and reentry of prisoners into society.
Part of the strategy is to focus on the biggest drivers of violence and pinpoint specific hotbeds of crime. Those can be a specific neighborhood or even a specific apartment complex or city block.
A primary offender target list will be put together, and there will be regular coordination with the local district attorney on gun case "adoptions" by the federal court system. That will ensure that appropriate charges are brought against the most dangerous individuals, Boatright said.
There are some people who need to "finally go fed," she said. That doesn't always mean massive charges against a large group of gang members, for instance.
"Sometimes it means we know who's behind it, who's really driving those folks, so we can address the real root of the problem," she said.
For the eight-county Newnan Division, which is one of four divisions in the Northern District, the primary Project Safe Neighborhoods focus will be LaGrange.  It has the highest per-capita rate of violent crime in the division, Pak said.
A major part of what the US Attorney's Office aims to do is engage all stakeholders to reduce recidivism. That means not just law enforcement, but also community groups, faith groups and schools.
With gang problems, "it is starting younger and younger," Boatright said. That's why Communities in Schools is important.
With teenagers, "it gets harder and harder for parents to be able to address what is happening with their child because they're working however many jobs they're working just to make ends meet," Boatright said.
The federal system is focusing on prevention and reentry, and has put together a program called Real Talk About the Law.
Three people – someone from the court system, a law enforcement officer and someone who has been in prison go into schools to meet with young people who are at risk. They meet with a group of students who have been specifically identified by school staff.
Part of the talk is about laws and legal concepts that teens might not be aware of – that being 13 doesn't protect them from prosecution for the "seven deadly sins," for instance, and what the consequences are for being a getaway driver.
The "seven deadly sins" crimes are murder, rape, armed robbery with firearm, aggravated child molestation, aggravated sodomy, aggravated sexual battery and voluntary manslaughter.
"We inform young girls about the consequences of letting your boyfriend stuff his gun into your purse or his drugs into your purse," Boatright said.
The former prisoner is a crucial piece.
"That third person can say 'please, please don't do what I did, please do not walk the road I've walked," Boatright said.
For those in prison – as well as the general public – there is also a program which includes a short film: "Released: When Does the Sentence End." It's available on YouTube.
The film highlights some of the barriers to reentry for those who have been in prison.
"A lot of people still don't know – if someone has really changed their lives and really does want to make good decisions – how hard that can be," Boatright said.
Her office does prison "in reach," going and working with those who are about to be released. They talk to inmates about the consequences for things that can happen outside – like being in a car with someone who has a gun.
"Just because you've been in the system doesn't mean you know," Boatright said.
Research has found three main drivers of violent crime, Pak said: Gangs, drugs and domestic violence.
Gang members are recruiting teens to do violent crime because they know teens aren't going to be prosecuted at the same level as adults, Pak said. Teens who are hungry, or whose parents have to work all the time, can be easy targets for gang recruitment, because being in a gang gives them a sense of belonging, he said.
One thing the feds can do with gang recruiters is to put them in federal prisons many states away, he said.
Another initiative is working with youth who are about to be released from youth detention centers and partnering them with mentors before they get out and lose their structure, said Danielle Sweat Whylly, community outreach specialist with Pak's office.
"A mentor will walk alongside them, back into the community to get them hooked up with the services," she said.
The office will be reaching out to stakeholders to help connect those youths with services.
The US Department of Justice has new funding for prevention grants, and local organizations will be needed to put together programs to be funded with the grants.
Mary Stone of Communities in Schools said the group could use funding to put site coordinators in all high schools.
"If you have a program that is not in LaGrange but you think it's a great crime reduction program, send it our way," Pak said.
Didi Nelson, manager of the Law Enforcement Coordinating Committee with Pak's office, said that in the more than 30 years she's been with the department, she's never seen this level of commitment from the Department of Justice to fund this type of work.
"We are committed to making sure we have a program that works to make our community safer and better," Pak said. "The Department of Justice is very committed to this, so don't give up."