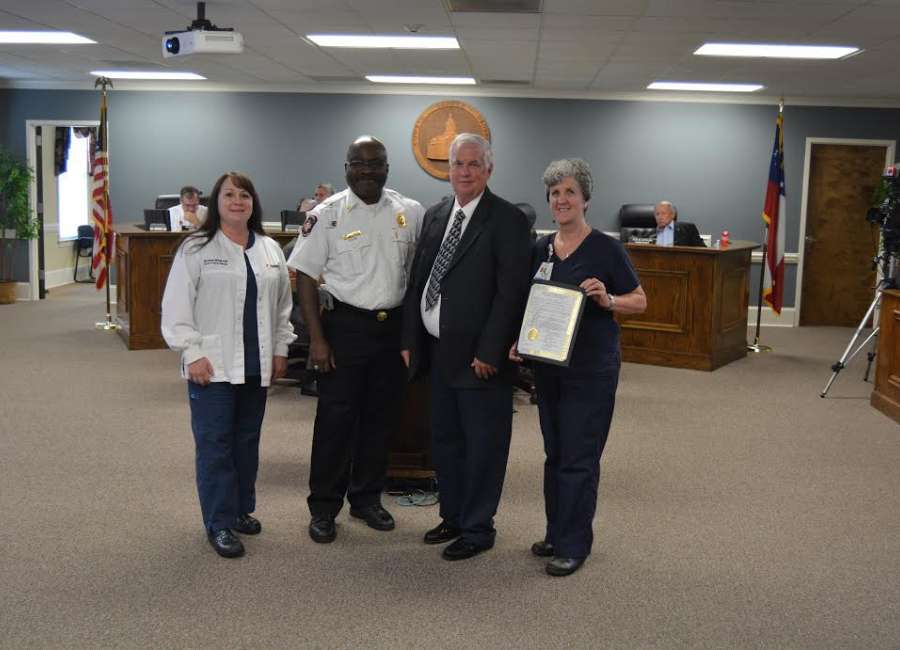 Community leaders joined doctors and staff at Piedmont Newnan Hospital in spreading the word about strokes and disease prevention.

Both Coweta County Commissioners and City of Newnan Mayor Keith Brady proclaimed May to be "Stroke Awareness and Prevention Month."
"I urge all residents to familiarize themselves with the warning signs, symptoms and risk factors associated with a stroke, so that we might begin to reduce the devastating effects stroke imposes on our state," Mayor Brady told the audience during his proclamation at Piedmont Newnan Hospital.
The Southeast U.S., minus Florida, has the highest rate of strokes in the country, according to Piedmont officials.
Deborah Camp is the manager of Piedmont Newnan's stroke program.
She said strokes affect at least 23,000 Georgians each year.
"... One occurs on average every four minutes," Camp added. "But the good news is that 80 percent of strokes are preventable by eating right and exercising regularly, as well as getting regular physicals and working with your primary care physician to control your cholesterol and blood pressure."
The proclamations reported that strokes costs Georgia an estimated $1.5 billion dollars per year.
Piedmont Newnan averages 30 stroke patients a month, Camp said.
However, 50 percent of Piedmont Newnan patients did not call 911 when they were having a stroke, she added.
"The aim of this proclamation is to inform everyone in the Newnan community that they may be able to save the life of a person experiencing a stroke and be an advocate for early stroke intervention by increasing their awareness about the signs and symptoms of stroke and its devastating effects," said Coweta County Commissioner Paul Poole said.
Piedmont Newnan is considered a primary stroke center, said hospital officials.  
For more information on Piedmont Newnan Hospital's stroke services, visit piedmont.org.