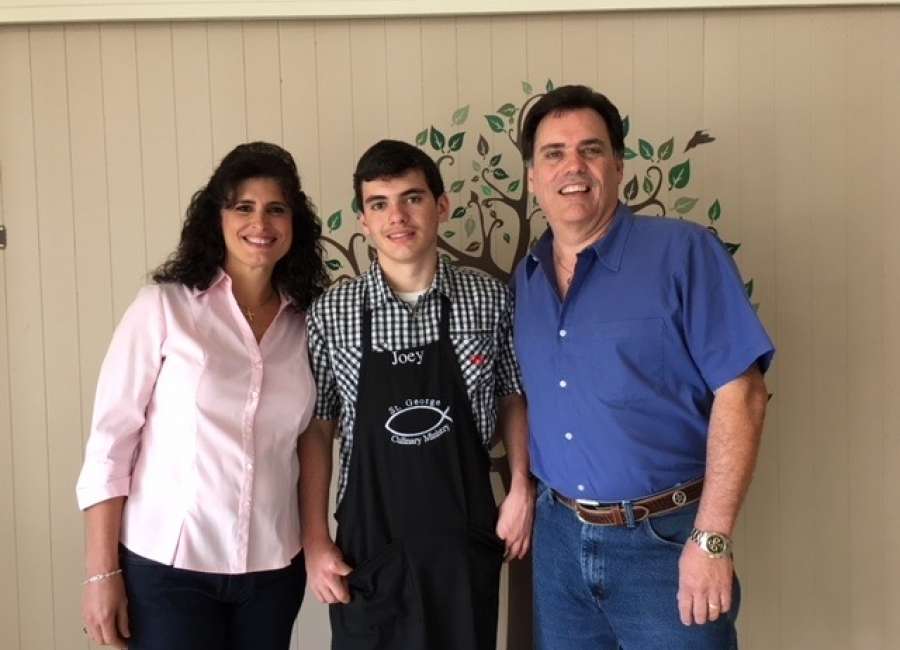 On any given weekend or holiday, there are usually dense, white puffs of smoke hanging over Bill Bradley's Newnan home.
A light haze will also blanket part of his neighborhood, but residents don't complain.
Instead, they are drawn in by the sweet, yet woodsy aroma of cured meats being slowly cooked to perfection inside Bradley's outdoor smoker.
"Some weeks I might cook 20 Boston butts, or just three butts, plus ribs, chicken, kielbasa sausage and even smoked bologna," Bradley said with a laugh. "I'll change the flavor of the smoke so people don't know they're eating bologna.
"My family loves it, so I'll make a lot and save it," he continued. "We'll add the meat into burritos, quesadillas and salads."
Bradley was once a competitive "grill master," but actually got his start during his first job at a Steak and Ale restaurant in Memphis, Tennessee.
"In Memphis, barbecue is 'king,'" Bradley said. "That's where I really got my passion for it. Neighbors are pitted against neighbors in cooking competitions every weekend."
According to Bradley, he and other participants would have to win four regional barbecue contests each year just to compete in the ultimate barbecue challenge in Memphis.
Bradley said that competition would last a week and required him to serve up plates of smoked meats for at least 100 people each night.  
The Bradley family moved to Newnan 11 years ago. During that time, Bradley decided to stop competing and focus on smoking meats for family, friends and neighbors.
"I enjoy it," he said. "It's fun to smoke up the neighborhood and have the neighbors wonder where it's coming from.
"We have a lot parties because of that," Bradley added with a laugh.
The barbecue master said he uses an "old school" method when smoking savory meats.
"I have a stick burner, so I only use wood, no charcoal or pallets," Bradley explained. "I watch the meat. You want to get a chocolate brown color on the outside of the meat and a perfect smoke ring. You also have to worry about humidity and temperature - and adjust the number of logs depending on the weather."
Bradley said it takes between 10-12 hours to cook Boston butts, 5-6 hours for chicken and turkey and 3-4 hours for ribs. He keeps a close eye on the smoker, and checks the meats about every 30 minutes.  
"Then you have to decide when to wrap the meats with foil and let the smoke settle in," said Bradley. "That's also what keeps the meats juicy. If you wrap the meats too late, they end up with a bitter taste."
Bradley said his family usually pairs up the smoked meats with coleslaw and potato salad, with either banana pudding, apple pie or apple cobbler for dessert.  
The Newnan man is now passing on his cooking skills using the smoker to his son, William.
While Bradley said he doesn't think he'll compete again, he wouldn't mind hosting classes for the St. George Catholic Church Culinary Ministry or helping others.
"I'm a salesman and one of my clients held an employee appreciation luncheon and asked if I would smoke some meats for the event," Bradley said. "That was cool. I really enjoyed that."
'Great for grilling' side dishes
It's a safe bet many folks will be firing up their grills during the upcoming Memorial Day weekend to toast the country's military veterans and the "unofficial" start of summer.

While hamburgers, hot dogs, chicken, ribs and other meats will take center stage, the side dishes served at the weekend gatherings can be just as important.
Here are a few recipes that will compliment any grilled meat - and bring some compliments to the chef.
Homemade Mac and Cheese
Ingredients:
8 oz. uncooked elbow macaroni
¼ c. butter
2 ½ T. all -purpose flour
3 c. milk
2 c. shredded, sharp cheddar cheese
½ c. grated Parmesan cheese
2 T. butter
½ c. breadcrumbs
1 pinch paprika
Recipe:
Preheat oven to 350 degrees.
Cook macaroni according to package directions and drain.
In a saucepan, melt butter over a medium heat. Stir in enough flour to make a roux.
Add milk to the roux, stirring constantly.
Stir in cheeses and cook over low heat until cheese is melted and sauce is thick.
Put macaroni in a large casserole dish and pour sauce over macaroni. Stir well.
Melt 2 tablespoons of butter into skillet over medium heat. Add breadcrumbs and brown.
Spread breadcrumbs over macaroni and cheese to cover.
Sprinkle a little paprika on top.
Bake for 30 minutes.
(Recipe Courtesy: Rosa Songy, Feast of Saint George cookbook)  
Simple Roasted Carrots
Ingredients:
2 lb. carrots, trimmed and peeled
2 T. olive oil
1 tsp. thyme
Salt and pepper to taste
Recipe:
Preheat oven to 425 degrees.
Line a baking sheet with parchment paper or foil.
Place carrots in a single layer on baking sheet.
Drizzle carrots with olive oil, then sprinkle with thyme, salt and pepper.
Place in oven and bake until golden, about 25-35 minutes.
(Recipe Courtesy: The Feast of Saint George cookbook committee)
Artichoke Parmesan
Ingredients:
2 med. artichokes
3 slices of lemon
½ c. coarse breadcrumbs
2 T. chopped parsley
2 T. grated Parmesan cheese
1 tsp. minced onion
½ small garlic clove, minced
¼ tsp. salt
¼ c. olive oil
Recipe:
Wash artichokes and snip leaf tips.
Boil in salted water with lemon slices, about 30-45 minutes or until tender. Then drain.
Combine breadcrumbs, parsley, cheese, onion, garlic and salt.
Slice cooked artichokes in half lengthwise, cut out choke.
Fill cavity with stuffing and drizzle olive oil over each.
Broil about 4 inches from heat, for 3-5 minutes until the stuffing is brown.
To eat, pull off leaves and dip in the stuffing.
(Recipe Courtesy: Scott Eldred, Feast of Saint George cookbook)