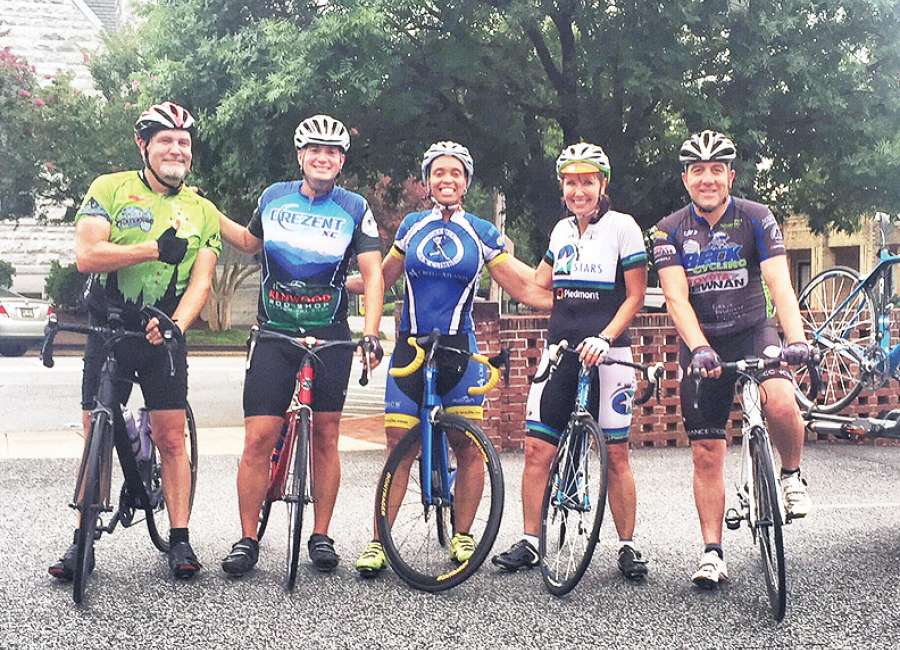 The Coweta Community Foundation recently announced the establishment of a Bike Coweta Fund with the Foundation as a way for bicycling enthusiasts and supporters to help make Coweta a safe and bike-friendly community.
Chris Doane, one of Bike Coweta's board members, says they are "dedicated to advocating on behalf of local and visiting cyclists in Coweta County. Bike Coweta's goals are to provide a safe and bicycle-friendly community to local citizens and to encourage cycling tourism to the area."
The group has held two board meetings, including one last Thursday where they discussed local opportunities to advocate for bicycle facilities based on new opportunities as well those identified in several of Coweta County's  bike pedestrian plans from the past.
"We've identified bike route signage and the development of shared use trails close to town as two of our priorities," Doane said. "We'll be pursuing those through advocacy and connecting with stakeholders on a municipal level."
"We have seen amazing growth in the Coweta cycling community," said board member Vicki Kaiser. "This growth has led to the recent announcement of a premier bike shop opening in downtown Newnan in August. Bike Coweta is being formed to meet the safety and advocacy needs of this rapidly growing movement."
Also on the Bike Coweta board are Ian Buchanan, Jessica Griffith, Jim Thomasson, Danny Beck and JJ Thomasson.
Goals for the group include the implementation of bike and pedestrian facilities for Coweta; the continued development of the county Bike Route Network, including the addition of new routes, bike lanes and DOT-approved signage; development of shared-use trail systems for hikers and mountain bikers; and marketing of Coweta as a venue for cycling-related events for both road and mountain biking.
Coweta County has designated more than 100 miles as county bike routes, and three State of Georgia bike routes cross the county as well.
Coweta bike routes are also used for eight metro Atlanta area "century rides," those of 100 miles or more and occurring within 12 hours, usually held as part of an event sponsored by a cycling club.
The group has also established a website, bikecoweta.com, which includes information to help local and visiting bikers plan their bike routes in Coweta.
"The Community Foundation is excited to assist local community leaders in getting Bike Coweta off the ground," said Will Conoly, chair of the CCF board.
"The foundation fully supports efforts that assist Coweta County citizens and their families to share an active lifestyle. Bike Coweta will make it easier for citizens and visitors to explore Coweta County and all the great things it has to offer."
The community has a variety of ways to get involved with Bike Coweta. Financial gifts may be made through the new Bike Coweta fund with the Coweta Community Foundation.
Volunteers are needed to assist with cycling events, and sponsorship opportunities are available to organizations and businesses that want to play a role in the new initiative.
For more information on Bike Coweta, visit bikecoweta.com. To donate, visit cowetafoundation.org, click on the "Give" tab and select "Make a gift" before selecting the "Bike Coweta" fund.
The Coweta Community Foundation is a publicly supported 501(c)3 organization that helps focus local philanthropy on the community's changing needs. The Foundation manages individual gifts and bequests as an endowed pool of assets, distributing grants to a wide variety of organizations that enhance and support the quality of life in Coweta County, while maintaining the charitable intent of the donors.
For more information, call the Foundation at 770-253-1833.