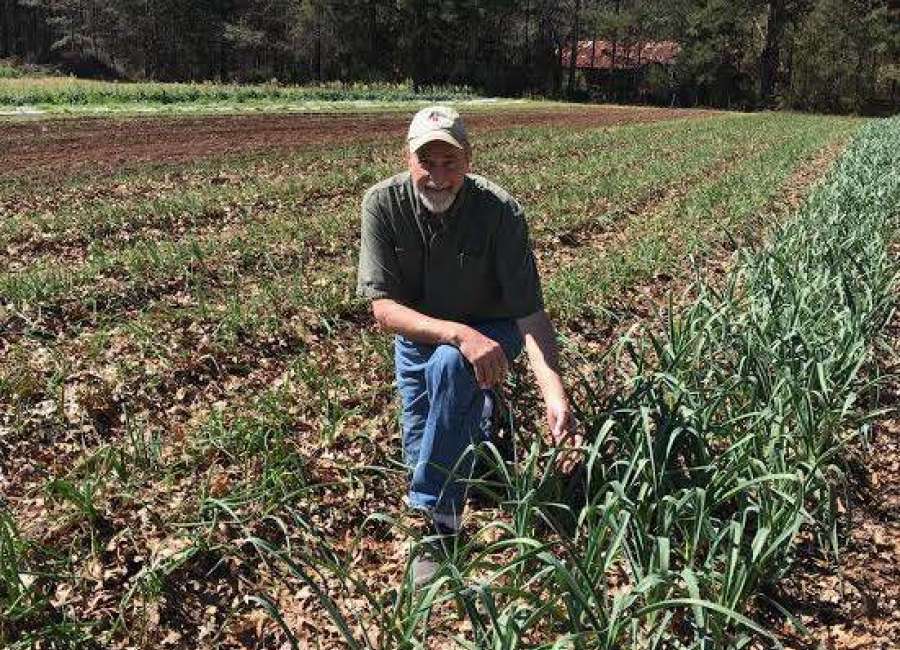 It seems like umbrellas, coats and rain boots are in high fashion around Coweta County this spring.
Dreary, wet weather has plagued the community and most of the Southeast region since December – and Subtropical Storm Alberto hasn't helped matters.
So far, the state of Georgia has received more than 20 inches of rain in 2018.
That rain has placed the state 100 percent above normal from this time last year, said meteorologist Laura Belanger with the National Weather Service.
"This is very abnormal," she added. "Seeing it from rainfall total  perspectives reiterates how wet the area is."
The unusual rainfall amounts has some local farmers nervously keeping their eyes on the skies and on the ground.  
"When you're farming or gardening, you're always dealing with the weather. It's always a concern. Sometimes it's too wet, too dry, too cold, or too hot. We just have to roll with the punches," said Mike Cunningham.
He and his wife, Judy own the Country Gardens Farm.
The Cunninghams have several fruit and vegetables stands, plus farm land in several locations around Coweta County.
All their food is organically grown, which means the Cunninghams do not use chemicals, antibiotics or hormones.
While the lack of pesticides produces healthier crops, it leaves some fruits and vegetables more vulnerable during a heavy rain pattern.
"Right now, we're having problems with weeds because we can't get into the fields. You can't work with the soil when its wet," Cunningham said. "The tomatoes are also my biggest worry, because they might get a fungal disease if the leaves continually stay wet.
"We've been spraying a natural fungus blocker with potassium bicarbonate, similar to baking soda, plus dehydrated milk to prevent the fungus. We're doing things like that a lot right now," he added.  
Some south Georgia and Florida farmers had to delay their shipments of vegetables and fruits because of the weather.
Laura Westbrook, owner of the Veggie Patch Produce Market on N. Highway 29 said she's receiving more shipments of produce, plants and flowers this week.
She said it's still too early to tell if the all the rain will affect any of their products.
"If the sun stays out a little more and the Lord blesses us, I think we'll be okay," said Westbrook. "We're going to have everything we normally have, but some produce shipments are running a few weeks behind."
Westbrook may get her wish, according to the National Weather Service.
"It appears, as of last week, the drought conditions are quickly improving and based on the rainfall, that puts us in good shape going to summer," said Belanger.
While the NWS predicted above normal temperatures for the months of June, July and August, there will also be a slightly better chance for those normal summertime rain showers, which will cool everything down.
Either way, Cunningham said he's just going to roll with the punches and whatever Mother Nature brings next.   
"I learned a long time go to just go with it. The weather is never going to be perfect. There will be challenges," he said.
The Best Fresh Tomato Salsa

What's a better way to eat almost all your vegetables at the same time? A quick, simple recipe. Just grab some tortilla chips for the perfect appetizer or afternoon snack.
Ingredients:
3 cups chopped tomatoes
1/2 cup chopped green bell pepper
1 cup onion, diced
1/4 cup minced fresh cilantro
2 tablespoons fresh lime juice
4 teaspoons chopped fresh jalapeno pepper (including seeds)
1/2 teaspoon ground cumin
1/2 teaspoon kosher salt
1/2 teaspoon ground black pepper
Recipe:
Stir the tomatoes, green bell pepper, onion, cilantro, lime juice, jalapeno pepper, cumin, salt, and pepper in a bowl.
Serve.
(Recipe Courtesy: allrecipes.com)