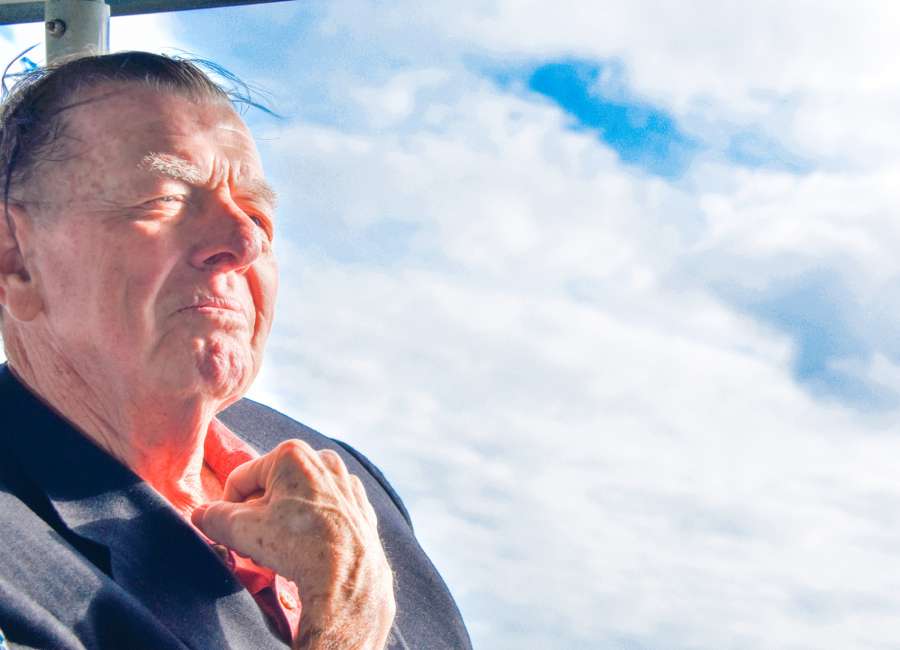 If the Victoria Advocate newspaper offices hadn't been on the way to the Army recruiting station, Joe Galloway's life might have turned out very differently.
Eschewing the military service embraced by generations of men in his family, Galloway instead became one of the most iconic war correspondents of the Vietnam era, recording for posterity the grim details of the November 1965 battle at Ia Drang from the ground, among the troops who fought – and died – in it.
"I have done the best all the rest of my life to tell their stories, and I hope I've done so honestly and truthfully," said Galloway, who attended Newnan High School's Vietnam Veterans Day commemoration Thursday.
Speaking to students in Steve Quesinberry's Vietnam War class, Galloway talked about growing up on the Texas prairie in the 1950s and riding 20 miles a day on a school bus. He read five books a week, he recalled, and got good marks in history and English. But he "couldn't do math for squat."
"I cut a deal with the algebra teacher," he said. "I'd sit in the back and read my books, and not disrupt his class. Those who wanted algebra got algebra, and I got a gentleman's C-minus and graduated. Nobody in that school wanted to keep me an extra year."
The decision that changed his life
Six weeks of college was all he could stomach before he convinced his mother to sign the papers necessary to enlist in the military. They were headed for the Army recruiter's office when they passed by the daily newspaper – the Victoria Advocate – for which Galloway had been a stringer during his brief foray into higher education.
"She said, 'But what about your journalism, Joe?'" Galloway said. "I said, 'Good call, Mom. Stop the car!'"
Galloway was hired on the spot for $35 a week and free subscription to the paper.
"That changed my life," he said.
Less than two years later, Galloway got a job with United Press International (UPI). He tossed his belongings into his 1955 Thunderbird and made his way to Kansas City, Kan. He was promoted to state house bureau chief in Topeka nine months later, rubbing shoulders with the likes of former president Harry Truman and former Kansas governor Alfred Mossman "Alf" Landon, who had launched an unsuccessful presidential campaign against Franklin Delano Roosevelt in 1936.
"Kansas was a great place to cover politics," Galloway said. "I learned a lot just by listening to their stories."
But it was the stories of David Halberstan, Neil Sheehan and Malcolm Browne that eventually turned his attention to Vietnam and the assignment that would shape his career.
"It seemed to me that we were about to get ourselves into a war, that it would become an American war, and that it would be my generation's war," Galloway said. "I wanted to cover it so bad, I started writing a letter a week to my bosses asking to transfer me from Topeka, Kansas to Saigon."
A transfer to Tokyo
After a year, he was granted a transfer to Tokyo – UPI's Asia division headquarters.
"I must have driven them crazy to the point where they either had to transfer me or fire me," he said. "Thank God, they chose to transfer me."
Galloway went overseas in December of 1964. He wouldn't come home until January, 1980.
He was 24 years old on Nov. 15, 1965, when he hitched a ride on a Huey helicopter and into the thick of battle at LZ X-Ray, armed with an M16 rifle, two Nikon F cameras, three lenses and a large supply of Tri-X and Kodacrhome film. His lack of military affiliation would not guarantee his safety. Six journalists – four Americans, two Vietnamese – were killed in Vietnam in 1965.
Galloway would go on to serve four combat tours in 10 years of the Vietnam conflict and co-write the best-selling "We Were Soldiers Once, and Young" with Lt. Gen. Hal Moore, with whom he went into battle at Ia Drang. The book was the basis for the 2002 movie "We Were Soldiers," starring Mel Gibson as Moore and Barry Pepper as Galloway.
It was part of a personal push on the part of reporters eager to cover the war without "drive-by reporting," putting themselves on the ground – and in the line of fire – with the troops.
An unexpected encounter
On the second day of battle, Galloway had an unexpected encounter.
"I'd moved up to the edge of the clearing to shoot some pictures," Galloway said. "Out of the corner of my eye I caught movement. A guy jumped out of the mortar pit and zig-zagged across the corner of the landing zone, with bullets kicking up dirt behind him. He dove behind this bush where I was kneeling down. And all I could see were big eyeballs underneath the helmet lip."
The soldier called him by name.
"Joe Galloway, don't you know me?" the man said. "It's Vince Cantu from Refugio, Texas!"
Galloway had gone to school for 12 years and graduated with Cantu in the Class of 1959.
"Last time I'd seen him was on that graduation night, and here he was in the worst battle of the Vietnam War with me," Galloway said. "He said, 'You know Joe, if I make it through this I'm gonna be home by Christmas. My draft time is up.' I said, 'Well, Vince, go see my mom and dad but don't tell 'em where you saw me.'
"I have a picture of Vince in my mother and dad's living room making the visit and I don't think he told them where I was," Galloway added.
We're going to lose this war
"It's pretty tough covering a war as I did, which is with the infantry as far forward as I could get," Galloway said. "You make friends. Your friends are the people you stand beside and you march beside and you fight beside."
And so Galloway couldn't write all that he knew – that the war was not going to end well for the United States.
"I was fairly certain that we could not win, but I couldn't write that or say that, because my friends would be so badly hurt," he said. "They were losing their brothers, their friends, day by day in this war and to say to them honestly it was all for nothing would do them harm. And I couldn't do that."
Fortunately, his bosses weren't interested in what he thought.
Most openly covered war in history of U.S.
Galloway said Vietnam was the most openly covered war in the history of the United States. Anyone with an MACV press card could go as deep as they wanted, he said.
"There was no censorship," he said. "You came there with a letter from the editor of some publication, and you could travel anywhere you wanted on military transport. You could go out on operations with an American battalion and stay three hours, three days or three weeks. However long you wanted. The only thing they required of you was your signature on a single page of five or six very simple operational security rules."
The most important were not to report troop movements while they were still underway or report the actual number of friendly casualties while a battle was still underway, he said, which was a contrast to his later work in the Persian Gulf.
"To be embedded as a correspondent covering the invasion of Iraq, you had to sign a 36-page, single-spaced, double-sided set of rules and I don't think anybody even read them," Galloway said.
Only six correspondents were ever expelled for violating operational rules in Vietnam, he said.
"It was openly and fairly covered," he said. "There are those who like to say the press lost the war, but we don't have that much power. We never have. If you want to look at who lost the war, let's see: There are about five American presidents whose fingerprints are all over it. The military cannot escape some fault."
Sub-par military leadership was also a factor, according to Galloway, who said General William Westmoreland was "dumb as a fence post."
A terrible burden
Being on the ground in Ia Drang changed the way Galloway looked at the war – and at the soldiers who fought it, he said.
"I left that place knowing that I owed them an obligation to tell their stories and to tell them truthfully," he said. "I left there knowing that 80 of them died so that I might live. And that's a terrible burden to carry on your shoulders.
Galloway – a rare civilian recipient of the Bronze Star Medal for bravery for his actions in moving badly wounded soldiers to safety in Ia Drang – retired from the newspaper business in 2010.
"I was very fortunate to live and work in what I consider the golden age of newspapering," he said. "Back then, newspapers would spend the money to send someone like me overseas to cover the world. Now, newspapers' business model has failed and the jobs are gone. They're closing all the foreign bureaus, the national bureaus in D.C. and the house bureaus in your states. And no one is picking up the slack."
That creates a dearth of information, according to Galloway, who urged the students to pay attention to what's happening in the world around them.
"What is happening is essentially a dumbing down of America," he said. "In a world that is ever more sensitive and dangerous, we know less and less about the people outside our country. And I think that is exceedingly dangerous."