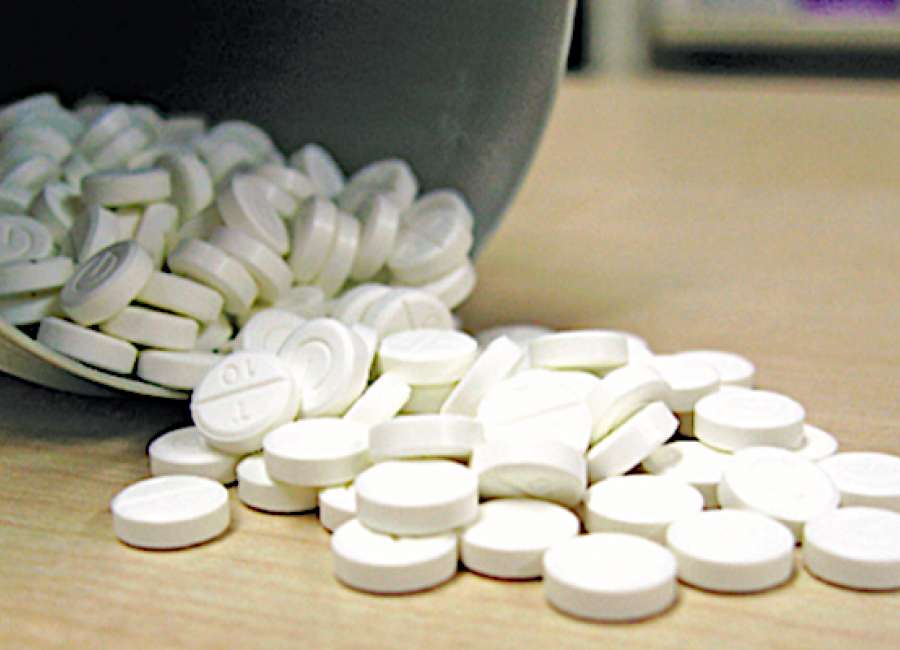 Editor's Note: This story has been updated with the correct e-mail address. 

Coweta's newly formed Substance Abuse Prevention Coalition held its first meeting last week, and members are working on four strategies to help prevent opioid addiction in the county.
The strategies include creating guidelines for prescribers and pharmacists in Coweta, creating an opioid curriculum to be used in schools, ways to "lock up the meds" and data and evidence collection.
Though the coalition has approximately 30 members, there are no dentists and only one pharmacist.
Dentists are a major prescriber of opioid pain medicine for short-term pain, and pharmacists are an important line of defense in educating patients about the risks of dependence and addiction when taking opioid pain medication. The coalition would like someone from the dental community to participate, and an additional pharmacist, said Mary Norman, coalition facilitator. Cowetan Mel Kendrick is the AVPRIDE Outreach Assistant for Coweta. 
Coweta County was recently ranked the sixth county in the state for opioid problems, and the coalition is made possible by a grant from the Office of Behavioral Health Prevention. The work is being done by AVPRIDE, an organization that has worked on substance abuse prevention in Fayette County since 1996.
The goals of the project are to reduce access to opioids in Coweta and to educate the community about how easy it is to become addicted to pain medication.
"You can become addicted after seven opioid pills," Norman said.
Another goal is to have doctors who are prescribing medicines for short-term pain be more aware of the potential dangers of addiction. They would like for more doctors to ask patients if they have a family history of addiction and other questions to determine if there are other factors that might make the patient more likely to get hooked. Someone who is a "fast metabolizer" of medication is more likely to become addicted, Norman said.
Norman said the prescriber guidelines and the work of the coalition aren't about limiting opioids for people with chronic pain.
Instead, the idea is to make sure everyone is more careful when opioid pain pills are prescribed for short-term pain – things such as wisdom teeth removal, surgery, or broken bones.
Instead of sending someone home with 15 or 21 pain pills, maybe the doctor or dentist could start by prescribing five, Norman said. Then if the patient needs more, the doctor can prescribe more, or, at that point, prescribe another type of pain medication.
"We want everyone on both sides to be more thoughtful about 'How long do I take this course of medicine?'" Norman said.
Prescriber guidelines are something "that we know works effectively in controlling access to opioids," Norman said. The guidelines would be available to all medical professionals in Coweta. Using them would be voluntary.
Norman told about an East Coweta High School student who became addicted to opioids after getting his wisdom teeth removed. Two years later, he was dead.
"He ended up smoking a fentanyl patch because he was so desperate for the high," she said.
"That speaks to the desperation to have that high. After you can't get them from your physician any longer, you go to the street – or start looking for any way you can get high again.
"The perception of harm needs to be high with young people," Norman said. "if there is a low perception of harm, they're going to think: 'The doctor gave them to me. They can't be that bad,'" she said.
That's why education is so important – for teens, adults and medical professionals.
Oftentimes, people will get more opioids than they need, and the leftovers end up sitting in a medicine cabinet somewhere.
Then, "there is access for misuse or abuse," Norman said. That's why "lock up the meds" is another part of the strategy. There are ways to dispose of pain medication and other prescription drugs that can be abused, such as secure dropoff points. The Walmart pharmacy provides a product called "DisposeRX." It's a powder, provided free of charge for pharmacy customers that is being given with new pain pill prescriptions. The product is added to a pill bottle along with warm water, and it renders the medication into a harmless substance that can be disposed of in the trash.
Another part of the prescriber guidelines will be encouraging pharmacists "to have conversations with those who are picking up their medication. That is a key education opportunity," Norman said.
"If you get a prescription you may think, 'Well, the doctor prescribed me three weeks' worth, I guess I need to take it for three weeks.' You may only need three doses."
Getting better data about opioid use, storage and education in the community is the fourth coalition strategy.
There are plans for a town hall meeting in the next few months, and to put out various surveys. Surveys will not only be to measure drug use but to also "find out how many people are actually locking up their meds – we're going to create awareness on how you do that," Norman said.
"There are safes you can purchase, locks for cabinets," Norman said. She wants that issue to be on people's minds.
Coalition members who attended last week's meeting included Bonnie Scott, Shandria Sanchez, Meredith Kearns, Pat Rudd, Akela Fordham, Ida Johnson, Heather Stokes, Jean Felts, Donna Hansman, Ashley Hurley, Dr. Tonya Whitlock, Jennifer Barnett, Pam Lewis, Sherrill Sligar, Christine Kendall, George Alexander, Leland Johnson, Lee Raines, Blake Bass, John Winters, Breanna Barnett, Vicki Kaiser, Bill Larkey, Craig Buchanan, Nicholas Estabrook, Michael Smith and Hank Arnold.
The coalition is meeting monthly, every third Tuesday of the month from 8-9:30 a.m. Locations will vary, but the April meeting will be at Piedmont Newnan Hospital.
For more information or if you are a dentist or pharmacist who would like to be involved, contact Norman at marynorman.coweta.avpride@gmail.com