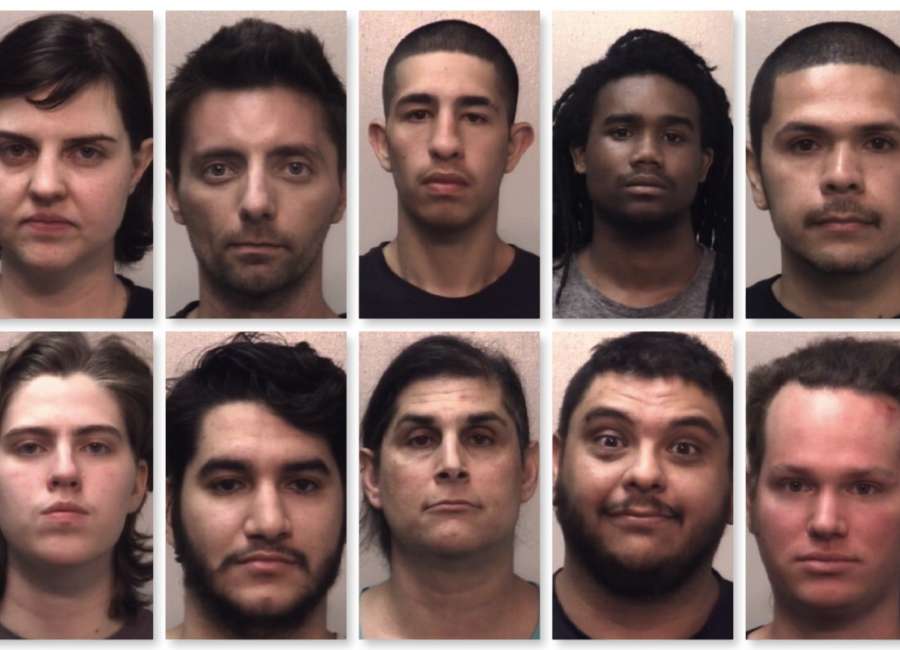 Despite several encounters between protesters and police during Saturday's rally, only 10 participants from the rally were arrested.
The majority came from places like Nashville, Asheville, Raleigh, and New Port Richey, Florida. Several others came from metro-Atlanta areas like Decatur and Sandy Springs.
Only two residents who were arrested were from Newnan.
Jose Eduardo Osorio-Hernandez and Christopher Deon Render were both charged with disorderly conduct. 
Render was also wanted by the Newnan Police Department on charges of shoplifting earlier in the year, according to arrest reports.
However, images taken from a standoff between police and protestors is currently circulating through social media. 
The footage of police with rifles drawn at participants was taken at the beginning of the rally, when police encountered a group of suspected Antifa members making their way south down Jackson Street near the University of West Georgia.
Because several members of the group were wearing face masks – a violation of Georgia law – SWAT members formed a line in front of the group and demanded they remove their masks or face arrest, according to Captain Warren Campbell with the Coweta County Sheriff's Office.
As the SWAT team slowly approached the group and attempted to take certain violators into custody, several members of the group reportedly grabbed the arms of members of the SWAT team in an effort to separate them from apprehending those wearing masks. 
There were approximately 18 members on the SWAT team and estimated they were dealing with a crowd of around 30 to 40 people, according to Campbell.
During the interaction, two SWAT team members were reportedly pulled into the crowd, which caused the remaining SWAT members to draw their firearms. Pointing a rifle into the group was a reasonable amount of force given the circumstances, Campbell said.
"Based on reports, we weren't entirely sure if they were armed so it was a legitimate concern – especially being outnumbered," Campbell said. "We had seen others carrying weapons so it was safe to show a reasonable amount of force."
Following the melee, five members of the group were taken into custody on charges of wearing masks or obstruction of police officers. 
Police found several bags left behind by the group containing smoke grenades, fireworks, and firecrackers, according to Deputy Chief Mark Cooper with the Newnan Police Department. 
Sheriff Mike Yeager said the story of police drawing on a group of unprovoked protestors is a myth.
"They came here with a purpose," he said. "They came here to antagonize, take control of our community and incite fear."
A homemade wooden shield with a number of screws protruding from the front also was recovered.
"We saw the shield when they approached Jackson Street. That's when they began dropping weapons, including several cans of wasp spray with the ability to shoot 25 feet," Campbell said. "We received a call from Home Depot indicating several people were purchasing a large quantity of the spray."
A clear bottle containing an unknown liquid also was seized and sent to the GBI crime lab. The words "Law - Shake" were hand written on the side, according to police.
A short while later, police encountered a group which reportedly threw rocks at law enforcement. One member of the group allegedly had been warned numerous times about staying out of the roadway and was subsequently arrested.
During interaction with police, several members of the group chanted "Cops, pigs, murderers… you're the real Nazis… and cops and the Klan go hand in hand," according to the police report.
Yeager said many media outlets are attempting to portray the incident as an over-militarized police force picking on defenseless kids.
"What gets me is the counter-protesters are complaining the NSM wasn't arrested, but they didn't violate the law," Yeager said. "When officers approach people who refuse to take off their masks, push officers, and stand in the roadway, this is how they respond."
Cooper also confirmed the NSM had no issues staying within the confines of the law or terms laid out by the city. Many complained the NSM members were allowed to have flags, but the protestors weren't. Cooper explained flags were allowed if they were attached to PVC poles.
"We don't support their message, but they were compliant with the rules," Cooper said, confirming no members from NSM were arrested on Saturday.
The NSM was also put through a variety of checkpoints, set up in strategic locations to keep them from marching in formation, Cooper said.
A reporter with suspected Antifa ties was spotted by a member of the NSM and was asked to leave the park, which Cooper said was legal since it was in the rental agreement. Once the NSM's permit for the park had expired, the group left within two minutes, according to Cooper. 
The NSM group returned to Draketown where they reportedly burned a swastika.
Police Chief Douglas "Buster" Meadows said preparation for the event was a 6-week task. Meadows said the large police presence during the event was the result of expecting 8,000 - 12,000 protestors, based on information reportedly released by Antifa.
Despite the four-figure anticipated turnout, Meadows said he believes the final number of protestors, including the NSM, was around 700 while more than 800 members of law enforcement agencies across Georgia were involved.
"We planned for their original number which is why we had such a massive turnout for law enforcement," Meadows said.
John Kennedy with the Coweta County Sheriff's Office said many people came out to protest peacefully, but they were overshadowed by those who came to make trouble. No arrests were made in the protest areas located inside the checkpoints.
"We had protesters who did nothing but protest, they were part of the peaceful process," Kennedy said. "There were agitators who got lumped in with them."
On Sunday evening, a "candlelight vigil" was planned at the Coweta County Jail for those arrested during Saturday's event.
The purpose of the vigil, sponsored by Atlanta Black Cross, A World Without Police and the Metro Atlanta Democratic Socialists of America, was to stand in solidarity with "those arrested by militarized police," according to the press release.
At the time of the vigil, Yeager said, no protesters remained in jail. Approximately a half-dozen people showed up to stand in the rain in front of the jail from 7 p.m. until around 8:30 p.m.
No arrests were made.
Despite the negative reactions from social media, Meadows said the response from the community has been overwhelmingly positive.
"To those citizens of Newnan and Coweta, and all the agencies who came to assist, there was such an outpouring of support who helped make this task a big success," Meadows said "Saying 'thank you' isn't even adequate – it goes beyond any description of support." 
Those arrested during Saturday's event included:
Katherine Lyons Ogilvie, 30, from Nashville, Tennessee, was charged with wearing a mask.
Daniel Sean Hanley, 36, from Sandy Springs, Georgia, was charged with pedestrian in roadway.
Jeremy James Ortega, 19, from Nashville, Tennessee, was charged with wearing a mask.
Christopher Deon Render, 18, from Newnan, was charged with disorderly conduct.
Jose Eduardo Osorio-Hernandez, 31, from Newnan, was charged with disorderly conduct.
Alan Edward Hutzel, 30, from Asheville, North Carolina, was charged with wearing a mask.
Hector Barraza, 31, from Decatur, Georgia, was charged with obstruction of officers.
Dannielle Jelayne Shochet, 47, from Raleigh, North Carolina, was charged with obstruction of officers.
Noah Peretz, 20, from New Port Richey, Florida, was charged with wearing a mask.
Erin Marie Galvin-McCoy, 22, from Winterville, Georgia, was charged with obstruction of officers.