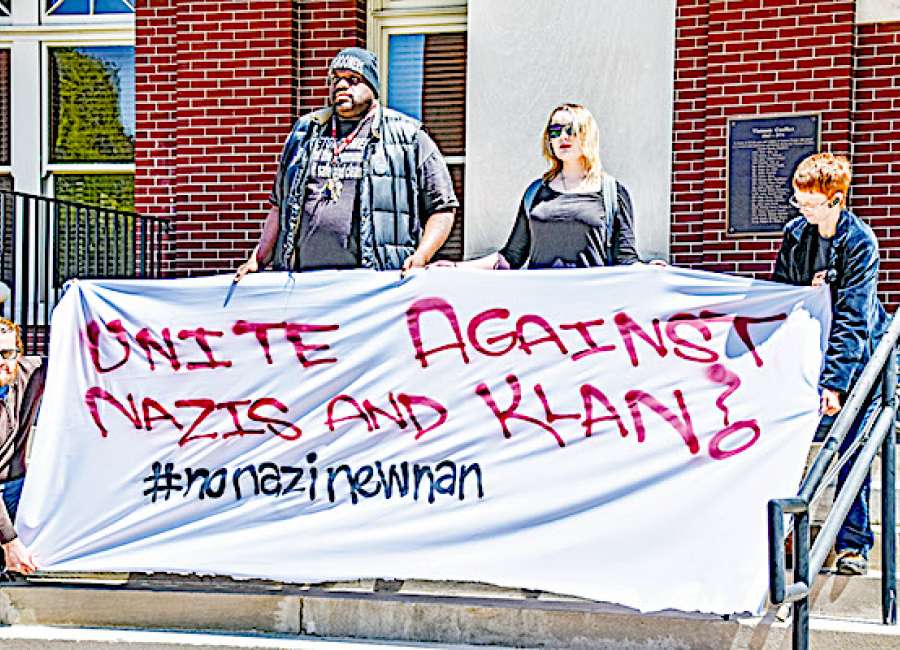 Cowetans were encouraged at a press conference Tuesday to stand against the neo-Nazis planning a rally Saturday in downtown Newnan.

"I firmly believe that it is crucial… that we stand together and empower anybody that might be targeted," said Cowetan Samantha Binion at a small press conference put on by the No Nazi Newnan coalition.
"I morally feel obligated to stand up against the forces of evil," Binion said. "I'm hoping as many people as possible feel empowered to come and join us and take a stand together."
Members of the media far outnumbered the small group at the press conference.
Though the press release announcing the press conference came from Atlanta Antifa, when those at the press conference were asked by reporters who was representing Antifa, no one answered.
Speaking – in addition to Binion – was Haron Wakil of Street Groomers. Wakil said he visited Newnan a few years ago and saw a lot of hatred, and he spoke critically of local law enforcement.
"Enough is enough. It needs to stop," he said. "I'm coming to keep the peace. I don't want to see anybody get hurt."
Binion said she could only speak for herself but hoped there would be people of all walks of life "coming together to help us fight this."
The prevailing attitude in Coweta has so far been that locals shouldn't go down to protest the neo-Nazi group and should instead stay away from downtown and do something else.
The fascist right wing movement is growing, said one woman at the press conference. "We ignored it for too long and allowed it to grow," she said.
"I can't allow myself to stand idly by and just turn a blind eye to this kind of stuff," said Binion. "I don't think turning a blind eye is going to stop bigotry, hatred or violence."
In a press release sent later Tuesday afternoon, the coalition stated that "city of Newnan authorities have lectured their residents about not protesting the National Socialist Movement… "
"The #NoNaziNewnan Coalition believes that ignoring white supremacist events does not make these groups go away and does not keep anyone safe," the release stated. "What is needed is a large-scale display of unity and community vigilance against organized white supremacists."