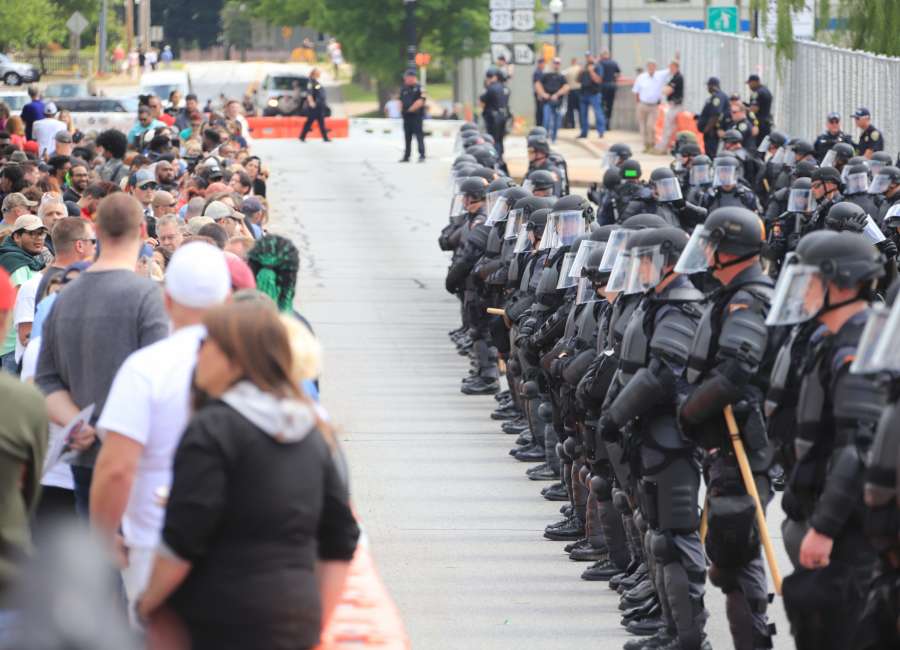 For the National Socialist Movement, it was too late for hate.
By the time the NSM got to Greenville Street Park on Saturday afternoon, two unity services had already proclaimed Newnan a place of unity and love.
CLICK HERE FOR A PHOTO GALLERY FROM SATURDAY'S RALLY
The NSM were met by a dominating police presence, with over 700 officers represented by 42 agencies, according to Georgia Bureau of Investigation Director Vernon Keenan.
Snipers sat atop buildings, officers behind clear shields lined the historic court square, while deputies and SWAT team members patrolled the streets. Several dozen officers with GSP stood along Greenville Street between the barriers separating the NSM from the counter-protesters.
Boos and shouts from counter-protesters behind the fences along Greenville Street did little to dissuade NSM Commander Jeff Schoep from bringing his message to a small group of people on Saturday afternoon – mainly other NSM organizers and members of the media. The rally, scheduled for 3 p.m., began around 4.
"We stand together. We will not back down. We will not be silenced," Schoep yelled from the stage inside Greenville Street Park.
Schoep and the NSM members wore black military uniforms and marched down LaGrange Street on Saturday afternoon carrying signs and their organization's flag.
The group was greeted by jeers from the counter-protesters.
At the beginning of his speech, Schoep firmly stated NSM is not a hate group, despite some members yelling "white power" and saluting the commander.
"We love all people and our country," he said from the stage. "Hate burns you up inside and harms your body."
He also told the crowd the group would not back down, despite those who tried to keep NSM from coming to Newnan.
"The more you push and try to oppress us, the more momentum we gain," Schoep said. "You will not defeat us tomorrow, in the future or today. You will never defeat us."
He said Newnan was just one stop of many on their "tour" across the nation.
Schoep also said he wouldn't rule out a return visit.
The NSM rally lasted less than an hour before law enforcement officers brought it to an end and escorted the group out of the park.
The crowd of counter-protesters began gathering by 1 p.m. Fewer than 50 people were at the appointed meeting spot for the NoNaziNewnan Coalition at first, but others joined in the protest as the group walked through downtown and made an attempt to avoid the checkpoint at the designated protest area.
Before heading into town, the NoNaziNewnan group attempted to block Jackson Street, some with covered faces. Officers and a SWAT team raced down Jackson Street, against the normal flow of traffic, and a few arrests were made. Earlier, protesters were seen booing every law enforcement vehicle that rode by – except for a Newnan Police car on the back of a tow truck. For that, they cheered.
The group then walked up Jackson Street, with banners and chants. Chants varied from "No hatred, no fear, immigrants are welcome here," and other words of peace and love to chants against Nazis to some against law enforcement: "Cops and Klan go hand and hand."
The group turned down West Broad Street to College Street, then up Spring Street. Near the Keep Newnan Beautiful office, a verbal argument between a man and a group of counter-protesters broke out after the man told the protesters to go home. Deputies swarmed the scene and the dispute ended, but the group followed the man for several blocks.
The majority of the NoNazi group headed down Salbide, took a right on Wall Street, then attempted to cross the railroad tracks to Savannah Street, where officers were stationed. More officers arrived to prevent access, and protesters and officers peacefully discussed the issue. The group eventually turned back and headed back up Salbide Avenue.
That's when several arrests were made – including a protester who was leading chants over a loudspeaker. The man was carried off by officers to a patrol car around the corner.
A large group of protestors stayed at the corner of Salbide and Perry Street instead of going into the protest area. Many appeared hesitant to give up their bags, beverages, cameras and keychains - part of a list of requirements for peaceful entry.
Inside the protest area, protesters held up signs and shouted at NSM once the white supremacist group began its rally. A scuffle broke out when one man in the area allegedly voiced support for NSM or made racist comments, but it was resolved peacefully and officers led the man out of the area.
A large group left the protest area shortly thereafter, and by that time, the protests and groups outside of the protest area had disbursed.
The Live Up To Love service at St. Smyrna Baptist Church started just after 3 p.m. Members of the culturally diverse Newnan Youth Council led a procession of clergy and local leaders into the sanctuary of the church of Heery Road.
Jimmy Patterson, pastor of First Baptist Church, and Hazel Glover, interim rector of St. Paul's Episcopal Church, both shared from their personal experience.
Patterson spoke about his family's past, reading from the will of a Butts County ancestor who died in 1837 and left "one certain Negro woman by the name of Linda" and male slaves named Benjamin and Jerry to family members.
"I as a minister do now publicly repent of this generational curse," Patterson said. "I wish I could say that generational curse ended in my family that year in 1837. … It was passed on to succeeding generation in my family, even infecting my own young life."
Patterson decried a mindset that "equated a person's life with a possession to be passed on like a cow or a calf or a piece of furniture."
Glover remembered a story a black woman who cared for her told her when she was a girl. The woman told Glover about marks she had noticed on her great-grandmother's back.
"You know what it was – the whip marks of being a slave," Glover told the crowd of about 275. "I can still feel the pit in my stomach at the injustice and cruelty to her family, to her. I didn't know what to do with that, and I still don't. What I remember is that she loved me, regardless of my heritage, regardless of the fact that I was a descendant of slave owners."
Rabbi Joshua Lesser of Congregation Bet Haverim and Bharath Shankar, a graduate student from Newnan who worships at the Hindu Temple of Atlanta, both spoke and shared from their Scriptures. Several local pastors spoke as well.
Mayor Pro Tem Cynthia Jenkins took a lead role in organizing the event. She spoke near the end of the hour-long service and talked about the need to focus on "where we go from here."
Jenkins told those gathered, "My challenge to you today is that you commit to do what love requires. We must live up to the standard of love by how we treat each other, how we protect each other and how we really live with each other."
Following the rally and related events, Newnan was a proverbial ghost town. There was no property damage reported and only 10 arrests, according to Assistant City Manager Hasco Craver.
With the majority of businesses closed, only a few cars and bystanders were out and about.
However, two men – one black and one white – stood on the corner in front of Genelle's and marveled at the peaceful, vacant town before them.
As the last of the police rolled out of the court square, Brian Williams and Justin Blake said the city just showed the country how things are done in Newnan.
"We showed the whole county this is how we live together – we love each other," Williams said. "I'm so proud of my city right now. It's the pride of America, but no one is going to report that."
Contributing to this story were Sarah Fay Campbell, Rebecca Leftwich, Clay Neely, Melanie Ruberti and Winston Skinner.