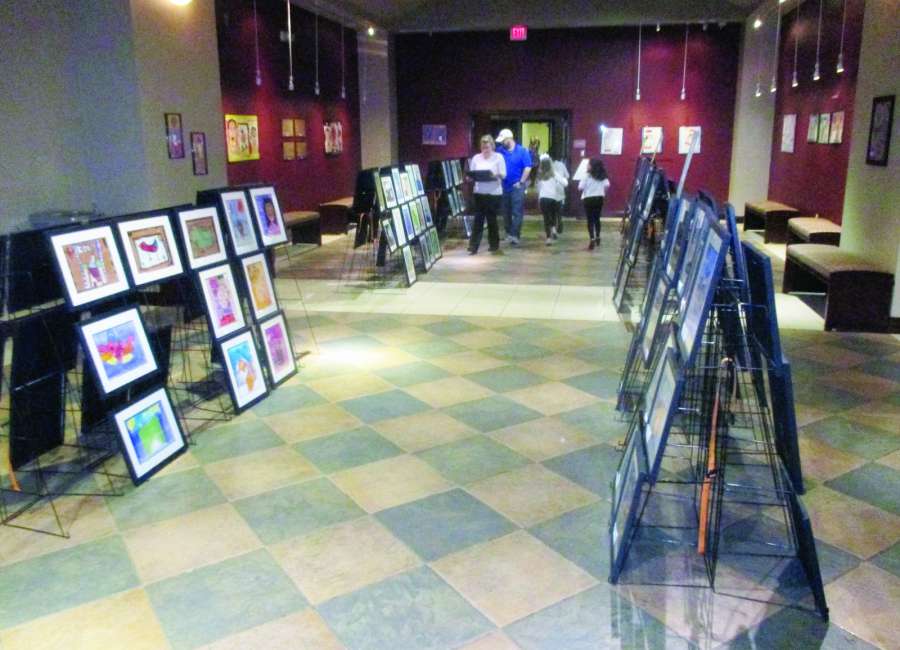 Choral groups from Atkinson Elementary School presented a program of multi-cultural music at the Nixon Centre on March 8.

In conjunction with the concert, student art was displayed in the corridors of the performing arts center. Parents and grandparents enjoyed viewing and purchasing the framed pieces.
The Atkinson Honor Chorus opened the program with "The Star Spangled Banner." Members of the Honor Chorus are Madison Allen, Aaliyah Barner, Margaret Breedon, Ava Kate Jongeneel, Brooklyn Keenan, Kaitlyn Lee, Emily Munoz, Jimesia Rosser, Isabelle Sexton, Maci Triplett and Faithe Wadsworth.
Kindergarten and first grade students sang "Buenos Dias/Good Morning" and "Nampaya Omame," a traditional Zulu song.
The Spanish Club presented "Los Pollitos," a Latin American traditional song; "La Arana Pequenita," a Mexican children's song; and "Los Elefantes," a Spanish folk song.
"Chawe Chidyo Chem Chero," a folk song from Zimbabwe, was sung by second and third grade students. Providing percussion for the tune were Aaliyah Barner,Margaret Breedon, Myranda Bowers, Clair Lynn Kight, Kaitlyn Lee, Abbie Major, Jamiah McCaskell, Jariia Porter, Layla Thompson, Grace Wendel and Gianna Wold.
Other songs by that group included "Continents" and "These Are the Colors I Know." The latter song featured solos by Kaitlyn Lee, Abbie Major, Jamiah McCaskell and Grace Wendel.
The Atkinson Chorus, comprised of third-fifth grade students sang two African-American spirituals, "Wade In the Water ," featuring Aaliyah Barner, and "This Train."
Chorus members also showed their skills as members of a Trash Can Band. Participants included Myranda Bowers, Dylan Coker, Zoe Fortier, Brooklyn Keenan, Kaitlyn Lee, Jamiah McCaskell, Janasia McCaskell, Janelle McCaskell, Emily Munoz, Noah Murphy, JaQuori Person, Jimesia Rosser, Isabelle Sexton, Layla Thompson, Marcus Thompson and Maci Triplett.
Atkinson's fourth and fifth graders sang "Day-O," also known as "The Banana Boat Song. Singing solos as part of the presentation of the Jamaican folk song were Dariyona Alexander, Rachel Cannon, Dylan Coker, Aaron Fife, Desti'ni Parks, 
Chasiya Reese and Marcus Thompson.
Kameron McLendon and Jimesia Rosser were featured for "Get On Your Feet," and Michael Jackson's "Heal the World" featured Aaliyah Barner, Margaret Breedon, Jennifer Hernandez, Virginia Jackson, Dilyn Johnson, Brooklyn Keenan, Emily Munoz, Payton Murray, Jalal Person, Jariia Porter, Daisy Sanders, Isabelle Sexton and Faithe Wadsworth.
All students were gathered on the stage to sing Katy Perry's "Roar." Atkinson's school mascot is the tiger.
Christy L. Jenning, the schools choral director, was in charge of the musical program.
"We are having a great year," Jennings said. "These kids are awesome."