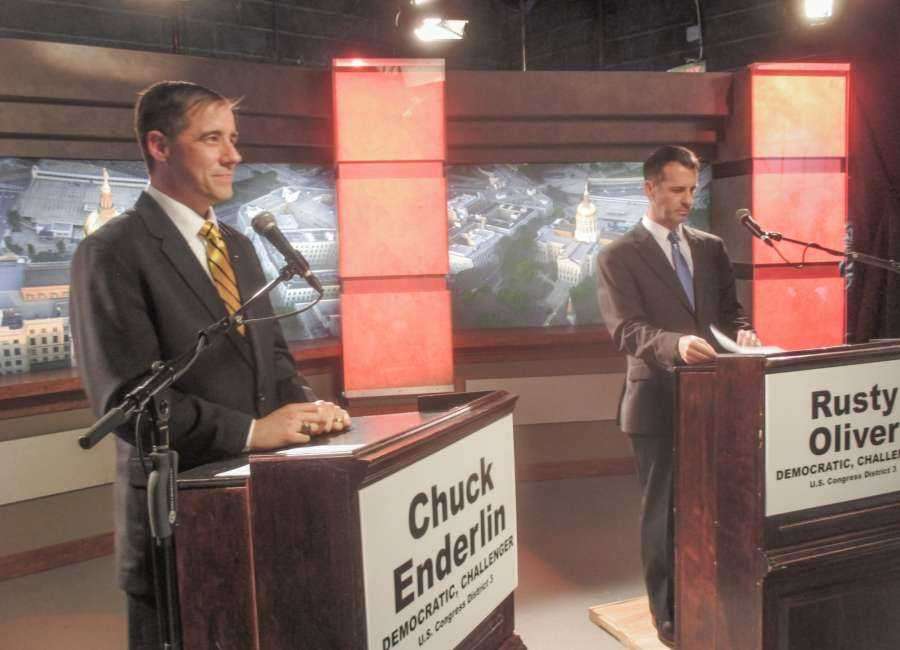 Chuck Enderlin and Rusty Oliver, Democratic candidates for the U.S. Congress District 3 post, outlined their platforms at the Newnan Coweta Chamber of Commerce forum on Tuesday.

The forum took place at Central Educational Center with students handling the production of the televised event. About 80 people attended the forum.
Enderlin, who lives in Newnan, and Oliver, who lives in Columbus, will face each other in the May 22 Democratic Primary. The winner of that race will face the winner of the Republican primary, which has incumbent Drew Ferguson and Philip Singleton running.
Oliver and Enderlin both said there is a need for Democrats and Republicans in Congress to talk to each other and find areas of agreement.
"I think we're all tired of the polarity in this country. It's time for it to stop," said Oliver, a high school teacher.
Enderlin, a military veteran, said he is prepared to reach across the aisle to work with Republicans. "That's the kind of bridge building I will bring to the U.S. Congress," he said.
Oliver said that having "one spinal surgery turn into three spinal surgeries" three years ago brought home to him the impact of expensive medical care. Without insurance, his bill would have been $500,000.
Oliver criticized the Trump administration for the efforts to throw 20-30 million people off health insurance. He also said he is troubled by the administration's approach to environmental issues. "They are not protecting our environment," he said.
"I'm frankly tired of not being represented," Oliver said.
Oliver said he has been frustrated by his contacts with Ferguson's staff. Oliver's usual question is how some action by Ferguson helps people in the Third District. "I would never get a response."
Enderlin said the positive currents in the economy are mainly good for large businesses and "very perilous for the workers."
Enderlin said wages "remain stagnant" and Americans who earn less than $75,000 annually – which is most Americans – will ultimately see a tax increase under the new tax plan. "We need leaders who understand that rising wages create new opportunities."
Enderlin said tariffs ultimately raise prices that primarily affect consumers. Oliver said a trade war with China "simply harms the Americans people."
"The minimum wage needs to be raised to at lease $15 per hour," Enderlin said, adding the minimum should be indexed to rise with the Consumer Price Index.
Oliver shared a similar viewpoint. "We have to provide a livable working wage to everyone in our community," he said.
Oliver said it is important to look at options to help young people enter the workforce, including internships and apprenticeships.
Both Democrats were critical of the Tax Cuts and Jobs Act of 2018. "We need to revisit the current tax structure," Oliver said, because it only helps the top two percent of Americans income-wise.
"We do need to close our corporate loopholes," Enderlin said. "We need to raise the top rates. Those who have gained outsize benefit from our economy should give just a little bit more."
Refocusing the tax system on workers ultimately will help the overall economy. "When workers have more money in their pockets, they create more economic activity," Enderlin said.
Both also said gun safety needs to be addressed. Enderlin said he is an expert pistol and rifle shot and talked about the "safety and responsibility" that are hallmarks of the military approach to guns. "We need to bring this culture …  to the civilian population," he said.
Oliver said patchwork solutions are not the answer. "We need firearm legislation that makes sense. We need to stop using the Second Amendment as a litmus test," he said.
The opioid addiction issue requires education in Oliver's view.
Enderlin said the answer is to "take away the money and end the disastrous war on drugs." He said the war on drugs has done little more than "incarcerate young black men" in numbers disproportionate to the population.
Having the state buy in to the Medicaid expansion could help, and Enderlin also said efforts should be made to go after doctors who overprescribe opioids.
Enderlin said current immigration policies are "a byzantine mess" that make it hard for immigrants to come to the United States. The process often takes decades because of the backlog in processing applications, he said.
"We need to make sure children who were brought here with their parents get citizenship," Enderlin said. Others should be able to earn citizenship through a path that takes less than five years.
"We need a clear DACA act. No riders. No attachments," Oliver said. Deferred Action for Childhood Arrivals is the current system that delays immigration enforcement for certain people who were brought to the U.S. illegally as children.
Young people "don't need to come home and find their parents have been taken away by ICE agents," Oliver said.
The proposed border wall is "an asinine idea" with a price tag of "billions that will turn into trillions," Oliver said.
Also participating in Tuesday's forum were Rep. Josh Bonner of Georgia House District 72 and his Republican primary opponent, Mary Kay Bacallao. District 72 includes precincts in Fayette and eastern Coweta.
Bacallao, a college instructor, has run unsuccessfully for U.S. Senate and for the Georgia state school superintendent. Her comments centered on education primarily, though she said there is a need to address the state's transportation needs.
Bonner, who is completing his first term in the Georgia House, is a military veteran.
"We need to be number one for business, which we're going really great at. What if we combined that with number one for education?" Bacallao asked. "We would be unstoppable."
She said the federal government's involvement in education needs to be removed and said recent laws are making it hard for schools to set the highest standards for students.
"Over half of the money from the state taxes that are taken in are spent on education. We are not getting the bang for the buck on education right now," Bacallao said. She said teachers, parents and local school boards need to control their schools.
"We need to put the parents and the teachers back in charge. They're the ones who care the most about the students," Bacallao said.
She was critical of the standardized nature of school assessment. "All kids are different," she said.
Bonner said he favors minimizing the amount of taxes that come to the state. "The taxpayers themselves know the best way to spend their money," he said.

He said the state has taken steps toward "becoming more fiscally sound." He also mentioned the full funding of the Quality Based Education formula.
Bonner praised Fayette and Coweta's public schools, noting the superintendents of the two systems have been back-to-back state Superintendents of the Year.
"That's a good reflection on our community," Bonner said. "We've got great public schools." He also said parents should have other options for educating their children.
Bonner said the state needs to increase the number of trained workers qualified for available jobs. He said there are thousands of jobs across the state empty because of a lack of qualified applicants.
Bacallao and Bonner most sharply diverged on the topic of public-private partnerships for toll roads. Bonner voted for Senate Bill 183, which would allow those arrangements.
"Georgia needs to own the roads in Georgia. That's a huge slippery slope," Bacallao said.
Bonner countered that legislators would "not be doing what we ought to be doing at the state capitol" if they were not looking at all options.