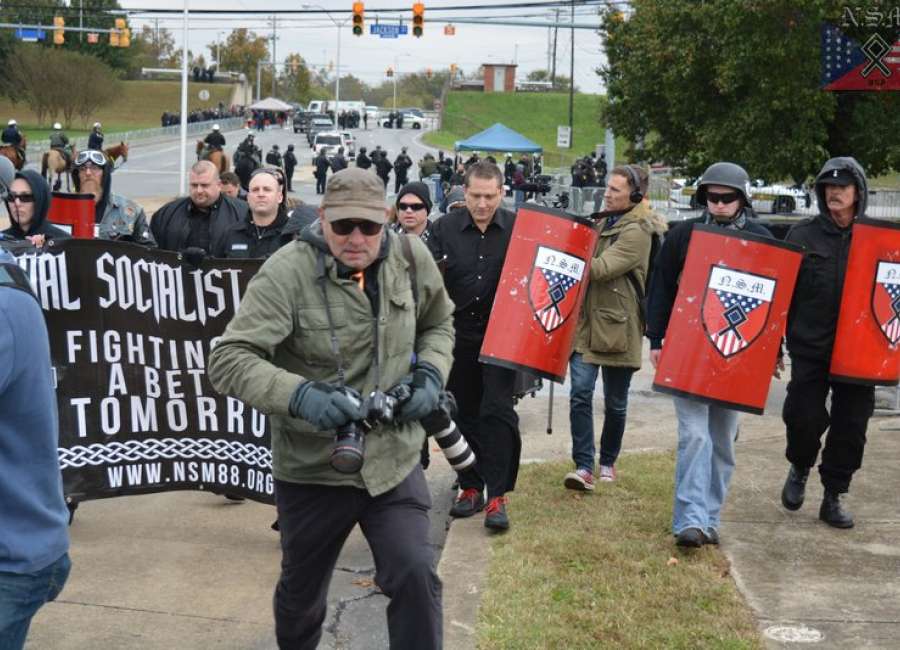 Coweta residents have a wide range of opinions about the scheduled April 21 rally by a national neo-Nazi group, but the overwhelming consensus is that local residents wish the National Socialist Movement would not come to town.
"They are only coming to Newnan because they are not from here and no one knows them – (they're) not brave enough to show their faces in their own hometowns," Marsha Morris said.
Some local residents were critical of Newnan officials for approving the NSM's application for a meeting at Greenville Street Park on the afternoon of April 21. Others – equally appalled at the NSM's racist message – see the public gathering as a First Amendment issue that the city was correct to approve.
"It sickens me that they have chosen our beautiful community to express their hateful views. I hope our citizens will stay away to convey the message that we don't want to hear what they have to say and want them to go away," said Wendy Hayes.
Katie Trivett said she is "not looking forward to all the drama this is going to bring to our community."

"Why don't they exercise their free speech wherever they're from? Why are they bringing their protest to our peaceful small town where no one wants them or their controversy?" Donna Boles asked.
"It is truly sad in this day and age with all that people of every race and gender have overcome that we take another step backwards into a toxic mindset such as this. Why must we endanger our citizens so that the ignorant minority may spew hate among our midst?" asked Moreland resident Deborah Smith.
To revoke the permit would allow the NSM to "sue the city and have the city pay out a nice little sum of cash to them for violating their rights," Greg Mims said. "The city had no choice but to grant it."
Groups like the NSM "are known to sue – and win – against cities that don't allow them to assemble," Earl Byrom observed.
Valerie Stanaland expressed similar thoughts.
"These people lawfully applied for a permit. They have the Constitutional right to assemble and the Constitutional right to free speech. The city cannot infringe upon anyone's rights just because they do not agree with their opinions or beliefs. These are the very principles our country was founded on," she said.
Stanaland added, however, that Cowetans "have the ability to not give them an audience." She continued, "I don't agree with these people, and I have zero intention of glorifying their cause. However, because I value my own rights, I have no desire to strip anyone else of theirs."
Several readers expressed more concern about Antifa, the group that opposes racist groups, being in town. Although a Valdosta Antifa group had planned to attend the April 21 rally and now has reportedly decided not to, it is possible other Antifa groups might be in Newnan that day.
"Antifa thrives on this, and begs for violence, and tries to make it out like they are doing good," Courtney Kolar-Pruitt said.
She said if Antifa groups "weren't coming to protest them, and everyone in town ignored them, there wouldn't be a threat for violence, because there wouldn't be anyone besides the Nazi group there."
"It's the other groups that always follow them to these events that will bring destruction to property," Jay Adcock concurred.
"If Antifa shows up, there will be an uproar," Kimberly Mccormick-Brownley predicted.

Many people suggested staying away from Greenville Street Park that afternoon.
"Just pretend it's a snow day and hunker down," Brooke Cardin said.
"Citizens with half a brain won't be there," Sharon Howard said.
"The very best thing that could happen is for them to be completely ignored," Erin McDowell said. "Don't give hate an audience."
Ashli Williams was among those who urged area residents to stay away on April 21 but to come to town on Friday, April 20, to support downtown businesses. Many downtown stores will close early – or entirely – on April 21, and Saturday is usually a big day for small businesses.
"Many businesses will close Saturday and need our support Friday," Marilyn Williams stated.
Plans for a unity rally at St. Smyrna Baptist Church – and possibly other similar events – are being planned for the same time as the racist rally.
"We have the ability to join with the unity rallies and show that the unity crowd will no doubt be larger than the hate-filled crowd. Let's show them that the hate-filled people had to travel to us. They don't live here," Eric Hewett said.
Gayla Kilgore-Lyle sees what is happening as a teachable moment.
"Talk to your children about these organizations and why you don't agree with them. Tell your teenagers that even though the may be curious as to the activity going on to please stay away from that area," she said. "This is a time where our community needs to come together."
Several readers said they are praying about the rally – prayers for safety, prayers for local officials to have wisdom – and some prayers relating to the weather.
"Maybe it will rain … really hard," Jill Watson hoped.
Verna Funk said she would pray for snow, but she fears that would not stop the NSM. So she is praying for "a thunderstorm and heavy rains."
"I do not believe equal rights was intended to entertain terrorist or hate groups whose purpose is to destroy what so many have fought to preserve. May God intervene on this day and bring peace and mercy on our city and her people," Deborah Smith said.
Bonne Bedingfield saw good amidst the bad.
"The silver lining that I've found in all of this is that the political divide has dropped by the wayside. We've all come together in this town to show that this is not who we are. We have our differences, but at the end of the day goodness outweighs hatred," she said.