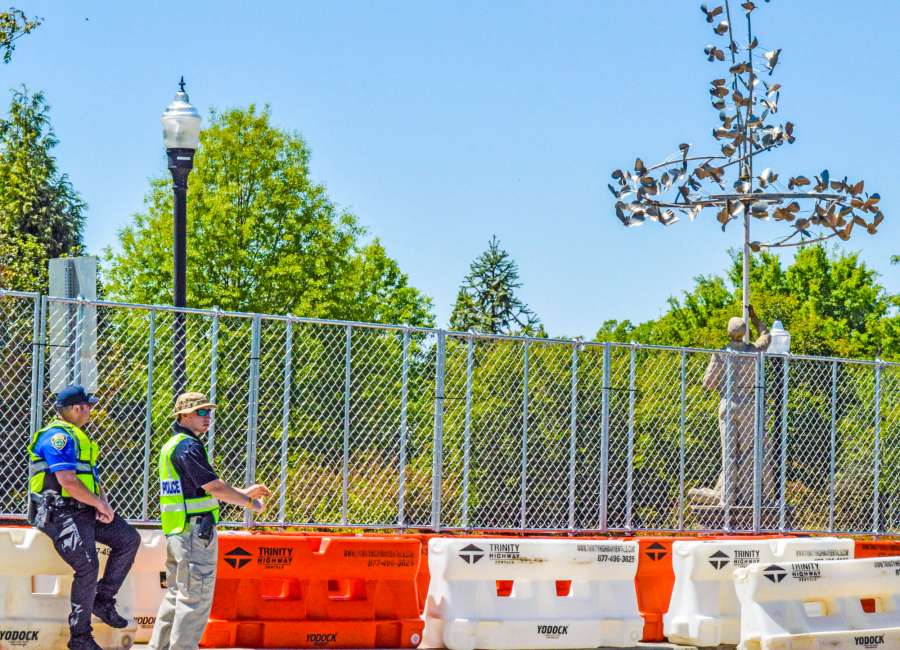 Barricades and chain link fence were erected around Newnan's Greenville Street Thursday in preparation for Saturday's rally to be held by the National Socialist Movement, a white supremacist and neo-Nazi organization.

Both members of NSM and protestors against its rally are expected in Newnan on Saturday. The rally hours are 3-5 p.m., according to the permit application that the organization filed with the city.
Plastic barricades topped with chain-link fencing surround the park and the adjacent Charter Bank, with several openings for park visitors and for the bank's parking lot. Law enforcement officers will monitor the park continuously until the rally is over.
On Thursday afternoon, Newnan Public Works crews were busy moving and installing additional barricades.
A specific gathering area for protesters will be along Greenville Street, adjacent to the park, according to Newnan Assistant City Manager Hasco Craver.
"The designated gathering place for anti-demonstrators will consist of water barriers," he said.
Portions of Greenville Street, LaGrange Street and Salbide Avenue near the park will be closed beginning around 10 a.m.
"Areas outside of the aforementioned roadways will remain open and accessible for normal activities," Craver wrote in an email.
That includes vehicles and parking, but a detour around downtown will also be in place.
On Thursday morning, an announcement on the Atlanta Antifa website indicated final plans for the NoNaziNewnan Coalition's response to the rally. Coalition participants will gather at 1:30 p.m. Saturday at the corner of Jackson and Clark streets, according to the website, which also states "we expect there will be enough unrestricted parking on nearby streets."
The group will then presumably walk through downtown to the park.