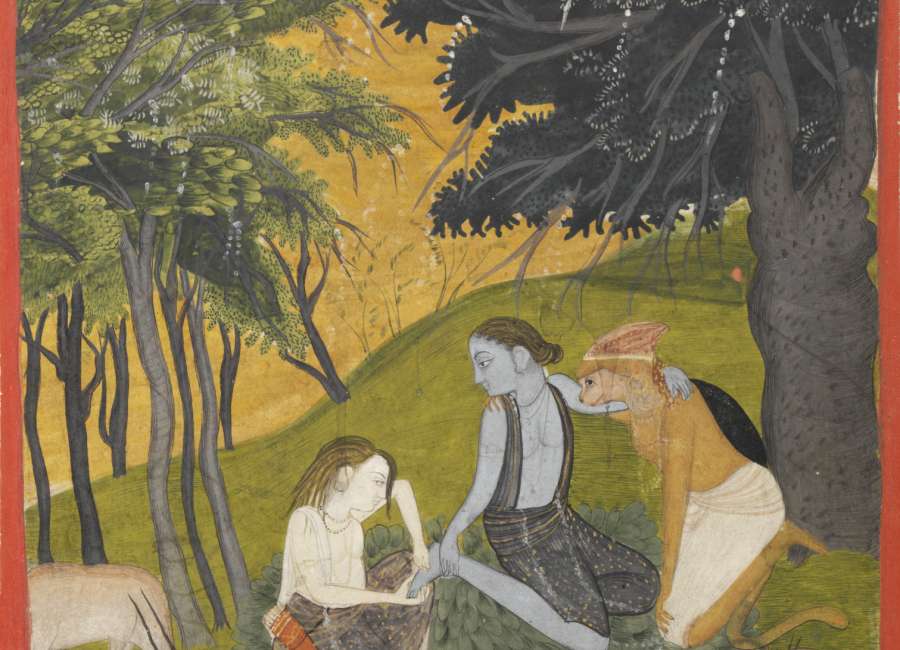 An exhibit of art at the Michael C. Carlos Museum of Emory University is highlighting events told in the Ramayana, a sacred text of Hinduism.

The exhibit opened in January, and Coweta residents have been among the visitors viewing the paintings filled with bright colors and elaborate detail. The paintings date from the 17th-19th centuries.
"Tell the Whole Story from Beginning to End: The Ramayana in Indian Painting" will be on exhibit at the Carlos Museum through May 20.
The Ramayana is the most celebrated epic poem in South and Southeast Asia. It tells the journey of Prince Rama, from his banishment from the kingdom of Ayodhya, to his triumphant return. Denied the throne on the eve of his coronation, Rama finds himself exiled to the forest for 14 years, accompanied by his devoted wife, Sita, and his brother, Lakshmana.
After Sita is abducted by Ravana, the demon king of Lanka, Rama wages war to ensure her rescue, aided by his faithful friend Hanuman and armies of monkey and bears.
The earliest version of the Ramayana, attributed to the sage Vālmīki, was composed in almost 24,000 Sanskrit verses about 2,000 years ago. Manuscripts of the Hindu poem dating to the sixth century are still in existence.
By the medieval period, numerous versions of the story appeared in vernacular languages across India and Southeast Asia. For 2000 years, the tale of moral conflict, familial piety, and violent folly has shaped religion, politics, and daily life through its varied renditions, from ancient sculpture to modern film.
Many Hindus have understood Rama to be the incarnation of the god Vishnu and the embodiment of righteousness. Throughout time, however, authors and artists have emphasized the flawed nature of the all-too-human prince.
Most of the paintings in the exhibit date were created by master painters in the courts of the Rajput kingdoms of northwest India. 
"Tell the Whole Story from Beginning to End: The Ramayana in Indian Painting" has drawn praise from at least one Hindu leader. 
Rajan Zed, president of Universal Society of Hinduism, commended Emory for highlighting Hindu heritage through the Ramayana exhibition. Zed has urged major universities of the world – including Harvard, Oxford, Stanford, Cambridge, Princeton, UC Berkeley, Yale, Columbia – to frequently offer Hinduism  focused classes and exhibitions.
 
"Tell the Whole Story from Beginning to End:" The Ramanyana in Indian Painting was curated by students in the class The Art of an Hindu Epic, taught by professors Ellen Gough and Marko Geslani from Emory's religion department.
The Michael C. Carlos Museum is open from Tuesday-Friday from 10 a.m.-4 p.m., on Saturday from 10 a.m.-5 p.m. and on Sunday from noon-5 p.m. Admission is $8 for adults and $6 for ages 6-17.