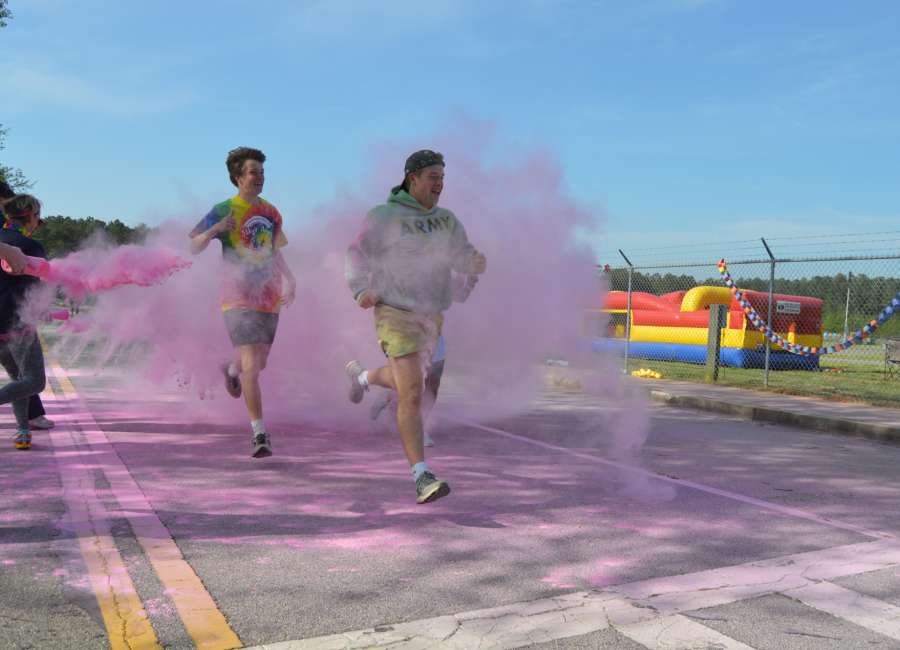 Brightly colored puffs of powder created an iridescent rainbow on Saturday that hung over the Coweta County Fairgrounds.

Laughter filled the air as runners and walkers were doused with powder that covered them from head to toe as they headed toward the finish line during the fifth annual Abby's Angels Foundation Rainbow Run and Family Fun Day.
The bright colors, laughter and enthusiasm fit 9-year-old Abby Gracen Bacho's fun-loving personality perfectly, said Butch Moore.
Moore is Abby's grandfather. He was in the car crash that ultimately killed Abby on Christmas Day in 2012.
Abby and her family were heading to the SummerGrove neighborhood to look at Christmas lights on Dec. 23, 2012, when the car they were riding in was T-boned by a distracted driver.
Both Abby and her father, Steven Bacho, were airlifted from the wreck to separate Atlanta hospitals.
Abby died two days later; Steven remained in a medically induced coma for nearly a month.
"It changed our world," said Moore. "You read about it, but you never think it will happen to you. When it does, it changes your whole outlook on life.
"But then you think, Abby saved four lives. So there was purpose to her passing. We're keeping her spirit alive," he continued.
Eight months later, family and friends began the Abby's Angels Foundation.
"When you lose a child at nine years old, it's just way too early," said Monique Haskins, a foundation board member. "She had a lot of living left to do. We wanted to share Abby's kindness, spirit of giving and also organ donation."
In addition to the annual Rainbow Run and Family Fun Day, the organization created "Abby's Closet."
According to Haskins, Abby loved to play school. The closets are a tribute to Abby's spirit and are in almost every Coweta County school.
There are also Abby's Closets in West Virginia, where her dad originally lived, one in Peachtree City, three in Heard County and two in Carroll County.
The closets contain shelves filled with school supplies, flash drives and journals.
"We've found that a lot of kids have lost someone in their lives, so we thought they would want to journal about it," Haskins said.
Proceeds from the Rainbow Run and Family Fun Day help build and stock the closets, plus provide a teen driving course.
While the money helps Abby's Angels Foundation, family and friends said Saturday was more about honoring Abby's legacy.
"It's beautiful to see all the young people around - all the smiles and the noise. The atmosphere is one of joy and happiness," said Moore.
"It brings joy to our heart, and sometimes tears, but this is a wonderful kindness," he added.
For more information about the Abby's Angels Foundation, visit www.abbysangelsfoundation.org.