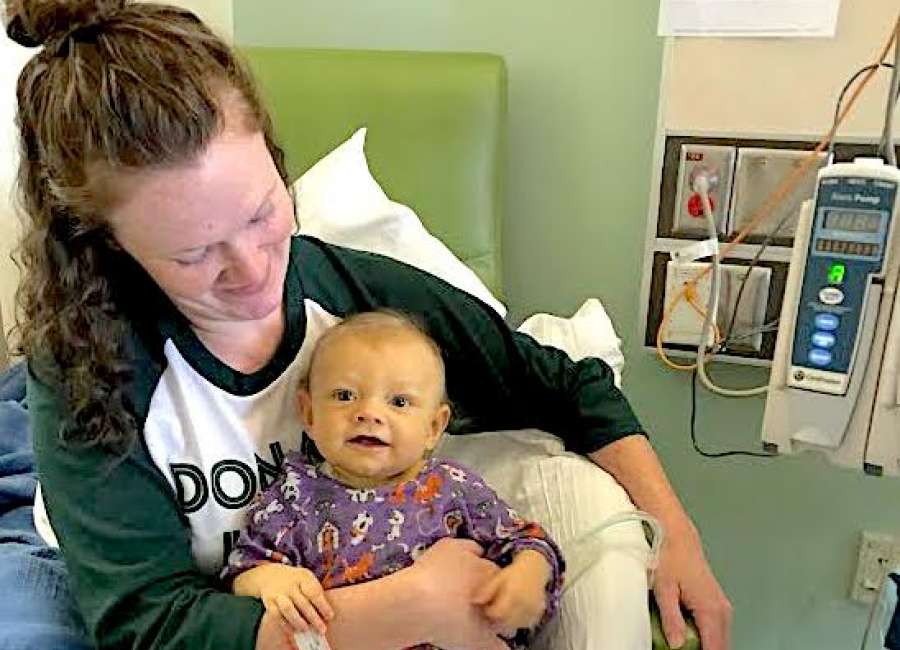 At just four months old, Wesley Melville has already earned the title "Sir Wesley," and rightfully so.
The baby boy is the king of his castle – on good days.
But sadly, those days are becoming more rare as the little boy fights for his life.
Wesley was born with a rare disease called biliary atresia.
The disorder causes bile ducts become inflamed and blocked, meaning the liver cannot properly filter out toxins, according to the liverfoundation.org.
Wesley was diagnosed with the disease when he was only three weeks old, said his mom, Elizabeth Melville.
"He wasn't responding to light and he was very jaundiced," she said. "The doctors ran tests and noticed his liver enzymes were extremely high. The normal range is 13. Wesley's number was in the hundreds."
If left untreated, biliary atresia can cause cirrohosis and ultimately liver failure.
Wesley was less than a month old when he had his first surgery, called the Kasai procedure, which creates "new bile ducts" using the baby's own intestine.
The operation would allow proper drainage from the liver, stated the liverfoundation.org.
The surgery has an 80 percent success rate.
Shortly after the operation, "Sir Wesley" returned to his castle in Newnan with his parents and five-year-old sister Nora. But he didn't stay long.
"We were home for two months. Life felt so normal," said Elizabeth. "I went back to work and Wesley went into daycare. But then his appetite decreased and he started spitting up more."
At Wesley's three month checkup, the family received devastating news.
"The doctor felt his liver and said she could feel it hardening," Elizabeth said. "She told us he would need a liver transplant before he turned two years old.
"My husband Jonathan and I were both reeling," she continued. "We didn't know what all a transplant entailed, but we knew it was serious and it would be life changing."
Suddenly, Sir Wesley's "castle" went from his Newnan home, to a room at the Children's Hospital of Atlanta.
Elizabeth said the disease continues to progress rapidly.
"His liver is enlarged and harden. He is very yellow (jaundiced). He has all the signs of liver failure," she explained.
On Monday, doctors drained fluid from Wesley that was pressing on his tiny lungs and making it hard for him to breathe. His belly was swollen from the fluid build up, said Elizabeth.
Wesley's life depends on a liver transplant from either a deceased or living donor.
Elizabeth hopes she can give her young son a second chance at life.
The two share the same blood type. Elizabeth completed a round of tests last week and will learn this week if she can donate a portion of her liver to Wesley.
"I don't want to see him suffer one more minute than he has to," she said. "I'm watching this disease progress, seeing it rob the joy from our family, and seeing Wesley smile less and less. I ache just to give him my liver now.
"My birthday is May 12 and I would love to give him my liver," she added. "When Wesley was born, he stole a piece of my heart. So, why not give him a piece of my liver too?"
Children born with biliary atresia have more than a 90 percent chance of living a normal life following a liver transplant, according to the liverfoundation.org.
Elizabeth is leaning on family, friends and faith to get her and Wesley through this tough time.
She hopes Wesley's story will inspire more people to give the gift of life.
"I hope people will look at pictures of Wesley, see what we're going through and decide to become an organ donor. It only takes a minute," she said. "There are people who perish on the waiting list."
Transplants can be costly.
Families usually need to raise money for the operation, hospital visits and anti-rejection medications, which will help sustain the patient and donated organ for the rest of their life.
Currently, the Melville's are trying to raise $50,000 through the Children's Organ Transplant Association, or COTA.
The money is only used for medical costs or family expenses at time of transplants.
As of Saturday afternoon, "Team Wesley M" had only raised $8,466, said Elizabeth.
But the family is grateful for every single penny, if it means giving Wesley a long and prosperous life.
Elizabeth said she already considers "Sir Wesley" her hero.
"If I go under surgery, I'll think of Wesley and be brave," she stated. "He is my little dragon slayer. I truly draw strength from him most days."
Anyone wishing to donate to Wesley's medical funds, can visit, www.cota.org/campaigns/cotaforteamwesleym.
People can also follow Wesley's story on Instagram @ SirWesleyBASlayer.
April is National Donate Life month.
While some spend years on a transplant list, others, like Wesley, may find their donors closer to home and in a quicker amount of time.