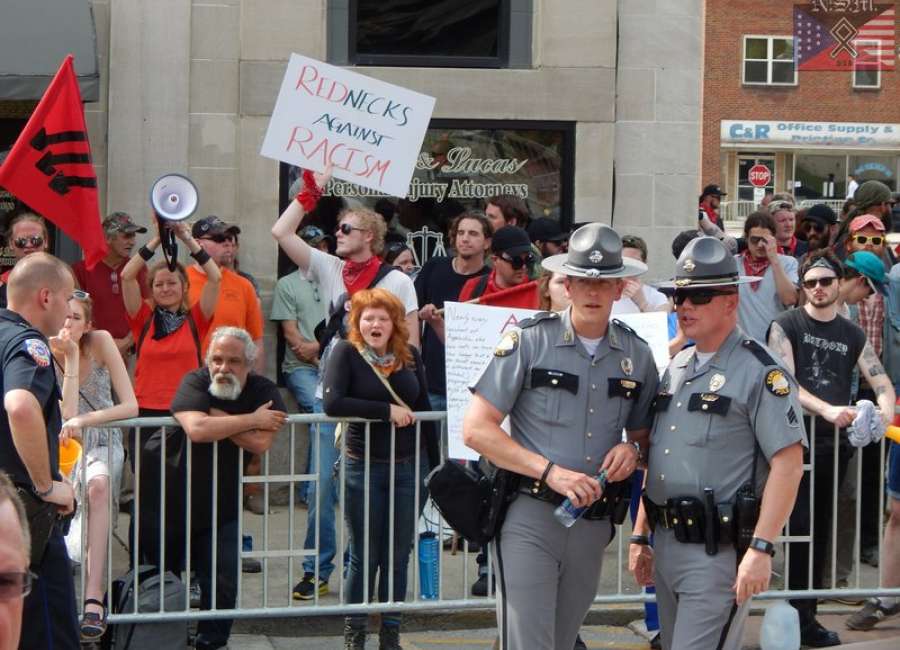 News of an upcoming white-supremacist rally planned in Greenville Street Park later this month has many Coweta County citizens concerned. The Newnan Times-Herald has compiled a list of ongoing questions many residents have asked about the event so far.
Who is coming?
The National Socialist Movement (NSM) has paid a rental fee for the use of Greenville Street Park on April 21 between 3 and 5 p.m. The NSM is described as one of the largest and most prominent neo-Nazi groups in the United States, according to the Southern Poverty Law Center.
In their application, the NSM estimates roughly 50 to 100 people will be in attendance for its rally.
Members of Valdosta Antifa have indicated they will also be present as counter-protestors. Antifa, shorthand for anti-fascist organizations, is a loose and informal coalition of grassroots groups opposed to the extreme right.
It is not known at this time how many are expected to show up.
Why Newnan?
According to NSM Commander Jeff Schoep, the group didn't pick Newnan for any specific reason, but did indicate the presence of the William Thomas Overby monument on the Court Square did play a factor.
The National Socialist Movement will also be holding its annual National Meeting & Dinner in Temple, Ga. that weekend, so it's only a 35-mile drive for the group.
Why did the city grant the permit?
According to City Manager Cleatus Phillips, the city could not legally deny the permit to the group.
Mayor Keith Brady said it's simply a First Amendment right issue and holds the same standard for any group that might wish to use the park.
"We don't condone this at all, and we'd rather them not be here, but the city felt there was no choice," he said. "That's what the law says. It's distasteful for this to happen, but it's their right to make the statement they wish to make."
What is the cost?
At the moment, the total cost of the event won't be fully known until it's over. Mayor Keith Brady said the primary focus of the city is on public safety and the city will spare no expense to ensure the peace is kept.
"It's not where we want to be, but we're on the tab for it," Brady said.
Previous events in Shelbyville, Tenn., and Murfreesboro, Tenn. cost each city $83K and $250K respectively, according to Newnan Police Chief Douglas "Buster" Meadows.
What security measures are in place?
With representatives from 20 different agencies, Chief Meadows said the city will be fully prepared for anything. However, he believes and hopes most residents will avoid the entire area.
Since the two opposing groups are expected to convene in the Greenville Street Park area, Meadows said his force will keep them separated through several hundred water barricades – each holding 100 gallons of water each.
The vast majority of first responders plan on utilizing the entire area of the Justice Center, located almost directly across the street from the park, as a staging and command post.
What are leaders saying/encouraging citizens to do?
Leaders are urging residents to stay away from the event. Plans are currently underway for alternative gatherings across the county for residents to show their opposition to the group without being present at the rally.
"This group wants attention, and when they don't get it, they don't win," said Mayor Keith Brady. "It's our hometown and a statement of opposition is just as strong by ignoring it or going someplace else rather than showing up with a sign in your hand."
Who is affected?
The day of April 21 will be a busy one in downtown Newnan. The "Champion For Children" Superhero 5K along with The Great American Cleanup at City Hall are both set to begin at 8 a.m. and end by noon.
Police have already been in contact with a number of nearby business owners. With a number of street closures and tightened security planned for the rally, the city is encouraging businesses in the area to close early that day.
What are the alternatives to attending the rally?
A unity service is currently planned at St. Smyrna Baptist Church on the afternoon of the 21st. Starting at 3 p.m., Pastor Tamarkus Cook will be hosting a prayer rally at his church.
Newnan Mayor Pro Tem Cynthia Jenkins said she's been in touch with several pastors in the area and hopes to connect with even more in the next few days.
"Once we back down from the anger and emotion, we understand that it's their First Amendment right to do this, but it's our right to do what we can as a community," Jenkins said. "We don't want to make things harder for law enforcement or give them the audience they want. We need to come together as a united community that will lead to bigger and better things for us on the unity front."
Several prayer rallies are also scheduled to occur at Greenville Street Park – one on Friday, April 13, from 6:30 to 7:30 p.m. and then again on the eve of the rally – Friday, April 20, from 7 - 7:30 p.m.
Can the city shut the event down?
Police can shut the event down if they determine the situation to be dangerous, according to Chief Meadows.
"It would have to be where both sides would be converging and attempting to break our lines," he said.
Police would give the crowd a specific amount of time to disperse before they would be forced to arrest anyone.
"If it's just a few people making trouble, we'd move them out of there," Meadows said.  "But if the whole group gets going, we would call for total dispersal, and everyone would have to leave."
If I still want to go, what should I expect?
"You can expect to hear abusive language aimed towards different ethnic groups and races," Chief Meadows said. "If you still want to go, the less you say to anyone there, the better off you'll be."
During the event, participants will be contained to the specified area, so any movement towards the Court Square will not be allowed.
At 5 p.m., police will give the NSM time to dismantle their equipment, gather their belongings and leave. Police will remain on scene until they give the all-clear.